Shapotou Scenic Spot

Shapotou was a spectacular desert scenic spot located at the edge of the Tenger Desert, one of the four biggest deserts. Lying on the banks of the Yellow River and intersected by a critical freight-line with train carrying goods from Inner-Mongolia to the far reaches of western China, this scenic park is protected by the national government; it is known as the "miracle desert" due to its amazing but haunting beauty. The park offers a wide range of activities; camel-riding, sand-tobogganing, camel riding, and riding down the yellow river on a sheep-hide boat, Shapotou offers limitless excitement.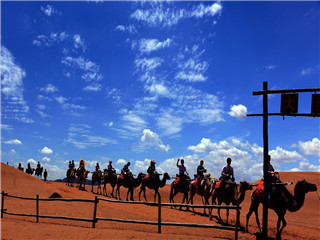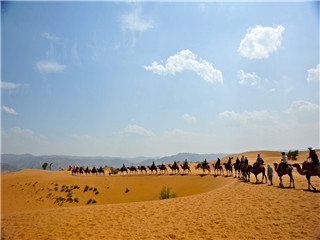 If you are on a train hurtling through the desert on the Baotou-Lanzhou rail-line you are certain to pass through the Shapotou Scenic Park. The construction of this railway line in the desert provided the engineers with unique challenges as the famous "shifting sands" of Shapotou proved incredibly treacherous. To keep the railway unimpeded, special dune work has been done since 1950s, which highly drew engineers' attention from home and abroad. For over 50 years, the project has been the Baotou-Lanzhou line's guard as well as nice scenery mixed with golden sand and green psammophytes.
For those who wish to conquer the steep, exhausting slopes of Shapotou is prepared to lose a lot of sweat; there is also a cable-car for those who want to ascend to the peak while enjoying the amazing views of the Yellow River below. Many say that the sands of Shapotou "squawk" like a bird, this interesting notion is brought about by the bizarre noise that the sands make when it is trodden upon.
The Longest Sand Toboggan Course in China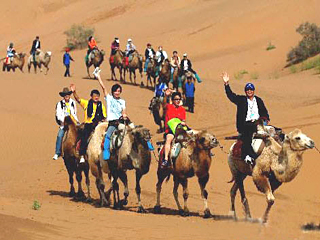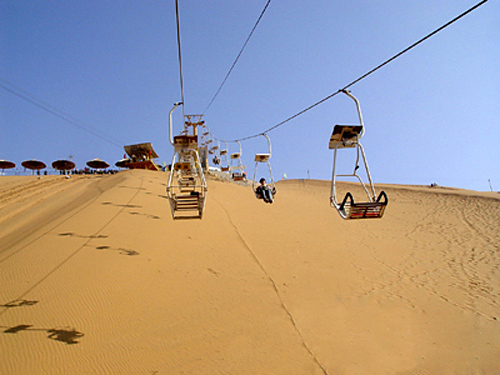 The longest sand toboggan course in China is located in Shapotou, at a distance of 200, falling a height of 80 meters is a thrilling way to enjoy the desert. On clear days the weather becomes incredibly dry, so lots of water is recommended. Legend goes that in ancient times there was a magnificent city in Shapotou which one day was swallowed up by the sand, with none of the villagers or buildings ever seen again, this creating the unique sound herd when the sand is stepped upon. However some believe that there is a big bell buried under the ground, which would give out tone when it is shocked.
There is an inexhaustible amount of fun and adventure at Shapotou, it is so much more than a desert park, it is a chance to experience this ancient living desert and enjoy surfing the sand and camel rides with photographing the amazing, breathtaking natural landscape.
How to get to Shapotou
1. Shuttle buses from Zhongwei to Shapotou are available at Zhongwei Bus Station, it takes about 40 minutes.
2. There are also minibuses to Shapotou near the Zhongwei Railway Station.
3. It costs about 30 Yuan to take a taxi from the urban area of Zhongwei to Shapotou.