Yangshuo Attraction
Read the following introductions for attractions in Yangshuo. You will know the top attractions there and you can also get to know the city attractions by category.
Top Yangshuo Attractions
West Street

Chinese name: 西街 (Xijie) Location: connecting the Li River and the Yangshuo Bus Station, at the central area of the county seat of Yangshuo, Guilin City, Guangxi Zh...

Yulong River

Known as "mini-Li River", the 43.5-kilometer-long Yulong River in Yangshuo is a tributary of the Li River. It passes through Yangshuo's 5 towns of Jinbao, Putao, Baish...

Xingping Landscape Area

Chinese name: 兴坪景区 (Xingping Jingqu) Location: 25 km northeast of the county town of Yangshuo, Guilin City, Guangxi Zhuang Autonomous Region (aka Guangxi Province). H...
Famous Ancient Towns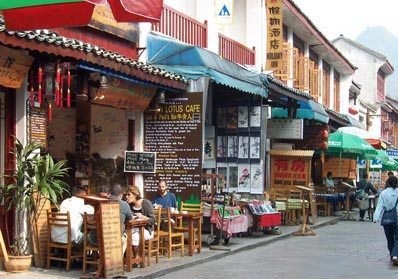 West Street
As the oldest street of Yangshuo, West Street has a history of over 1400 years. Its picturesque landscapes and unsophisticated custom never fail to catch the eye of western travelers. When night falls, this China's biggest "English Corner" and "global village" becomes a world full of excitement.
Waters(rivers, lakes, waterfalls)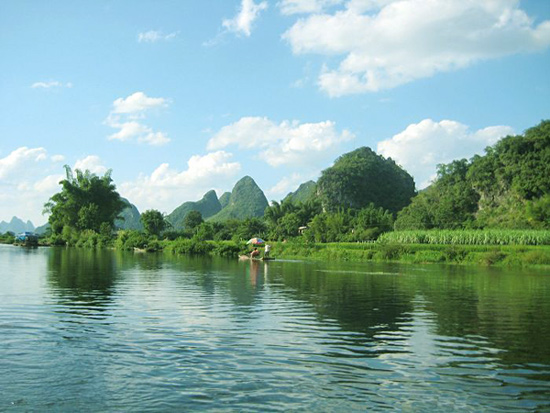 Yulong River
The 43.5-kilometer-long Yulong River is a tributary of the Li River. The total area covered by the river represents the largest natural ecological preserve inGuilin. Hailed as one of the places "where man and nature have met in perfect harmony", Yulong River is a marvel of morbidezza and tranquility.
Unique Natural Sights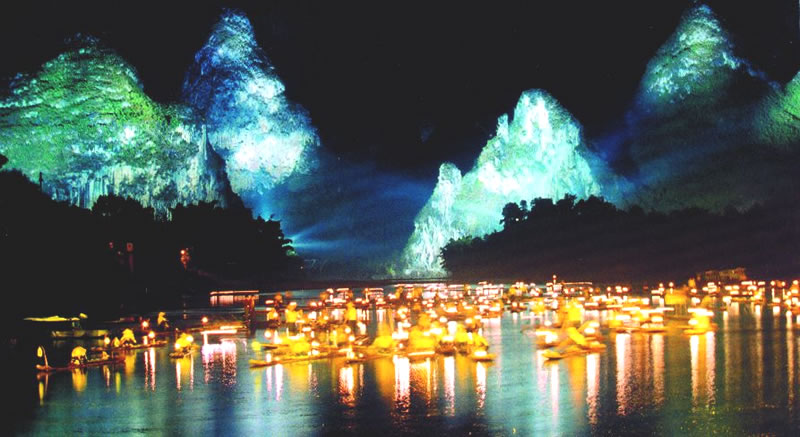 Impression of Sister Liu
Directed by the great Chinese director Zhang Yimou, Impression of Sister Liu on-water show is a perfect combination of the Li River scenery and the ethnic culture of the Zhuang, Miao, Dong and Yao minorities. World Tourism Organization recommended it as "a best scenic spot for relaxation and holiday".
Natural Attractions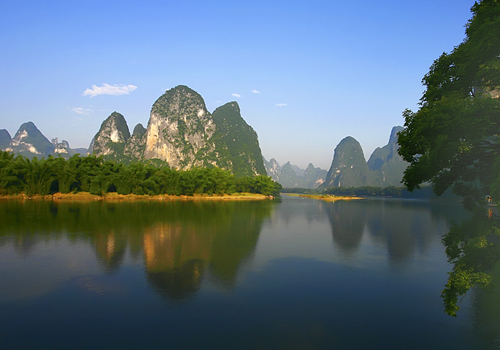 Xingping Landscape Area
Famous for the most marvelous natural spectacles along the Li River, Xingping landscape area boasts such attractions as Nine Horses Fresco Hill and the scenery of the back of 20yuan banknote. This charming town also boasts historical sites like ancient bridge, ferry, and other architectural complex.
Mountains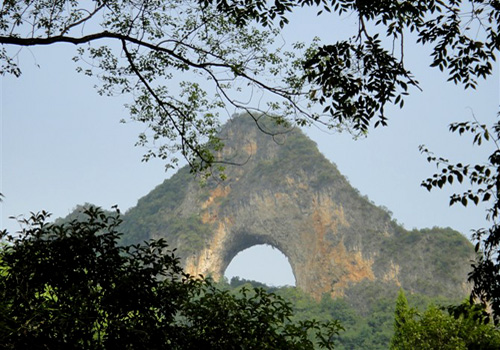 The Moon Hill
The Moon Hill gets its name from its shape, the top being like an arch, the hole a moon. With the length and the width of the hole 50 meters respectively, the hill body forming the hole 5 meters thick, it is known as a skillful workmanship of Nature. The moon hole can be reached via the path at the foot.