The Moon Hill

Chinese name: 月亮山 (Yueliang Shan).
Location: by Fenglou Village, Gaotian Township, Yangshuo County, Guilin City, Guangxi Zhuang Autonomous Region (aka. Guangxi Province).
Ticket: CNY15 for entrance fee, extra CNY5 for climbing the hill.
Opening time: 07:00-18:30.
How to get there:
- By bike: it needs about half an hour's riding from Yangshuo to the Moon Hill. Rental for bikes normally range from CNY10 (for a single-seat bike per day) to CNY20 (for a tandem bike per day). But please note that the prices usually double during peak seasons or holidays such as the May Day holiday (May 1-3) and the National Day holiday (October 1-7). New travelers can follow other bikes or hire a local guide in case of losing their way.
- By mini buses or electromobiles: they depart to Gaotian Township from Yangshuo Bus Station every 10-20 minutes. Tell the driver to stop at the Moon Hill in advance.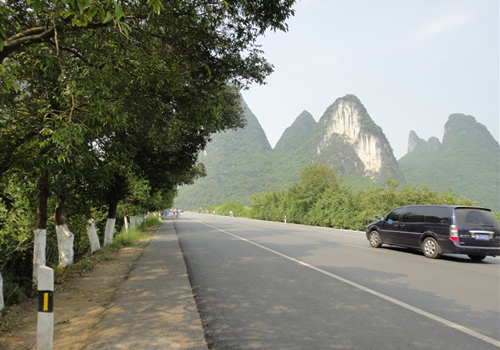 Yangshuo Moon Hill Travel tips:
1. The Moon Hill is about 7 km from Yangshuo Town and is at the end of the well-known "Shi Li Hua Lang (十里画廊)", literally a ten li long gallery (Note: "li"is a traditional Chinese measurement of length, 1 li equals 0.31 mile), which is famous for its endless picturesque rural landscapes. In addition to the Moon Hill, there are also the Butterfly Spring, the Yulong River, the Big Banyan, the Jianshan Temple, rock climbing sites, ancient dwellings, the Moon Water Cave and the Bodhisattva Water Cave (both for mud bath) on or near the "Shi Li Hua Lang". Most travelers choose to bike along the country road, on which it is possible to see the "moon" in various shapes.
2. It takes approximately one hour to climb to the top of the hill.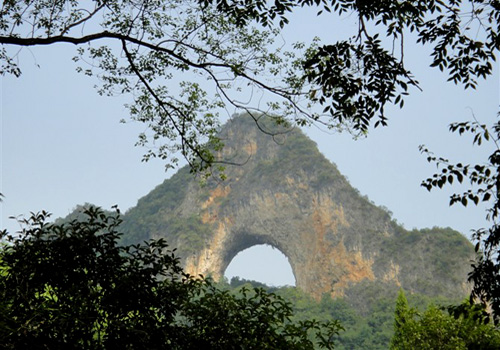 Introduction to the Moon Hill in Yangshuo
Located some one kilometer south of the Big Banyan, the Moon Hill in Yangshuo is widely known as a skillful workmanship of the nature. The vertical height of the hill is 230 meters, at a sea-level of 380 meters. The top of the Moon Hill is like an arch, through which there is magically a huge perforated hole. The length and the width of the hole are as long as 50 meters respectively, but the hill body forming the hole is only 5 meters thick. The hole produces many grotesque stalactites and looks like a moon in diverse shapes (moon at the first/last quarter, half moon, full moon) from different directions by day, hence the name. In clear evenings with moon, it is even possible to watch the real Moon through the hole of the Moon Hill. At the foot of the Moon Hill there is a winding path, along the 800 steps of which visitors can reach the "moon hole".