Xishuangbanna Attraction
Read the following introductions for attractions in Xishuangbanna. You will know the top attractions there and you can also get to know the city attractions by category.
Top Xishuangbanna Attractions
Wild Elephant Valley

Chinese name: 野象谷 (Ye Xiang Gu) Location: at the western of 213 National Road, Jinghong City, Xishuangbanna Dai Autonomous Prefecture, Yunnan Province. Opening tim...

Ganlanba

Chinese Name: 橄榄坝 (Gan Lan Ba). Location: 40 kilometers from Jinghong City, Xishuangbanna Dai Autonomous Prefecture, Yunnan Province. Opening time: 07:00-19:00. Tick...

Manting Park(Chunyuan Park)

Chinese name: 曼听公园 (Manting Gongyuan) Location: No. 35 Manting Road, Jinghong City, Xishuangbanna Dai Autonomous Prefecture. Opening time: 08:00-17:30. Bonfire Eve...
Architecture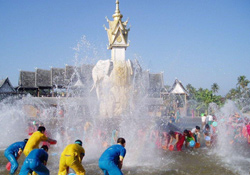 Ganlanba
Located in the lower reaches of Lancang River, Ganlanba is only 530 meters above sea level with humid and hot weather, being the lowest and hottest place in Xishuangbanna. Hot weather brings in abundant products for Ganlanla such as a great variety of tropical fruits and plentiful candied fruits.
Temples, Monasteries and Mosques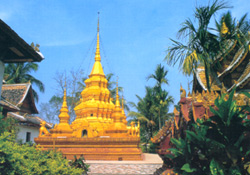 Mange Buddhist Temple
Mange Temple, named as a central Buddhist temple of Man Gein Dai language, is grand with wooden roof-beams, thick eaves and tiled-roof. The BeiYe sutra it kept, referring to literature, history, astronomy, calendar system, medical science, etc, was the crystallization of the Dai folk cultural arts.
Towers, Pagodas and Bridges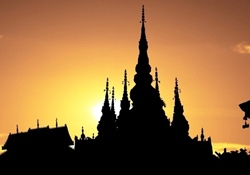 White Stupa
Located on the top of a small hill behind Manfeilong village, White Stupa was built in 1204; the major one in the middle is16.29m and eight minor ones around are9.1min height. The stupa group is very famous in Southeast Asia; it has a huge footprint in its niche, which is said to be left by Buddha.
Waters(rivers, lakes, waterfalls)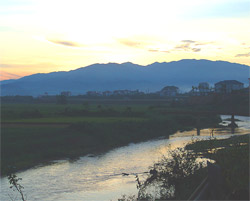 Daluo River
Da Luo, which means a port for all people in Dai language, is a small town in the southern border area of Xishuangbanna. Daluo River is a gently flowing branch of Mekong River with a breadth of 30 meters, and about 1 kilometer from the 219-218 boundary marker between China and Myanmar.
Natural Attractions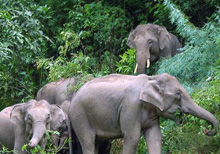 Wild Elephant Valley
Located in the south of Mengyang Natural Reserve, 48 kilometers from Jinghong City and 115 kilometers from Pu'er City, the Wild Elephants Valley is the most fascinating forest park known for primeval tropical rainforest and flocks of Asia wild elephants, which can only be seen in Xishuangbanna.