White Stupa

Chinese name: 白塔 (Bai Ta)
Location: Atop a hill in Manfeilong Village, Damenglong Town, Jinghong City, Xishuangbanna Dai Autonomous Prefecture, Yunnan Province, Southwest China.
Opening time: 09:00-16:00
Ticket: CNY 5
How to get there: Take a bus at Jinghong Bus Station to Manfeilong Village where the White Stupa is located.


Introduction to White Stupas


Located at 70 kilometers southwest of Jinghong City in Xishuangbanna, 3 kilometers from Damenglong Township, it is a cluster of Buddhist stupas with white bodies and gilded spires, just like bamboo shoots from the ground. Thus, it is also called Bamboo Shoots Pagodas. White Stupas is more often called Manfeilong Pagodas or Manfeilong Stupas (曼飞龙佛塔) by its location. Legend says that it was constructed 800 years ago and designed by three India monks. The Manfeilong White Stupa complex is dedicated to Theravada that is mainly popular in Southeast Asia. It has a high standing among Buddhists in Xishuangbanna, Burma, Thailand and Laos. Every year, there are many disciples from Southeast Asia come here to worship the Buddha. Perhaps that's a part of why it was listed into the list of National Key Historical Relics Protection Units. In recent years, local government constructed a road and a stairway, a hill gate, a high Buddha, sculptures of white elephants to enhance the beauty of the Manfeilong Pagodas. Not only is it a time-honored sacred place, but a landmark of the region.
More about the Manfeilong Pagodas
There is one stupa in the center that measures 16.29 meters and eight smaller dagobas encircle the central one with a height of 9.1 meters. All of them stand on an octagonal base (Vajra throne) with well-decorated niches in which Buddhas are placed. Each stupa is gourd-shaped with white body that is richly decorated with exquisite carvings and colorful paintings. A giant footprint on the rock to the south of Manfeilong Pagodas is said to be left by the Buddha. To the south of White Pagodas, a Buddha statue stands like a benevolent sentinel overlooking all living things. Blessed by Buddha, simple Dai people lead a happy life from generation to generation.

The conical spire of each stupa is made up of lotus-petals, silver bells, wind bells and other ornaments. When wind blows, the bells ring like sound from heaven, adding vitality to this quite and solemn place. Looking afar, the White Stupa Complex looks like a forest of pagodas, presenting an imposing sight. Every year, the Dai people lived in Manfeilong Village gather in front of the Manfeilong Stupas to celebrate the Water Splashing Festival (in mid April). Many Tourists like to walk up a long and quite hill path to appreciate the rubber plantation along it. Beside, there is a staircase with some 200 steps that lead to White Stupas.

Right 3.5 miles away from the the White Pagodas, there is a golden pagoda called Balck Pagoda or Blown Pagoda.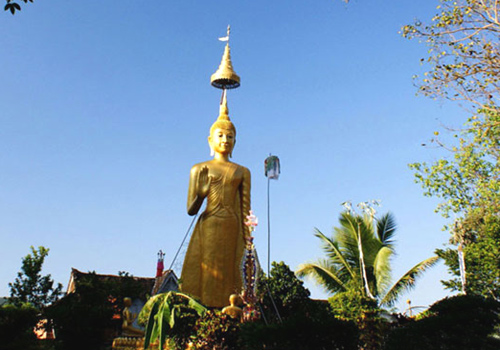 Legend about White Stupas


The Manfeiloong White Stupas was established in 1203. Its structure style is a combination of Dai culture and Buddhist architecture that is derived from Burma and Thailand, showing high artistic value. On a rock to the South of the White Stupas, there is a left footprint that is said to be Shakyamuni's. A local Buddhist story has it that that When Shakyamuni came to Damenglong, countless peacocks hovered in the sky. At that time, people were wondering where to build the White Stupas. So when Shakyamuni got to know this, he left a footprint on the rock to indicate it. That's why the Manfeilong White Stupas was built here. There is a well in front of the rock. Legend says that Shakyamuni poked a 3- feet-deep hole with his cane when he was preaching and felt thirsty. Spring water bubbled out of the hole instantly. Buddhists in the past would put coins into the well and take a bottle of water away when they left the White Stupas.