Mengle Buddhist Temple

Chinese name: 勐泐佛寺 ( Meng Le Fo Si)
Location: 4 kilometers from Jionghong city proper, Xishuangbanna Dai Autonomous Prefecture.
Opening time: 08:00-18:00.
Ticket: CNY 120.
How to get there: Bus No.4 will bring you here. A taxi from downtown to Mengle Buddhist Temple costs about CNY 15.

Brief introduction to Mengle Buddhist Temple


Mengle Buddhist Temple is built on the imperial temple of Dai ethnic minority - ''Jingpiao Buddhist Temple'', which was constructed by a king in honor of his queen in Dai history. Legend has it that because the queen believed in Buddhism, the King held a grand Buddhist ceremony on every festival to commemorate his queen and spread Buddhism. Historical records indicate that Jingpiao Buddhist Temple was built in Ming Dynasty (1368-1644) and was ravaged in a war happened in 1848. The restoration started in 2005 when a grand dedication ceremony was held in the temple and a multitude of silver coins, boxes and stuffs used for dharma events were dug out. Mengle Buddhist Temple was completed in 2007 when another dedication ceremony was held by 108 prestigious monks from home and abroad. Covering a floorage of 65.8 acres, Mengle Buddhist Temple lies along a mountain and has a drop of 122.8 meters in the shape of a Buddhist sitting in meditation. Mengle Buddhist Temple features the story of Sakyamuni and activities that are smartly combined with Buddhist architecture and landscape, fully revealing the history and tradition of Theravada Buddhism. Standing on the square of Wan Fo Tower, people will have a panoramic view of Jinghong city proper.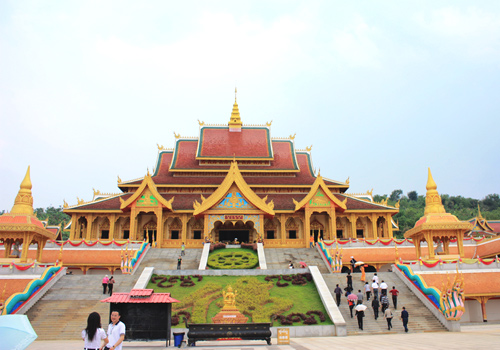 Significance of Mengle Buddhist Temple

Theravada Buddhism has profound influence on politics, economy and culture of Dai society. Hundreds of narrative poems of Dai minority came out after the incoming of Theravada Buddhism. Chinese Buddhist Canon that was engraved on pattra leaves with 8, 4000 parts, is called "Sanskrit Manuscript". All Dai people believe in Theravada Buddhism. Dai boys must lead a life in temple as a monk when they are eight years old. They learn to read and go home at least one year later. When there is an important festival, such as the Water Splashing Festival (in mid-April), Close Door Festival (in mid-July), Dai people will go to a temple to pay homage to Buddha. Up to now, there are over 500 temples and 200 Buddhist Pagodas in Xishuangbanna Dai Autonomous Prefecture. Mengle Buddhist Temple is the biggest Buddhist Temple in Xishuangbann and occupies a supreme position in the eyes of Dai people.