9 Days Xining, Tongren, Xiahe, Zhongwei and Yinchuan Tour
Tour Code: CTXN03
Tour Duration: 9 Days
Attractions: Ta'er Monastery, Qinghai Lake

Day by Day Itinerary
Day 1 Xining Arrival
Transfer via: Flight on your own arrangement
Arrival in Xining, you will be met by our local tour guide and then be transferred to hotel. Free at leisure the rest of the day.
Day 2 Xining (B, L)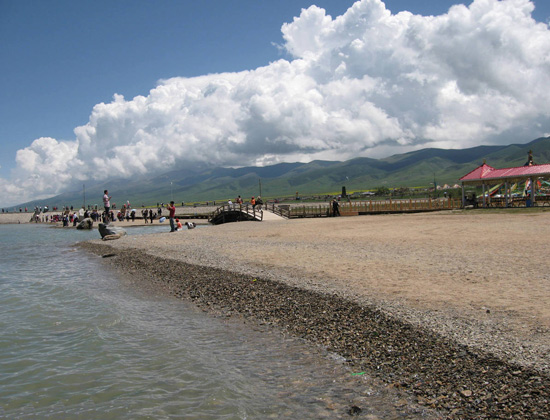 Sightseeing: Qinghai Lake, Ta'er Lamasery
Today you will visit to the Qinghai Lake and have a cruise on the lake. It is a saline lake situated in the province of Qinghai, and is the largest lake in China. It is located about 100 km west of the provincial capital of Xining at 3,205 meters (10,515 feet) above sea level in a depression of the Tibetan Plateau in the traditional Tibetan county of Amdo. Twenty-three rivers and streams empty into Qinghai Lake. Scenery in Qinghai Lake varies according to seasons. Summer and autumn are the most comfortable weather conditions and the lake's scenery is most beautiful during these seasons.
Then Visit the Ta'er Lamasery, It is one of the six great monasteries of the Yellow Hat Sect of Tibetan Buddhism, built in 1557 on sacred land. Still quite active with 600 monks. It is the birthplace of Tsong Khapa, founder of the Yellow Hat (Gelupa Sect), and is known for its sculptures of human figures, animals and landscapes carved out of Yak Butter.
Day 3 Xining / Ledu / Tongren (B, L)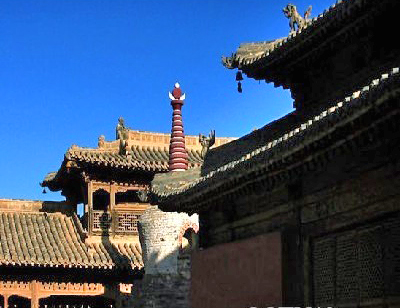 Transfer via: Private vehicle on our arrangement
Sightseeing: Qutan Monastery, Liuwan Tombs
This mornig, we will dirve to Ledu County and visit the Qutan Monastery. 80 kilometers from Xining, Qutan Monastery was built during the reign of Emperor Hongwu of the Ming Dynasty. The monastery is a unit understate protection, and it is famous for the Ming-style buldings, precious relics, and valuable murals of the Ming and Qing (1644-1911) dynasties. Also known as the Lesser Forbidden City, the pattern of the building complex resembles that of the Forbidden City in Beijing, with chapels, halls, pavilions, gallery of murals, Buddhist pagodas, and drum towers scattered symmetrically on both sides of the axis. The mural gallery with an area of 360 square meters has a collection of huge painted murals, vividly depicting the life of Sakyamuni. The colors of the murals are still bright after experiencing 600 years of wind and rain.
Then head for the Liuwan Tombs. The Liuwan Tombs are the largest tombs of primitive China, which are well preserved. The tombs cover an area of 110,000 square meters. The re are more than 1,500 tombs with 30, 000 relics unearthed belonging to thecultures of Majiayao, Machang, Jijia, and Xindian. The buried articles are mainly production tools. Such as axe, chisel, and knife as well as pottery articles for daily use. Among the relics unearthed, the painted pottery statue is the most valuable, and has been listed as one of the state-level relics.
Continue drive to Tongren. Check in your hotel in Tongren.
Day 4 Tongren (B, L)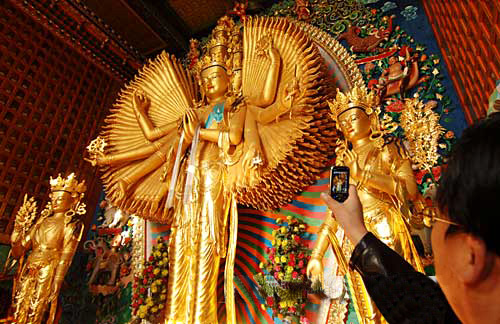 Sightseeing: Rebkong Art Museum, Wutun and Longwu Temples
Visit the Rebkong Art Museum and learn how the Art was being fully used in beautifying daily life. Rebkong Art refers to the art and culture along the Rongwo River in Tongren County, Huangnan Prefecture of Qinghai. Rebkong was the name of the relevant area in the history, covering today's Xunhua County, Tongren County and Zekok County. The paintings, sculptures and clay sculptures, barbola embroideries, casting skills, God worshipping dance and other folk dances are very unique and distinctive, winning a great reputation home and abroad. Re-gong art is a pearl of art in the treasury of Tibetan culture.
Visit the famous Wutun and Longwu Temples. Longwu Temple also known as Lower Wutun Monastery is a Tibetan Buddhist monastery in Tongren, Huangnan Prefecture, and is 186 km from Xining.The large monastery is situated at the southwestern end of Longwu town and has several dozen halls and thousands of monk cells. The grand hall has a number of spectacular statues of Shakyamuni and others including a 11 metre gilded statue of the founder, Tsongkapa (Zongkaba) on a stand 26 metres in circumference. It is the birthplace of Anduo Tibetan plays with performances being held at various times in each season.Longwu Temple is of the Gelukpa (Yellow Hat) sect and is known as a center of Tibetan thangka painting.
Day 5 Tongren / Xiahe (B, L)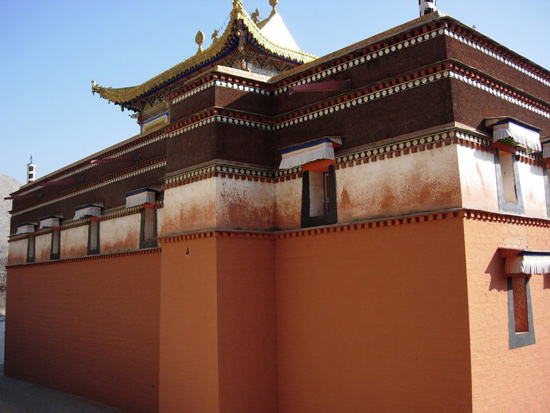 Transfer via: Private vehicle on our arrangement
Sightseeing: Labrang Monastery
Drive to Xiahe. Visit the Labrang Monastery. Labrang Monastery (or Labuleng Monastery) of Xiahe is in the county town, built in 1710. It's one of the six most important leading lamaseries of the Yellow Hat Buddhist Sect in China, largest around Gansu, Qinghai and Sichuan. It is the greatest Lamasery institute with the richest collection of Buddhism scriptures.
Day 6 Xiahe / Zhongwei (B, L)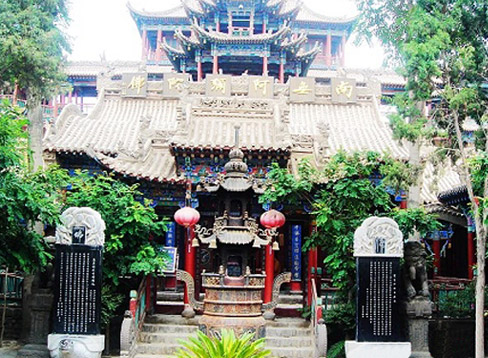 Transfer via: Private vehicle on our arrangement
Sightseeing: Gaomiao Temple
After breakfast, we will drive to Zhongwei. Visit Gaomiao Temple. Gaomiao, located in Zhongwei County and built in the Ming Dynasty, is a building complex with 260 to wers and pavilions on a 4,000-meter-tall terrace. Bridges link most of the towers and pavilions. It is a sacred place for Confucianism, Taoism, and Buddhism, and is one of the large ancient building complexes in Ningxia.
Day 7 Zhongwei / Yinchuan (B, L)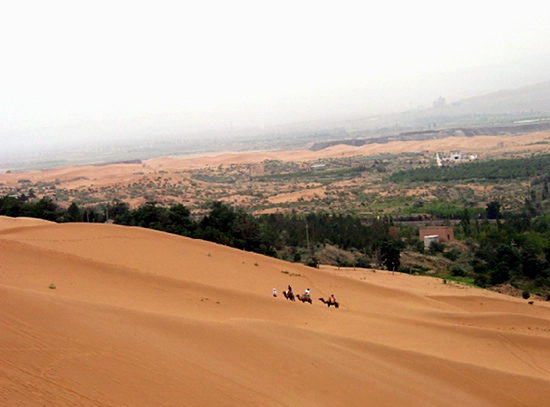 Transfer via: Private vehicle on our arrangement
Sightseeing: Shapotou Scenic Spots, 108 Pagodas.
Today we will first enjoy the Shapotou Scenic Spots. Located in Zhongwei County, this area is famous for the Yellow River running through the desert, the desert control project, and the singing sand, one of the four singing sands in China. Sung down, one can hear the magic sound of the sand. One can also draft along the Yellow River by sheepskin rafts, and adventure on the desert on camelback.
Then, we will go to see 108 Pagodas in Qingtongxia. The main attractions of the Scenic Qingtongxia Reservoir on the western shore of the YellowRiver are 108 Buddhist pagodas. They range in height from 3.5 to 2.5 metres, fashioned in three shapes (pyramid, gourd, and vase), and arranged on a rising mountain slope in rows of increasing odd numbers to form a colossal triangle. A major scenery by the Yellow River
In the afternoon drive to Yinchuan.
Day 8 Yinchuan (B, L)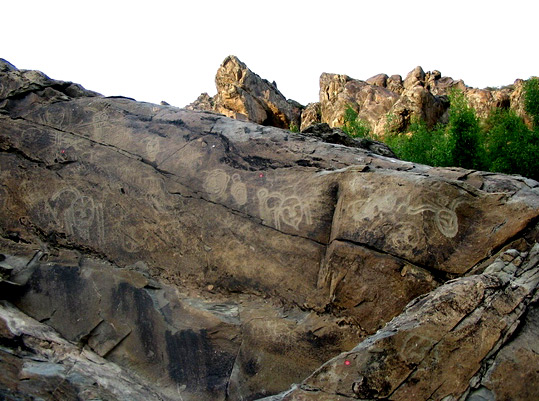 Sightseeing: Western Xia Mausoleums, Cliff Carvings in Helan Mountain
After breakfast, we will go to the Western Xia Mausoleums. The Western Xia Mausoleums are a well-known travel site. It is located at the eastern foot of Helan Mountain, close to Yinchuan City in Ningxia Autonomous Region, measuring 10 kilometers north to south, 4 kilometers east to west; the Mausoleum contains the tombs of emperors of the Western Xia. There are eight tumuli and over 70 annex tombs in this area.
Then visit Cliff Carvings in Helan Mountain. Hailed as a major wonder of ancient Chinese civilization, these cliff carvings were done by Chinese nomads some 10,000 years ago and were discovered at the entrance to the Helan Mountain 46 km from Yinchuan. They run the gamut from portraits, totems and heliolatry signs to scenes of hunting, grazing, war and dance. There is something genuinely uninhibited and unaffected about them.
Day 9 Yinchuan / Departure (B)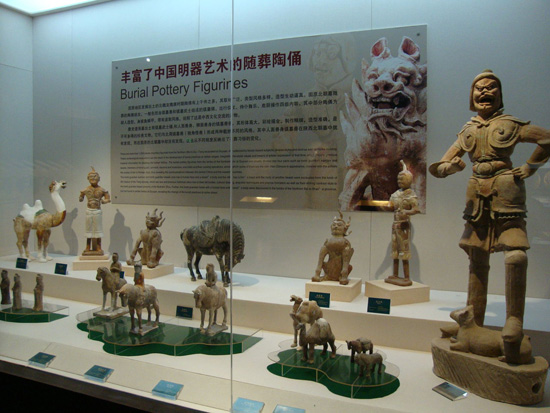 Transfer via: Flight on your own arrangement
Sightseeing: Ningxia Museum, Chengtian Si Tower
Today we will first visit Ningxia Museum. Housed in Chengtian Temple in the old part of Yinchuan, Ningxia Museum has a collection of nearly 10,000 cultural artifacts. The 1,000 objects on display are of high historical and cultural value.
Then we will see the Chengtian Monastery Pagoda, also known as "Western Pagoda", was built around A.D. 1050 when the Western Xia was at the height of its power and splendor.
After the tours, your guide will transfer to airport for your flight departure.