Xi'an in brief
Xi'an is the capital city of the Shaanxi Province, central China. Extremely famous as one of China's major attraction, this literally "Western Peace" also called Chang'an (长安) in ancient times is known as one of the Four Great Ancient Capitals of China. Filled with numerous scenic, historical and cultural sights, Xi'an is one of the jewels of the country and a high tourist city of international influence. The city lies in the Guanzhong Plain of central China, in the fertile Wei River valley bordered by the Qinling Mountains, natural and strategical defensive asset. Xi'an enjoys a monsoon semi-arid climate, spring and autumn are the two best seasons for tourism. Standing as one of the epicentres of early Chinese civilization, Xi'an flourishes with remnants of this great ancient past everywhere: Terracotta Army, Bell Tower, Ancient City Wall, Big Wild Goose Pagoda, etc… This "Natural History Museum of China" is one of the best highlights of the country together with Beijing, Shanghai and Guilin. Travelers would be surprised by the rectangular shape of the city which makes any walk and journey really easy. Travelling here for 2 days or more, Xi'an will welcome you and fill your curiosity every way. Home to the 2011 World Horticultural Expo (Apr. 28 - Oct. 22), Xi'an is a must-see city on your tour to China. An ancient city opens its door to you!
History of Xi'an – One of China's Great Ancient Capitals, home of the First Emperor of China mausoleum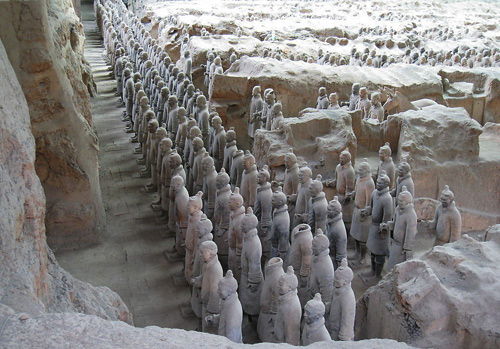 Xi'an, one of the oldest cities of China, has a long history tracing back to more than 3100 years ago to the Zhou Dynasty. Being the capital city of several different dynasties such as the Zhou, Qin, Western Han, Sui, and Tang, today's Xi'an is known by different names since its supposed foundation in 202 BC by the Emperor Liu Bang of the Han Dynasty. Called "Fenghao" (沣镐) during the Zhou (1046 BC), "Chang'an" (长安) during the Western Han (206 BC - 24 AD), "Daxing" (大兴) during the Sui, then "Chang'an" again during the Tang (618 AD) for changing again to "Fengyuan" (奉元), "Anxi" (安西) and "Jingzhao" (京兆) during the Yuan Dynasty (1270 AD - 1368 AD). This is only during the Ming Dynasty (1369 AD) that the city first became "Xi'an" until 1928, when it was then renamed over again as "Xijing" (西京), "Western Capital". Finally, today's Xi'an kept its name for good since 1943.
The rich culture of the city descends from one of the earliest civilization of the world, that is to say the Guanzhong Ren (关中人). Being a city of emperors, poets, merchants and soldiers at times, Xi'an was also a pivotal stop on the Silk Road to the far west and the Eurasian continent. But the city is mostly renowned for being home to the mausoleum of Qin Shi Huang (259 BC - 210 BC), the First Emperor of China who undertook the construction of this 8000 soldiers, 520 horses and 150 cavalry horses today called the Terracotta Army in order to protect his tomb after death. Large-scale project built soon after the Emperor's ascension to the throne, the site was only accidentally discovered in 1974 by local farmers and is today a ranked UNESCO World Heritage Site since 1987 attracting many visitors from all over the world. As a capital city since early ages, Xi'an flourishes with many historical sites built since 210 BC or 194 BC. Top China tourist destination, Xi'an is a real economic point of interior China since 1990. Being an important historical, cultural and industrial center, Xi'an is a jewel of Chinese History, a marvel for lovers of cultural tours!
Xi'an nowadays – Major China tourist destination home to the UNESCO ranked Terracotta Army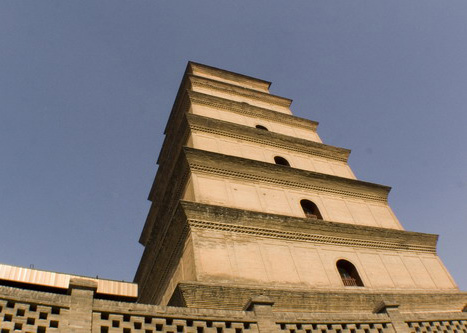 Today, the city of Xi'an is a worldly famous tourist city embodying China's rich and amazing culture. Indeed, the city bursts with such a great number of cultures and historical sites ranked at an international level that is hard to miss the opportunity to visit Xi'an. Being home to the grandiose and awe-inspiring Mausoleum of Qin Shi Huang and the Terracotta Army and Horses protected as a UNESCO World Heritage Site, Xi'an will make your China dream come true by the profusion of still surviving sites. Ancient City Wall, Bell Tower, Wild Goose Pagoda, Muslim Quarter and Great Mosque, Xi'an is a marvel of Chinese cultural heritage that will make every traveler live a breathless dream. Located not far away from the city stands the UNESCO ranked Huashan Mountain, one of the Five Sacred Taoist Mountains of China.
Lovers of shopping, Chinese Opera and typical Chinese cuisine will be delighted by the richness displayed in the little Xi'anese streets and Muslim markets. City intertwining past and present, Xi'an is a highly served city enjoying a brand-new but still under construction subway since 2007. On foot or by bicycle, discovering the different architectural styles and monuments of this Ancient Chinese Capital is a delight for visitors as most of the tourist attractions are located in the vicinity of the central Bell and Drum Tower. Home to the 2011 World Horticultural Expo, Xi'an is just exhibiting its condition as one of China's most important city. Welcome to Xi'an, one of the most beautiful Ancient Capital of our amazing China!