Dacien Temple
Chinese Name: 大慈恩寺 (Dacien Si).
Location: North of the South Dayanta Square, South Yanta Road, Xi'an City, Shanxi Province.
Admission fee: CNY 50 (entrance fee of the Dacien Temple); CNY 30 (ascending the Big Wild Goose Pagoda).
Opening hours: 09:00 - 17:00.
How to get there: take bus No. 5, 19, 21, 23, 24, 34, 41, 44, 224, 237, 242, 400, 408, 501, 521, 526, 527, 601, 606, 109, 701, Tourist Bus Line 6, Line 8 (610) or Line 9 and get off at Big Wild Goose Pagoda (Chinese: 大雁塔- Da Yan Ta).

Introduction: Let all the worries and desires roll down and the Buddha will make you feel far away from the mundane world.
With a history of more than 1350 years, Dacien Temple is a world renowned Buddhism Temple, and also one of the four Buddhist sutras translation places in ancient China's Tang Dynasty (618 - 907). According to the records, Dacien Temple was built in AD 589 and firstly named Wulou Temple. AD 648, Li Zhi, the king of Tang Dynasty in that time, extended it to commemorate his mother and renamed it to be Dacien (Literally means to remember his mother's love) Temple, since which Dacien Temple possessed a large scale with thirteen districts, 897 rooms.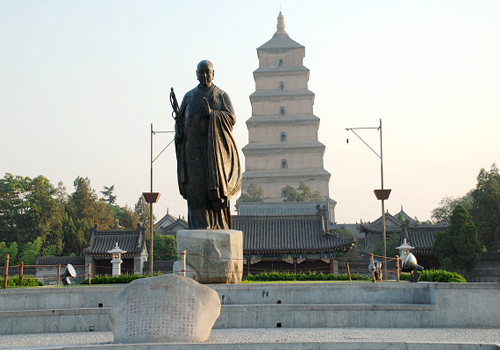 With plenty of garrets and temples setting each other off beautifully, Dacien Temple presents a grand scene of Buddhism architecture. The famous Buddhist pilgrim and monk Xuan Zang (602 – 644, one of the greatest monks and sutras translators in Chinese history) once arranged for the construction of the Big Wild Goose Pagoda, translated Buddhism sutras for over ten years and meanwhile took charge of the temple affairs.

Details: What to see inside the Dacien Temple?

Inside the temple gate, bell tower and drum tower stands facing to each other, seeming like two majestic guards protecting the whole temple. Dacien Temple consists of four main buildings, including the Grand Hall, Discipline Hall, Wild Goose Pagoda and Xuan Zang San Zang Courtyard. Bell and drum take over command in the temple taking morning bells and evening drums as reminders. Students of Tang Dynasty would inscribe their names under the Cien Tower if they exceeded others to be Jinshi (title for the most excellent students in Tang Dynasty). They planted more than 70 species of tree peonies in the temple.

The Big Wild Goose Pagoda – Where glorious history and Buddhism essence recorded and exhibited.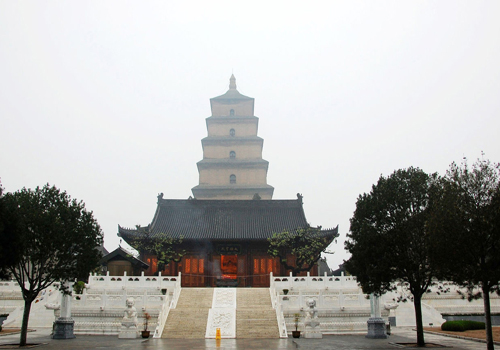 The Big Wild Goose Pagoda was built for safe keeping of Buddhist sutras and relics which brought from India by Xuan Zang. With the height of 64.5 meters, divided into seven storeys, the pagoda can be ascended by travelers to overlook the whole Xi'an City. It is quite relaxed and happy. The surface of the tower is sculptured with delicate and beautiful figures of Buddha. Many stone tablets engraved with famous sutras, pictures of Chinese famous towers, Buddha relics, stone inscriptions and records of Xuan Zang western pilgrimage for Buddhist scripture, all these are exhibited in the pagoda.

Xuan Zang San Zang Courtyard
On the north of the Big Wild Goose Pagoda lies the Xuan Zang San Zang Courtyard in which Xuang Zang's relic and bronze statue are worshiped. It is currently the biggest Xuan Zang memorial hall. The UN educational, scientific and cultural groups once visited the pagoda and praised it to be the contemporary Dunhuang (a world renowned wall painting art recording place in China's Gansu Province).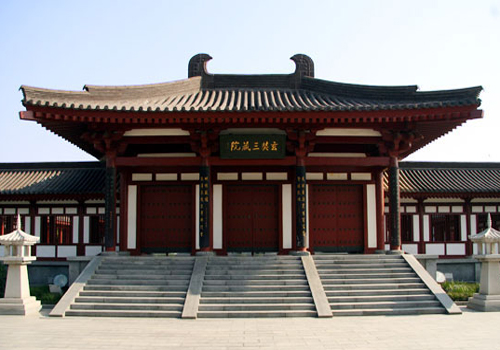 Dacien Temple's tourism development – A hot travel spot of Buddhism and architecture is brightly shining.
Along with the deeper exploitation of Buddha culture and taste, Dacien Temple developed practical ability in receiving worship and visitors. Through nice service and proficient management, Dacien Temple is attracting more and more travelers all around the world. In accord with the trend of rapid tourism development, all the staff of Dacien Temple accelerated the establishment of treasure room under the guidance of the Buddhist abbot. Meanwhile, they favorably planned and held many activities or ceremonies, aiming to propagate Buddhism and Xuan Zang's patriotism. Dacien is gradually developing itself based on the current social and market situation.

In those years, the policy of reformation and opening as well as the implement of China's religion policy injected travel energy into this ancient temple. Nowadays, they put more and more investment into hall repairmen, environment management, cultural relic collection and sutras reorganization. What's more, in order to disseminate the temple's cultural connotation and current condition, they established the Visitor Center and Multimedia Display System, providing multilingual picture and writing exhibition, which made another highlight of Dacien Temple's tourism attraction.