Day by Day Itinerary
Day 1 Arrival Xiamen
Transfer via: Flight on your arrangement
Upon your arrival in Xiamen you will be met by your guide and then be transferred to the hotel.
Day 2 Xiamen (B, L)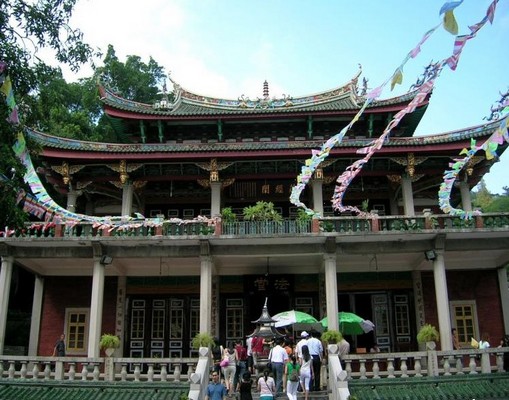 Sightseeing: South Putuo Temple, Huli Mountain Canon Platform, Jimei
This morning you will visit South Putuo Temple. Situated at the foot of Wulao Peak on the southern end of Xiamen it was first built during the Tang Dynasty (618-907). Later rebuilt during the Qing Dynasty (1644-1911), it is now an imposing multi-layered trapezoidal structure that overlooks the sea. The Shrine of Buddhist Scriptures houses a huge collection of Buddhist cultural relics, including a Burmese jade carving of the Buddha and many important Buddhist texts. The temple's Heavenly King Hall, the main prayer hall, the Hall of Great Compassion and the Shrine of Buddhist Scriptures are all graced with painted brackets and upturned eaves.

Then you will drive to imposing Huli Mountain Canon Platform (Huli Shan pao Tai). Originally built in the Qing dynasty (1644-1911) to fend off foreign imperialists, the platform boasts a huge nineteenth century heavy artillery piece produced by the German conglomerate Krupp, with a maximum range of 10,000 meters.

Finally we will see Jimei. Jimei is located in the north of Xiamen Special Economic Zone, 17 kilometers (about 11 miles) from the city center. It is opposite to Xiamen Island and is at the foot of Tianma Mountain facing the sea on three sides. Jimei is the hometown of Mr. Tan Kah Kee (Chen Jiageng) (1874-1961), a renowned educator and leader of overseas Chinese. Nowadays, Jimei is one of the four most popular tourist sites of Xiamen City, especially for its academic atmosphere as well as pretty natural and social sights.
Day 3 Xiamen (B, L)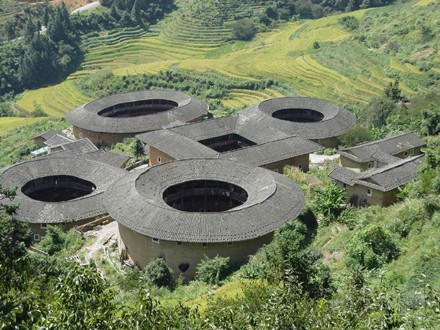 Sightseeing: Earth Buildings of Yongding
Today we will go on a full day trip to the Earth Buildings of Yongding. The Yongding landscape fascinates tourists with its enchanting mountains and waters. What adds charm to the scenery is the group of earth buildings strewed over the valley and on the riverside. The unique style of these imposing human abitations has always been a wonder to tourists. Most of the earth buildings are either circular or quadrangular. Many of them are a few hundred years old. Those built in ancient times all consist of inside buildings enclosed by huge peripheral ones. Such a combined building holds hundreds of rooms and dwellers. With all the halls, storehouses, wells and bedrooms inside, the huge tower- like building is almost a small fortified city. In these buildings one can also find cultural treasures, such as sculpture, mural paintings, antithetical couplets and work of calligraphy.
Day 4 Xiamen (B, L)
Sightseeing: Gulangyu Island, Crag of Sunlight, Suzhuang Garden
In the morning we will see Gulangyu Island, which is located just southwest of Xiamen City. Visitors can reach it by steamship from Xiamen City in about 5 minutes. Gulangyu Island is renowned for its delicate natural beauty, its ancient relics, and its varied architecture. The island is on China's list of National Scenic Spots and also ranks at the top of the list of the ten most-scenic areas in Fujian Province.

In the afternoon we will head to Crag of Sunlight and Suzhuang garden.
Day 5 Departure Xiamen (B)
Transfer via: Flight on your arrangement
In the morning you can enjoy some leisure time. Then you will be transferred to the airport from where you will take the flight to your next destination.
Tour Price
Season
Tour Class
Group Size
Single Room
Supplement
1pax
2-5pax
6-9pax
Peak Season
3
817
415
242
96
4
853
433
260
114
5
901
457
284
138