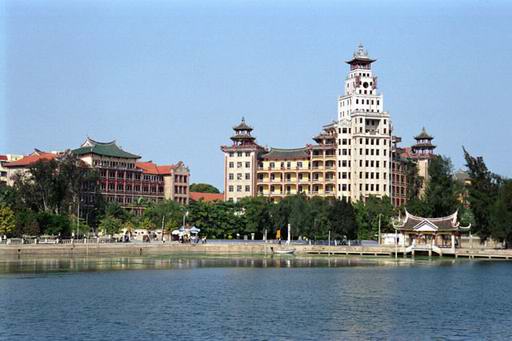 One Day Xiamen City Tour
Tour Code: CTXM04
Tour Duration: Approximately 8 hours
Available: Daily
Tour Type: Private Vehicle and Tour Guide
Sightseeing: Hulishan Canon Platform, Jimei
Day by Day Itinerary
Day 1 Xiamen ( L )
Itinerary: One day Xiamen city tour to Hulishan Fortress, South Putuo temple, Jimei School village(plus Kah-kee Park) with lunch. (Private vehicle and guide).
You will be picked up from your hotel then start the tour.
We will visit the Hulishan Fortress today.Hulishan Fortress is located at the southern tip of Xiamen Island. It is a spectacular site surrounded by walls made of granite and impressive gates. Hulishan Fortress was built in 1891, occupying an area of 13,000 square meters. Its buildings are distinctively preserved to the military style of the Ming Dynasty and also that of the Qing Dynasty.
Another spot we will pay a visit to is the South Putuo Temple.It is situated in the southeast of Xiamen City, Fujian Province, adjacent to Xiamen University. As one of Buddhist famous sacred spots in the southern Fujian Province, this temple plays a very important role at home and overseas. Now, it is the site of South Fujian Buddhist Academy.
Then we will go to see the Jimei School Village.Jimei is a small town on the side of the bank facing north Xiamen Island.Jimei is the hometown of Mr. Tan Kah-Kee, a famous overseas Chinese leader who devoted himself wholly to education.He built 12 different kinds of schools including Xiamen University so it changed Jimei from a rural village into a sizeable town.Those buildings are constructed in his unique blend of Western and Chinese architecture.They are good places for visitors all over the world.
After the tour you will be transfered back to your hotel and finish the tour today.