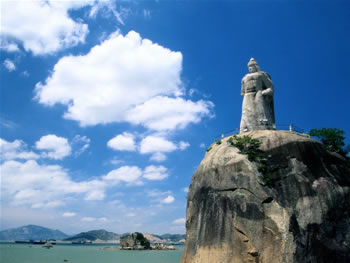 One Day Xiamen Highlight Tour
Tour Code: CTXM03
Tour Duration: Approximately 8 hours
Available: Daily
Tour Type: Private Vehicle and Tour Guide
Sightseeing: Gulangyu (Isle of Blown Waves)
Day by Day Itinerary
Day 1 Xiamen ( L )
Itinerary: One day Xiamen highlight tour to GulangYu Island, Crag of Sunlight, Suzhuang Garden with lunch. (Private vehicle and guide).
You will be picked up from your hotel then start the tour.
We will start today's trip in visiting GulangYu Island.It is located just southwest of Xiamen City. Visitors can reach it by steamship from Xiamen City in about 5 minutes. Gulangyu Island is renowned for its delicate natural beauty, its ancient relics, and its varied architecture. The island is on China's list of National Scenic Spots and also ranks at the top of the list of the ten most-scenic areas in Fujian Province.
We will also see the Crag of Sunlight today.Sunlit Rock is the summit of GulangYu Island. Along the way to the top of the mountain, there are many huge and fantastic rocks, Pavilions, and green trees. Climbing up to the top of the mountain, you will enjoy the bird's eye-view of the whole Island and part of Xiamen city.
Our next stop will be the Suzhuang Garden.Located at the southern shore of Gulangyu Island, it was built around 1900 as a private villa.Like other gardens, it is a traditional Chinese garden consisted of pavilions, bridges, lakes, towers and hills. Specially, Shuzhuang Garden is connect with the sea, you can enjoy the sea-view along the corridor above the sea.
After the tour you will be transfered back to your hotel and finish the tour today.