Tuyugou Valley, Turpan
Tuyu Valley (Tuyoq)
Chinese name: 吐峪沟 (Tu Yu Gou)
Location: in the middle piece of Flaming Mountain, Shanshan County, 47km East of Turpan, Xinjiang Uygur Autonomous Region.
Entrance fee: CNY190 for a 9P combined ticket, which includes attractions of Grapes Valley, Kanez Well, Ancient City of Gaochang, Astana-Karakhoja Ancient Tombs and Tuyugou.
Opening time: 08:00-21:00 in high season (Apr.21-Oct.20), 10:00-18:30 in low season (Oct.21-Apr.20).
How to get there: private bus, or taxi, or tourist van.
Tuyogou Valley - A Brief Introduction
Tuyoq is a valley village cutting into the flaming mountains located in the Taklimakan Desert. Tuyu Valley is a desert oasis seldom visited by tourists, known for its fantastic rock peaks, seedless grapes, and Buddhist meditation caves dating back to the 3rd century AD.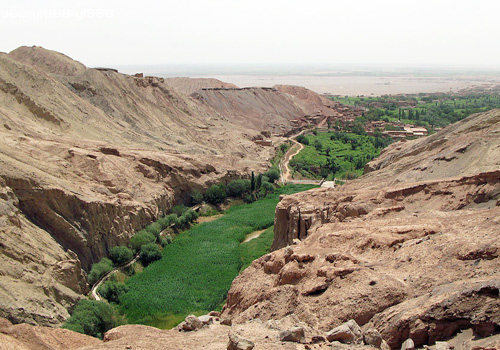 Tuyugou is an ancient village with roughly 1700 years of history, till this day they still preserve and use ancient Uyghur customs and culture. This valley village is also a pilgrimage area for many Muslims, with the main destination being The Mazar, or the tomb of the first Uyghur Muslim. It's said that seven trips to Tuyoq is equal to one trip to Mecca.
Tuyogou Sights
There are many things to be seen and enjoyed in Tuyoq such as the Thousand Buddha Caves, the Mazar, the ancient village, all the ancient architecture, grapes, and the customs which you won't find anywhere else. When you're getting ready for your trip don't forget to bring water, a hat, sunglasses, and your camera because if the heat doesn't do it the things you'll see will take your breath away.
- Thousand Buddha Caves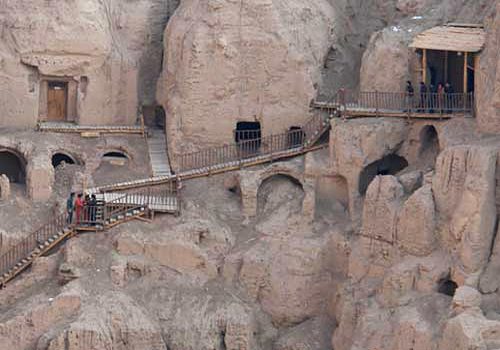 The Thousand Buddha Caves is an area made up of 94 artificially man made caves which were built even earlier than that in Mogao Grottoes of Dunhuang during Western Jin Dynasty (265-316), each cave is a rectangular room, with an oval ceiling. The rooms are decorated with thousands Buddhas, some paintings including travelers from all corners of the earth. That's right a room of Buddha's so if that does it for you go and stand in the middle of all those Buddhas.
However many of these caves have been destroyed by locals, and foreigners taking the painting to museums outside of China.
- Mazar
Mazar is one of the first ancient religious sights tourists will see if entering from the south of Tuyugou Valley. Known as the holy man, it is said that he was a shepherd who with a few others (disciples of Mohammed) started spreading Muslimism in the region, and today the holy man is know as the first Uyghur Muslim. Do to the significance of what he did and that he was the first Uyghur Muslim, now a days Muslims from all over the world come here on pilgrimages just to see his tomb. But before they go to the "holy mans" tomb they have to pass though Tuyoq.
- Ancient Village of Tuyu Valley
The ancient village of Tuyoq has been a part of history for the last 1700 years. Nothing has changed from then till now, the yellow earth houses, way of life, habits, and culture have all been preserved and passed down through the years. There are roughly 200 families that have populated this area. The way of life here gives travelers a sense of ease and relaxation, no loud crowds roaming about, no cars trying to run you over, no loud music coming from the house next to yours, no life here is nice and simple, but just really hot. So remember while traveling around in Tuyoq to bring a hat, a fan, a scarf to keep the sun off your neck, sunscreen, some cool sunglasses, your camera, and a whole lot of water, it is a freaking desert for crying out loud.