14 Days Beijing-Xi'an-Chengdu-Guilin-Yangshuo-Shanghai Tour
Tour Code:SGT05
Tour Duration: 14 Days
Tour overview:Enjoy the best highlights in Beijing, Xi'an, Chengdu, Guilin and Shanghai and spend your free time discovering more wonderful sights on your own in this two weeks!
Tour Price:2-5 pax (Tourist Class) : USD1138 per person
Day by Day Itinerary
Day 1 Beijing Arrival
Transfer via: Flight on your own arrangement

Upon your arrival in Beijing, you will be greeted by our local guide and then transferred to your hotel by a private air-conditioned car. For the rest of the day you will enjoy some leisure time.
Day 2 Beijing (B, L)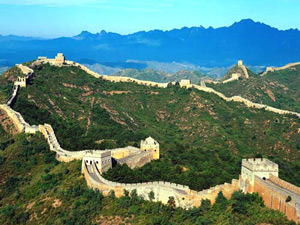 Sightseeing: Badaling Great Wall, Ming Tombs , Sacred Way

After experiencing the royal lifestyle, today we will be transferred to the surrounding countryside of Beijing and visit the Badaling Great Wall, the pride of China and one of the Seven Wonders of the World. Whereas Genghis Khan contemplated it as a military obstacle, Richard Nixon described it as one of humankind's greatest achievements. You will be able to climb and walk one of the best preserved sections of the 2,000 years old ancient wall, admiring the splendid mountain views. Bring a jacket and layer- although it is breezy, the climbing is tough. So be in a good shape!

In the afternoon we will visit the legendary Ming Tombs, which are situated at the foot of Heavenly Longevity Mountain, Changping, northwest of Beijing. Since there are 13 Ming emperors buried there, this place was called the 13 Ming Tombs. You will walk along the Sacred Way, a road guarded by stone statues on both sides, as the ancient emperors did to hold a memorial ceremony for their ancestors. Finally, you will encounter the marble tombs of the Ming Dynasty emperors and visit one of the spectacular tombs, indeed an underground palace.

On the way back to hotel, you will be driven to visit the main 2008 Beijing Olympic venues, take an exterior visit of both the Beijing National Stadium (Bird's Nest/Olympic Stadium), National Swimming Centre(the 'Water Cube'),feel free to take some photos of the stadiums.
Day 3 Beijing / Xian (B)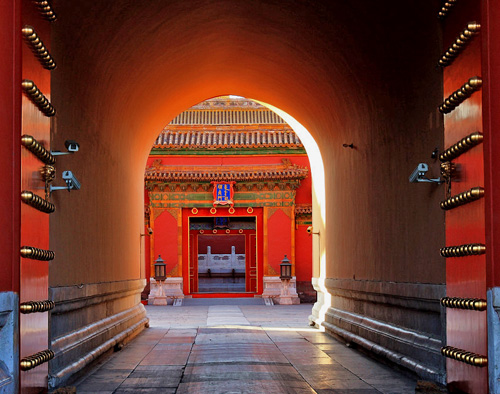 Transfer via: Overnight train (soft sleeper class) on our arrangement

Today is a free day to see some of the downtown sights of Beijing such as the Forbidden city, Summer Palace and Temple of Heaven. Make your own way to the station for an early evening departure by overnight train to Xian in a comfortable soft sleeper class compartment.
Day 4 Xi'an (B, L)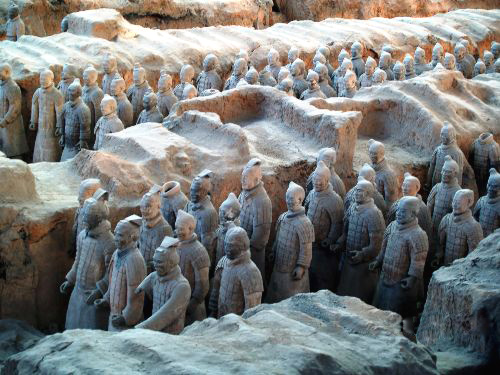 Sightseeing: Terra-cotta Warriors and Horses, Bell Tower, Big Wild Goose Pagoda

Arrive in Xi'an in the morning. Be met and transferred to your hotel with time for breakfast and a chance to freshen up before starting a full day tour.

You will visit the Banpo Museum, Banpo Neolithic Village Museum. The remains of this village, located just east of Xian and inhabited from about 4500 B.C. to 3750 B.C., were discovered in 1953.Inside the museum, there are the hall for the ruins, the hall for cultural relics, and the clay cave ruins. The Banpo Lady Statue o­n the rock in the garden pond bears a physical resemblance to the early Banpo people.
Then we will go on to visit the amazing 2000-year-old Terra-cotta Warriors and Horses. Regarded as the 8th Wonder of the World, the Terra-cotta Warriors and Horses are the most significant archeological excavations of the 20th century. Over 2,200 years ago, the first emperor of China, Qin Shi Huang, ordered the construction of a vast army of Terra-cotta warriors in search of immortality. After his early death they were buried with him to protect his empire. More than 7000 vivid figures in full battle array are formed for battle in several large pits.

Afterwards you will be transferred back to your hotel.
Day 5 Xi'an / Chengdu (B)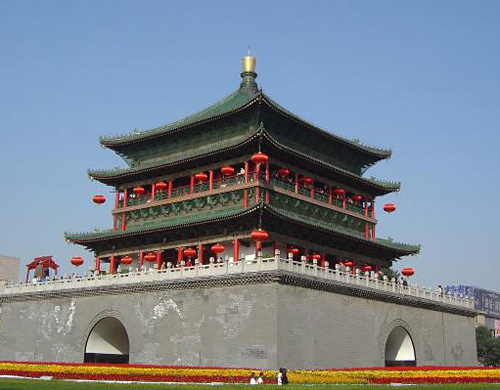 Transfer via: Overnight train (soft sleeper class) on our arrangement

Free morning in Xi'an to further explore such sights as the Drum Tower and Bell Tower or a trip to the Hanyangling Mausoleum. Make your own way to the station for an for a mid-afternoon train to Chengdu.
Day 6 Chengdu (B, L)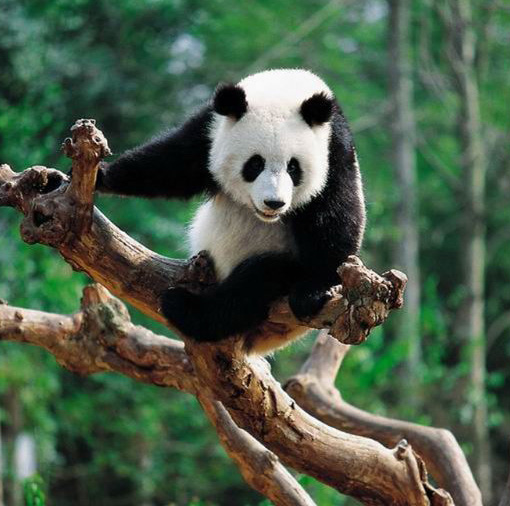 Sightseeing: Chengdu Panda Breeding Research Base, Wuhou Memorial Temple, Jinli Street

Early morning arrival in Chengdu. Transfer to your hotel with breakfast and time to freshen up before a half day private tour.

We will visit the Chengdu Panda Breeding Research Base, which was built to imitate the wild ecological environment of pandas. It covers a space of 92 acres, with a green coverage of 96 percent. The base created a perfect ecological environment for the living and breeding of pandas and other precious and rare wild animals. It breeds over 20 pandas and lesser pandas, black-necked cranes, white cranes and others.

And then you will visit the Wuhou Memorial Temple. The temple is dedicated to Zhuge Liang, the Martial Marquis of Shu in the Three Kingdoms. His outstanding intelligence place Zhuge Liang above all emperors, generals, and ministers in history.

Afterwards you will take a walk along Jinli Street which is particularly representative for this city. It is recorded that as already during Qin Dynasty (221 BC - 206 BC), Jinli Street was the most famous place for baldachin - a rich, ornate cloth. During Shu Kingdom (221-263) it was one of the busiest commercial streets. Hence, it is known as 'First Street of the Shu Kingdom'. In order to reclaim the street's prosperity of former days, it was restored with contributions from the Wuhou Memorial Temple and was opened to public in October of 2004.
Day 7 Chengdu /Guilin (B)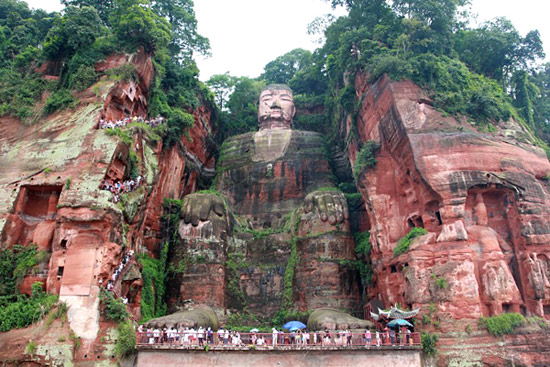 Transfer via: Flight on our arrangement

Free day in Chengdu, perhaps to visit the Leshan Giant Buddha in Leshan 2 hours away. Make your own way to the airport for an evening flight to Guilin. When you arrive in Guilin, you will be met by local English speaking guide and then be transferred to your hotel.
Day 8 Guilin / Yangshuo (B, L)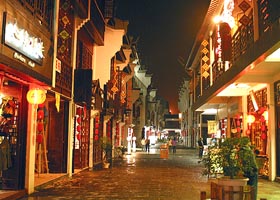 Sightseeing: Li River Cruise, West Street

Guilin is famous for its picturesque scenery, and the best way to see it is from the deck of Li River Cruise ships. Depart from your hotel in the morning. Be transferred to the Zhujiang Pier (about 1 hour drive) for a 4.5 hours wonderful cruise. You will enjoy the unique mountains, peaceful green fields, farms and villages with water buffalos, cows wondering around on both sides of the river bank. Disembark at the old town Yangshuo in the afternoon. Making your own way to your hotel. Free time to explore this wonderfully laid back town.

West Street is the oldest street in Yangshuo with a history of more than 1,400 years. You can have a short exploration to the old town's lovely attractions. Overnight in Yangshuo.
Day 9 Yangshuo (B)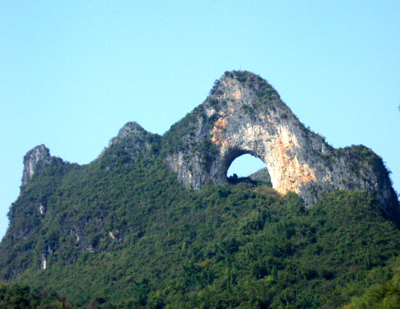 A free day in Yangshuo to continue to explore the town and its surrounding countryside. A wide range of tours and activities can easily be booked locally. Overnight Yangshuo.
Day 10 Yangshuo /Guilin/ Shanghai (B)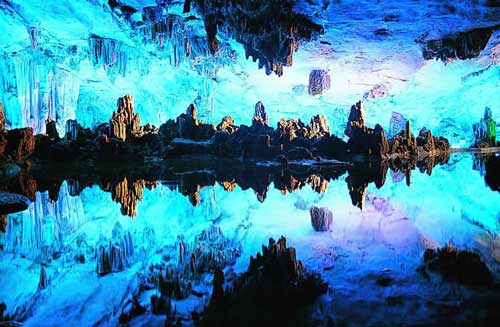 Transfer via: Overnight train (soft sleeper class) on our arrangement

Feel leisure in Yangshuo ancient town, and then you can take a taxi or local bus to the railway station for the sleeper train to Shanghai.
Day 11 On the Train to Shanghai
Full day on board the train with an early evening arrival in Shanghai with a transfer to your hotel and overnight.
Day 12 Shanghai (B, L)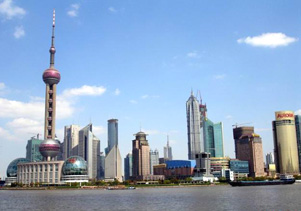 Sightseeing: Yuyuan Garden, Jade Buddha Temple, Shanghai Museum, Oriental Pearl Tower

After breakfast, we will take a full day tour. First, visit Yuyuan Garden, a beautiful garden in the south of the Yangtze River. Wandering through it, you will find pavilions, corridors, streams, courtyards as well as many other natural features.

Continue, with a visit of Jade Buddha Temple. The old-time and classical architectural style makes the temple unique and inimitable in this modern city. Both, the Sitting Buddha and the Recumbent Buddha are carved with whole white jade. If you're lucky, you can watch the monks serving a ceremony in a side room.

Then we will go on to the Shanghai Museum which is the biggest museum of China. It incorporates a collection of over 120,000 pieces of Chinese art & cultural relics and is especially famous for its treasures of bronzes, ceramics, paintings and calligraphy.

Afterwards we will head to the Oriental Pearl Tower, the highest TV Tower in Asia, which creates a picture of 'twin dragons playing with pearls'. The entire scene is a photographic jewel that excites the imagination and attracts thousands of visitors all year-round.
Day 13 Shanghai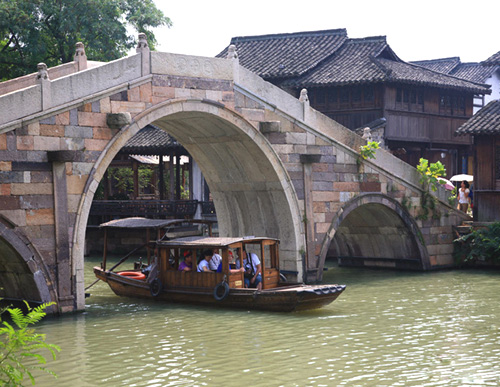 Free day in Shanghai for last minute shopping or sightseeing or perhaps a trip to the nearby water town of Suzhou.
Day 14 Shanghai Departure (B)
Transfer via: Flight on your own arrangement
Your time is your own, until our guide escorts you to the airport for your flight departure.
Tour Price
Season
Tour Class
Group Size
Single Room
Supplement
1pax
2-5pax
6-9pax
Low Season
3*(Tourist Class)
$1939
$1306
$1138
$289
4*(Deluxe Class)
$2252
$1460
$1286
$446
5*(First Class)
$2839
$1746
$1578
$735
Peak Season
3*(Tourist Class)
$1939
$1306
$1138
$289
4*(Deluxe Class)
$2252
$1460
$1286
$446
5*(First Class)
$2839
$1746
$1578
$735
Shoulder Season
3*(Tourist Class)
$1939
$1306
$1138
$289
4*(Deluxe Class)
$2252
$1460
$1286
$446
5*(First Class)
$2839
$1746
$1578
$735