17 Days Ethnic Minority Culture Tour Searching for the Last Shangri-La
Tour Code:EMT09
Tour Duration: 17 Days
Tour overview:Beat a path across eastern and western China, from Beijing to Guilin, Lhasa to Shanghai. Along the way, you'll browse a whole gallery of China's ethnic minorities. Open yourself to the wonderful world of various ethnic minorities, by which to experience their special customs and culture, and to discover the real China through those different cities, mountains and rivers.
Tour Price:2-5 pax (Tourist Class) : USD2861 per person
Day by Day Itinerary
Day 1 Beijing (B, L)
Transfer via: Flight on your own arrangement

Upon your arrival you will be greeted by our local guide and then transferred to your hotel by a private air-conditioned car. For the rest of the day you will enjoy some leisure time.
Day 2 Beijing (B, L)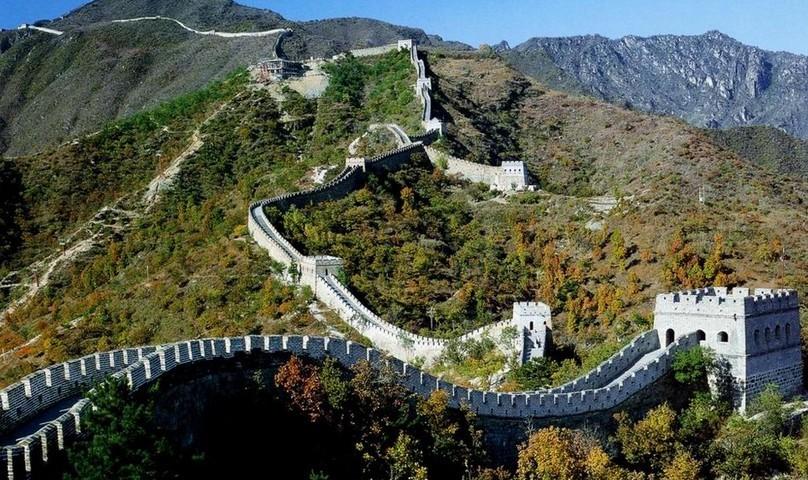 Sightseeing: Temple of Heaven, Tiananmen Square, Forbidden City

This morning our tour will begin with a visit of the Temple of Heaven, which was completed in 1420, and expanded over the years by two Qing Dynasty Emperors. It was the place where the Emperor came every winter solstice to worship heaven and to solemnly pray for a good harvest. With the three blue-tiled cone-shaped roofs, a unique wooden and blue-tiled structure built without a nail, it has become a worldwide symbol of Beijing.

After lunch, we will go on our city tour to visit Tiananmen Square, the symbolical heart of China and gathering place for the masses. It is the biggest public square in the world, which can hold one million people.

From here we will walk across the Golden River Bridge to visit the Forbidden City and experience the ancient Emperor's daily life. For 5 centuries Chinese emperors carried out their administration here. With almost 10,000 rooms, it was the centre of the Ming and Qing dynasties, a massive complex of palaces, pavilions, courtyards and gardens where 24 emperors used to live. Forbidden City was the largest palace in the world, and in the past it was indeed a forbidden place for commoners.
Day 3 Beijing (B, L)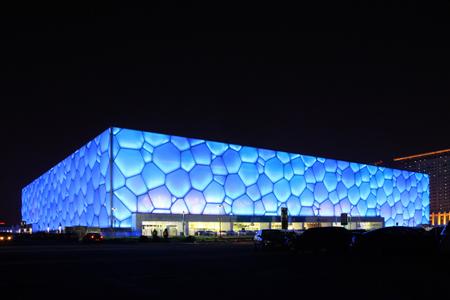 Sightseeing: Mutianyu Great Wall, the Beijing National Stadium (Bird's Nest/Olympic Stadium) National Swimming Centre (The Water Cube), Hutong

Today we will visit the Mutianyu Great Wall, the pride of China and one of the Seven Wonders of the World. Whereas Genghis Khan contemplated it as a military obstacle, Richard Nixon described it as one of humankind's greatest achievements. You will be able to climb and walk on the sections of the 2,000 years old ancient wall, admiring the splendid mountain views. Bring a jacket and layer- although it is breezy, the climbing is tough. So be in a good shape!

On the way back to hotel, you will be driven to visit the main 2008 Beijing Olympic venues, take an exterior visit of the Beijing National Stadium (Bird's Nest/Olympic Stadium), National Swimming Centre('The Water Cube'), and feel free to take some photos of the stadiums.

Then we will experience a unique Hutong tours in a rickshaw. Hutongs are a kind of ancient city alley or lane and are very typical for Beijing. Most of them can be found close to the Forbidden City, and many were built during the three dynasties of Yuan, Ming and Qing. Today, the Hutong is a living museum of Beijing history showing the traditional lifestyle of Beijing people.
Day 4 Beijing/Guilin (B, L)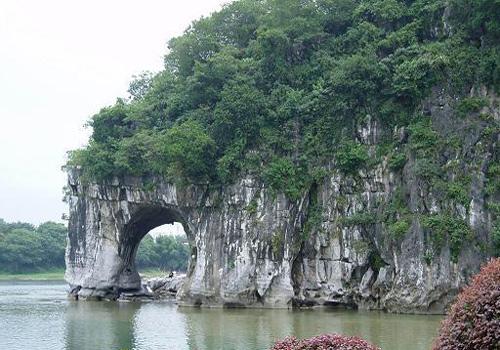 Transfer Via: Flight on our arrangement.
Sightseeing: Elephant Trunk Hill, Rong Lake (Ronghu)

Transfered to the airport to take flight to Guilin. Arrive in Guilin, be met and escorted to the hotel.

Then you will visit Reed Flute Cave, which is a vast and very impressive cave system, and one of the most important sights of Guilin. Known as "the Palace of Natural Arts", you can see beautiful stalactites & stalagmites and learn how they are formed.

Afterwards, we will go on enjoy the beautiful night scene of Rong Lake.

Day 5 Guilin (B, L)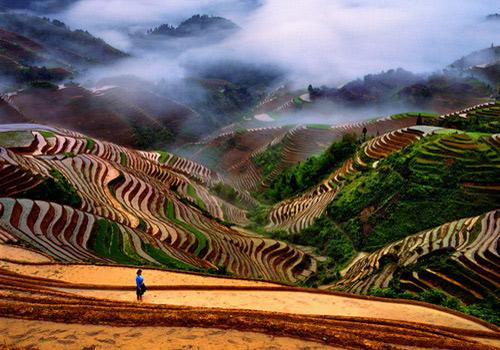 Transfer via: Private Vehicle –on our arrangement
Sightseeing: Dragon's Backbone Rice Terraces

This morning, we will drive to Longsheng County which is featured with rich and elegant folk customs. We will take the country road and arrive at Dragon's Backbone Rice Terraces which have been called "an absolute one under the heaven and the first one in the world". The magnificent terraces look like silver belt in sprit, green wave in summer, golden tower in fall and dragon plays in water in winter.
Day 6 Guilin (B, L)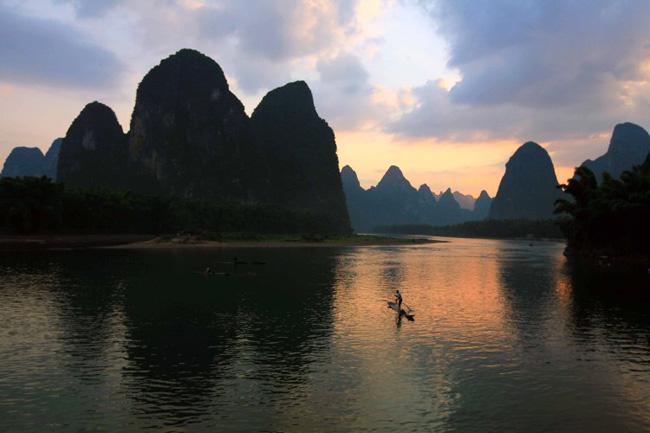 Sightseeing: Li River Cruise, West Street.

Guilin is famous for its picturesque scenery, and the best way to see it is from the deck of Li River Cruise ships. In the morning you will depart from your hotel and be transferred to the Zhujiang Pier (about 1 hour drive) for a 4.5 hours wonderful cruise. You will enjoy the unique mountains, peaceful green fields, farms and villages with water buffalos, cows wondering around on both sides of the river bank.

In the afternoon you will disembark at the old town Yangshuo. Having a history of more than 1,400 years, West Street is the oldest street in Yangshuo. You will have some time to explore the old town's lovely attractions.

After the tour you will be transfered back to your hotel in Guilin and finish the tour today.
Day 7 Guilin/Kunming (B, L)
Transfer Via: Flight on our arrangement.
Sightseeing: Reed Flute Cave, Seven Star Park

In the morning you will head to Elephant Trunk Hill. Located at the conjunction of the Li River & the Peach Blossom River, the whole hill looks very much like a giant elephant with a long trunk drinking out of the river; it is the symbol of Guilin city.

Afterwards we will make a walk through Seven Star Park. It is one of the best urban parks in China. The park is in the east bank of Lijiang, the largest park in Guilin with the theme of rock caves.

Then you will be transfered to Kunming by air on our arrangement. Arrive in Kunming, be met and escorted to the hotel.

Day 8 Kunming (B, L)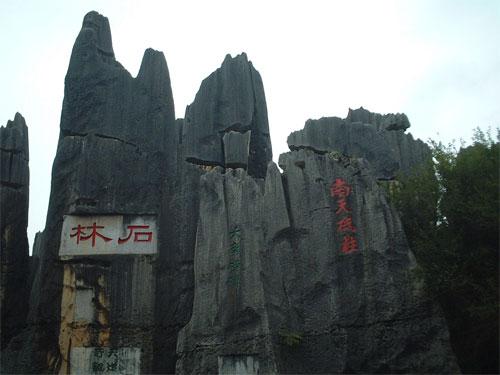 Sightseeing: Stone Forest

Today we will go on a full day trip to Stone forest. Due to a process of weathering and erosion, nature has created an art gallery of stone sculpture here. This typical karst physiognomy seems like a forest of stone pillars and boulders. You will see fascination natural creations like Lion Arbor, Sword Peak Pond, Lotus Peak, Moon Lake, Jade Lake, and Dadie Waterfall.
Day 9 Kunming/Dali (B, L)
Transfer via: Flight on our arrangement
Sightseeing: The Houses of Bai People in Xizhou,The three pagodas of chongsheng temple

After breakfast, transfered to the airport to take flight to Dali. Arrived in Dali, be met and transferred to hotel.

Then you will visit the Ancient City of Dali. The Ancient City faces Erhai Lake to the east ad Cangshan Mountain to the west. The gate tower of the City is grand and the sights here are beautiful. Dali is a magnificent ancient city with a perimeter of 6 kilometers. Its former city wall is 7.5 meters high and 6 meters thick. There used to be four city gates, one on each side. The Ancient City of Dali will give you a simple, unsophisticated and quiet impression.
Then we will head to the Houses of Bai People in Xizhou. The town of Xizhou is next to Erhai Lake and the Wanhua Brook. Historically, it was a military fortress of Nanzhao Kingdom and a temporary palace of the King of Nanzhao. Because of its favorable geographical situation, the town used to be a commercial centre before 1949 and where more than 140 national capitalist families used to live. Their houses are of the typical Bai design known as "Sanfang Yizhaobi" (a courtyard rooms on three sides and a screen wall on the remaining side) and "Sihe Wutianjing" (one big courtyard with four smaller ones at the four corners of the main one).

Then you will head to the Three Pagodas of Chongshen Temple. It has a history of over 1,800 years and is a symbol of the history of Dali City, and a record of the development of Buddhism in the area. As its name implies, Three Pagodas are made of three ancient independent pagodas forming a symmetrical triangle. This is unique in China. A visit to The Three Pagodas should not be missed by any visitor to Dali City.
Day 10 Dali/Lijiang (B, L)
Transfer via: Private vehicle on our arrangement
Sightseeing: Lijiang Ancient Town, Black Dragon Lake

In the morning you will take a private car into the dicrection of Lijiang.

Upon your arrival in Lijiang, your local guide will welcome you and transfer you to your hotel. For the rest of the day you will have a visit to the Lijiang Ancient Town. It is also known as Dayan Town in Lijiangba and was included in the UNESCO world heritage list in 1997. It was first built in the Southern Song Dynasty and in 1253 and became larger during Ming and Qing dynasties.

We will also visit the Black Dragon Lake, which is located at the foot of Xiangshan Mountain (象山), Black Dragon Lake, also known as Jade Spring Park (玉泉公园) or Temple of Dragon King (龙王庙) to local people, is a lake famous for its clear water, thousand-year-old trees, and picturesque lanscape.
Day 11 Lijiang (B, L)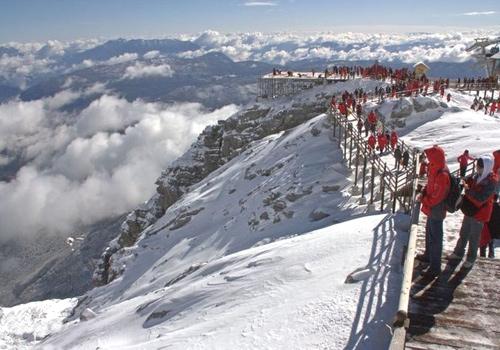 Sightseeing: Yulong Snow Mountain, Jade Peak Temple, Lijiang Mural

Today we will depart to Yulong Snow Mountain. It is the southernmost marine glacier in the temperate zone of the northern hemisphere. Altogether there are 13 peaks along the range, stretching for over 35km from south to north. The summit, Shanzidou, is 5596 meters above sea level. Viewed from afar, the snow-capped range resembles a silver dragon with snow curling up its middle. Rich forest, herb and animal resources thrive on the mountain.

And then we will visit the Jade Peak Temple which is Located at the south foot of the snow mountain which is15 kilometers north of Lijiang ancient City, the Jade Peak Temple (or Yufeng Temple) parallels with Fuguo Temple, Puji Temple, Wenfeng Temple and Zhiyun Temple as the "Five Lamaseries of suburban Lijiang".

We will go on visit the Lijiang Mural which is art heritage of minority ethnic groups living in Northwest Yunnan. It shows religionary topics such as Mahayana (大乘佛教), Tibetan Buddhism (藏传佛教) and Taoism.
Day 12 Lijiang/Diqing (B, L)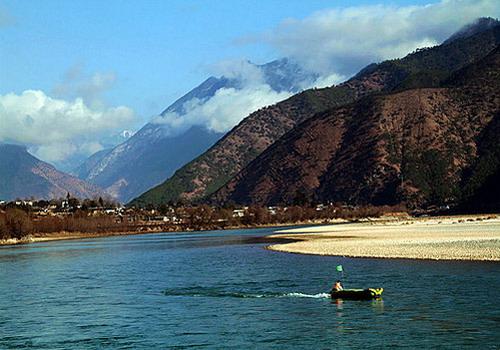 Transfer via: Private car on our arrangement
Sightseeing: Tiger Leaping Gorge, First Bend of Yangtze River, Diqing Ancient City

In the morning you will be transferred to Shangri-La by private car. On the way, you will fist visit Tiger Leaping Gorge. Being one of Yunnan's most famous spots, the gorge itself is tucked neatly between the Yulong Snow Mountain and Haba Snow Mountain, which surround its two sides.

Secondly, we will see the first bend of the Yangtze River. It lies in Shigu Town, Lijiang. Rushing down from the Qinghai-Tibet Plateau, "the roof of the world", the Yangtze surges into Yunnan from its northwest, where it meets Lancang River and Nu River. Then, they go together through the high mountains and deep gorges of Hengduan Mountains. You will be impressed by this natural power.

Uopn arrive in Diqing(Shangri-la), be met by local guide and transferred to hotel. Then visit local family and the Ancient City of Diqing.

Day 13 Diqing(Shangri-La) (B, L)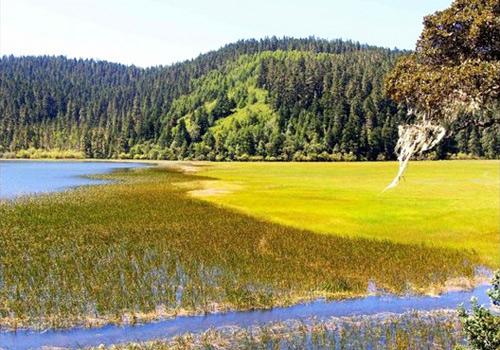 Sightseeing: Song Zanling Monastery, Pudacuo Park

Today your tour will start with a visit of Songzanlin Monastery, which is is a typical Lama monastery. Located at the foot of Mt. Foping, four kilometers north of Zhongdian County, a monastery was first built here in 1679 and has been rebuilt many times. The architectural style of the building is a faithful imitation of the Potala Palace in Lhasa, Tibet.

Then we will visit the Pudacuo Park which has a wide array of wildlife such as, leopards, black-necked cranes, rhesus monkeys, lynxes, blood pheasant, black bears, brown bears, the Tibetan Pika, parrots, and a lot of different types of fish, like the three-lipped fish native to this area. (This fish is said to have a history of 2,500,000 years, supposedly left over from the Quaternary Glacier- the latest great glaciers.) This area is literally teaming with wildlife.
Day 14 Diqing/Lhasa (B, L)
Be transfered to take flight to Lhasa. Arrive in Lhasa, be met and transferred to hotel, adaptting to the high altitude at the rest of the day.
Day 15 Lhasa (B, L)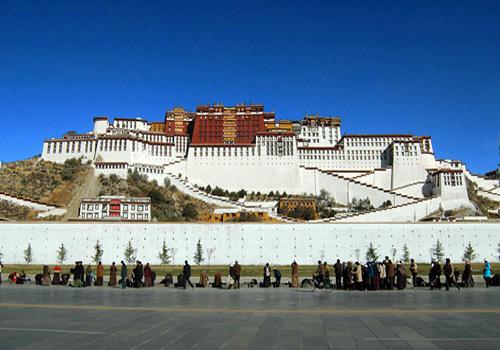 Sightseeing: Potala Palace, Jokhang Temple, Barkhore Street

We will go on a full day visit of Potala Palace. It is the greatest monumental structure all over Tibet. This ancient architectural complex is considered as a model of Tibetan architecture. Located on the Red Hill in Lhasa, it is 3,700 meters above sea level and covers an area of over 360,000 square meters. The palace has 13 stories, and is 117 meters high. In 641, Songtsan Gambo, ruler of the Tubo Kingdom, built the Potala Palace for Princess Wencheng of the Tang Dynasty, whom he was soon to marry.

Then we'll visit the Jokhang Temple, the spiritual center of Tibet. Every day, pilgrims from every corner of Tibet trek a long distance to the temple. The sacred image of Jowo Sakyamuni is the most venerated and beautiful image all over Tibet

After lunch in a local restaurant, we will visit Barkhor Street, which is the oldest street in Lhasa as well as the center of old Lhasa which remains very traditional. Located in the old area of Lhasa City, Tibet, Barkhor Street is a very ancient round street surrounding the Jokhang Temple. Tibetan people are very proud of it. As a symbol of Lhasa, this street is also a must-see place.
Day 16 Lhasa (B, L)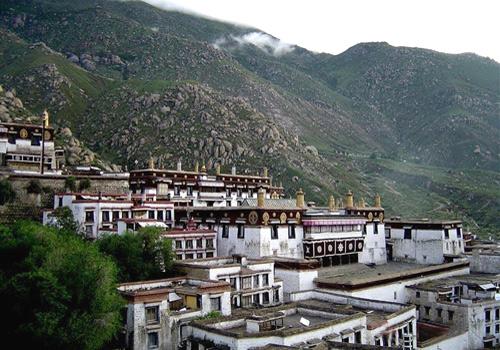 Sightseeing: Sera Monastery, Norbulingka, Drepung Monstery

In the morning we will visit the Sera Monastery, around 5 km north of central Lhasa, which was, along with Drepung, one of Lhasa's two great Gelugpa monasteries. Its once huge monastic population of about 5000 monks has now been reduced to several hundred.

Then we will visit Norbulingka Park; Norbulingka meaning "Jeweled Garden", the Summer Palace of the Dalai Lamas. The gardens are poorly tended and the palaces themselves are something of an anticlimax, especially as most rooms are currently closed to the public.

Our next stop will be Drepung Monastery. It is known as the most important monastery of Gelugpa in Tibetan Buddhism. It is considered as one of the 'Three Great Monasteries' (the other two are the Ganden Monastery and the Sera Monastery).
Day 17 Lhasa (B)
Transfer via: Flight on your own arrangement

You will have the last hours in Lhasa for yourself until our guide will escort you to the airport for your flight to your next destination. (Direct flight to Beijing and Shanghai are available in Lhasa, please choose the one according to your departure city.)
Tour Price
Season
Tour Class
Group Size
Single Room
Supplement
1pax
2-5pax
6-9pax
Peak Season
3*(Tourist Class)
$5690
$3676
$2861
$745
4*(Deluxe Class)
$5964
$3942
$3123
$936
5*(First Class)
$7237
$4450
$3654
$1306