8 Days Shanghai Sights & Yunan Magic Tour
Tour Code:EMT06
Tour Duration: 8 Days
Tour overview:Beginning in Shanghai, China's most famous cosmopolitan metropolis, this China tour will take you across China and allow you to experience one of its most incredible Ethnic Minority Groups. In Shanghai, you will experience the beautiful blending of Chinese and Western culture and history that make this city so exciting. In the ancient town of Lijiang, you will witness the Naxi Dongba Ethnic Minority Group. The Naxi people's written language is the only hieroglyphic text still in use anywhere in the world. Their traditions and cuisine make them a favorite with visitors.
Tour Price:2-5 pax (Tourist Class) : USD1503 per person
Day by Day Itinerary
Day 1 Shanghai Arrival
Transfer via: Flight on your arrangement

Arriving in Shanghai, you will be met and transferred to your hotel by our local guide.
Day 2 Shanghai (B, L)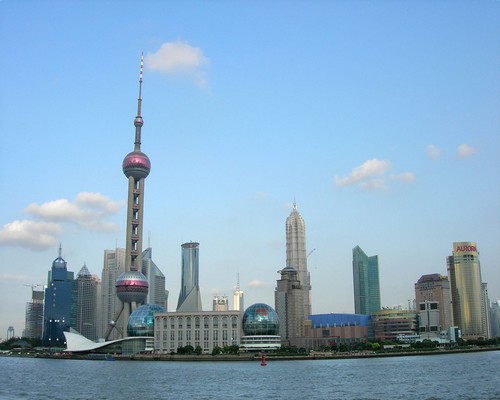 Sightseeing: Yuyuan Garden, Jade Buddha Temple, The Bund, Nanjing Road

In the morning we will take a relaxing walk to the lovely Yuyuan Garden, a beautiful garden in the south of the Yangtze River. Wandering through it, you will find pavilions, corridors, streams, courtyards as well as many other natural features.

Then we will head to the Jade Buddha Temple. The old-time and classical architectural style makes the temple unique and inimitable in this modern city. Both, the Sitting Buddha and the Recumbent Buddha are carved with whole white jade. If you're lucky, you can watch the monks serving a ceremony in a side room.

After lunch, we will visit the Oriental Pearl Tower, the highest TV Tower in Asia, which creates a picture of 'twin dragons playing with pearls'. The entire scene is a photographic jewel that excites the imagination and attracts thousands of visitors all year-round.

Afterwards, you will take a walk to the famous Nanjing Road and the Bund. They are among the most recognizable architectural symbols of Shanghai and therefore a must-see when visiting Shanghai.
Day 3 Shanghai to Kunming (B, L)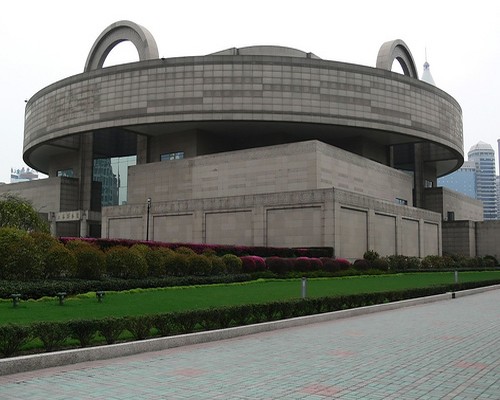 Transfer via: Flight on our arrangement
Sightseeing: Shanghai Museum, Kunming Flowers and Birds Market

First we will visit Shanghai Museum which is the biggest museum of China. It incorporates a collection of over 120,000 pieces of Chinese art & cultural relics and is especially famous for its treasures of bronzes, ceramics, paintings and calligraphy.

Then you will take the flight to Kunming. After your arrival there, you will be met by your local guide and then we will visit Kunming Flowers and Birds Market, the city's biggest, most attractive shopping market where spring reigns all year. Since 1983, the Flowers and Birds Market has gradually been built into a comprehensive public spot for leisure, shopping, and trading. Strolling on the market street, you will see shops and stalls of all sorts, especially those featuring flowers, birds, and fish.
Day 4 Kunming (B, L)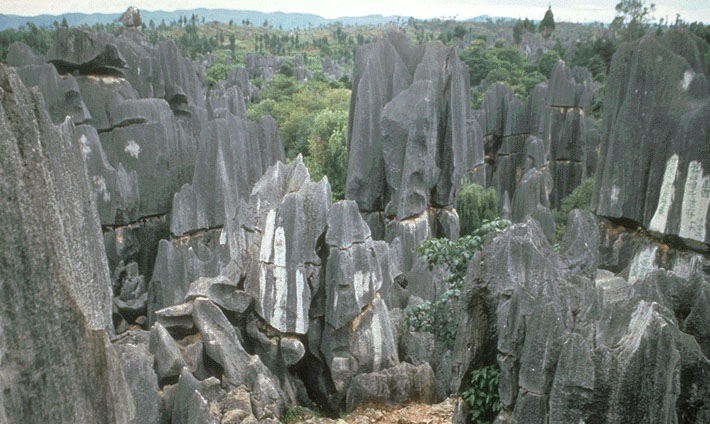 Sightseeing: Stone Forest, West Hill

Today we will go on a full day trip to Stone forest. Due to a process of weathering and erosion, nature has created an art gallery of stone sculpture here. This typical karst physiognomy seems like a forest of stone pillars and boulders. You will see fascination natural creations like Lion Arbor, Sword Peak Pond, Lotus Peak, Moon Lake, Jade Lake, and Dadie Waterfall.

Then we will heat to West Hill which contains Huating Hill, Taihua Hill and Luohan Hill, extending a distance of more than 40 kilometers at an altitude of between 1900 meters to 2350 meters above sea level. You will be astonished by the beautiful lush vegetation, blooming flowers, green grass and tranquil surroundings. West Hill has enjoyed great fame for unique natural scenery since ancient time and was renowned as "the most beautiful place in Yunnan".
Day 5 Kunming to Lijiang (B, L)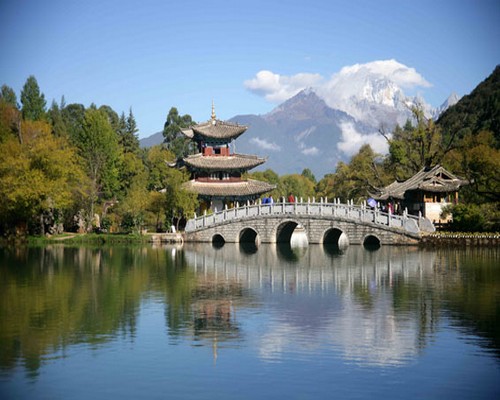 Transfer via: Flight on our arrangement
Sightseeing: Lijiang Ancient Town, Lijiang Mural

In the morning you will take your flight to Lijiang. Upon your arrival there, you will be met by your local guide and then visit Lijiang Ancient Town. It is also known as Dayan Town in Lijiangba and was included in the UNESCO world heritage list in 1997. It was first built in the Southern Song Dynasty and in 1253 and became larger during Ming and Qing dynasties.

Then you will see invaluable Lijiang Mural. It is stored, preserved and displayed in 15 venerable temples, such as Juexian, Wande, Guiyi temples and Sanbi Garden. Altogether, the mural used to include more than 200 pieces of fresco. However, hundreds of years of historical vicissitudes have left only 55 pieces in good condition. The most famous frescos are known as Baisha Mural of the Dabaoji (Great Treasure) Palace and the Colored Glaze Temple (Liuli Dian) in the town of Baisha.
Day 6 Lijiang (B, L)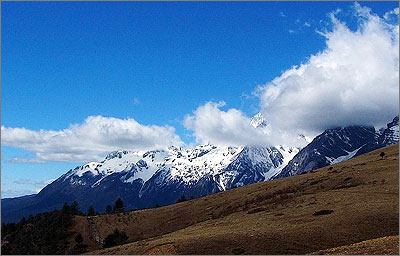 Sightseeing: Yulong Snow Mountain, Dongba Village

Today we will depart to Yulong Snow Mountain. It is the southernmost marine glacier in the temperate zone of the northern hemisphere. Altogether there are 13 peaks along the range, stretching for over 35km from south to north. The summit, Shanzidou, is 5596 meters above sea level. Viewed from afar, the snow-capped range resembles a silver dragon with snow curling up its middle. Rich forest, herb and animal resources thrive on the mountain.

On our way we will stop at Dongba Village in Yushui Stockade, which is built completely according to the traditional life style of Naxi Minority. You can feel the traditional atmosphere of national culture from the layout of its yard, building facilities, tools and details of life.
Day 7 Lijiang (B, L)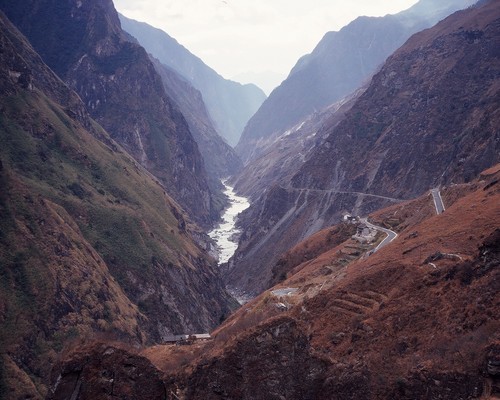 Sightseeing: Tiger Leaping Gorge, First Bend of the Yangtze River

In the morning you will visit Tiger Leaping Gorge. Being one of Yunnan's most famous spots, the gorge itself is tucked neatly between the Yulong Snow Mountain and Haba Snow Mountain, which surround its two sides.

Secondly, we will see the first bend of the Yangtze River. It lies in Shigu Town, Lijiang. Rushing down from the Qinghai-Tibet Plateau, "the roof of the world", the Yangtze surges into Yunnan from its northwest, where it meets Lancang River and Nu River. Then, they go together through the high mountains and deep gorges of Hengduan Mountains. You will be impressed by this natural power.
Day 8 Lijiang to Kunming to Shanghai (B)
Transfer via: First flight on our arrangement
Second Flight upon your arrangement

In the morning you will be escorted to Kunming airport to take the flight to Shanghai. Afterwards you will take the connection flight to your next destination.
Tour Price
Season
Tour Class
Group Size
Single Room
Supplement
1pax
2-5pax
6-9pax
Peak Season
3*(Tourist Class)
$2296
$1750
$1503
$203
4*(Deluxe Class)
$2476
$1840
$1593
$293
5*(First Class)
$2758
$1981
$1734
$434