10 Days Oriental Pearl Hong Kong & Shangri-La Tour
Tour Code:EMT02
Tour Duration: 10 Days
Destination:Dali, Diqing(Shangri-La), Hong Kong, Kunming, Lijiang
Tour overview:Yunnan Province is home to some of China's most interesting Minority Groups. In Dali, Lijiang, and Shangri-la, you will witness their ancient traditions. Each Chinese Minority Group has its own unique traditions, history, cuisine, clothing, and much more. To walk amongst the ancient towns and villages of these groups is an incredible experience. You will see first-hand, the ancient cultures of these groups. In Hong Kong, one of the most beautiful cities on Earth, you will feel its vibrant life, and ancient past.
Tour Price:2-5 pax (Tourist Class) : USD1957 per person
Day by Day Itinerary
Day 1 Arrival Hong Kong
Transfer via: Flight on your arrangement

Upon your arrival in Hong Kong you will be met by your local guide an then be transferred to the hotel. Enjoy some leisure time for the rest of the day.
Day 2 Hong Kong (B)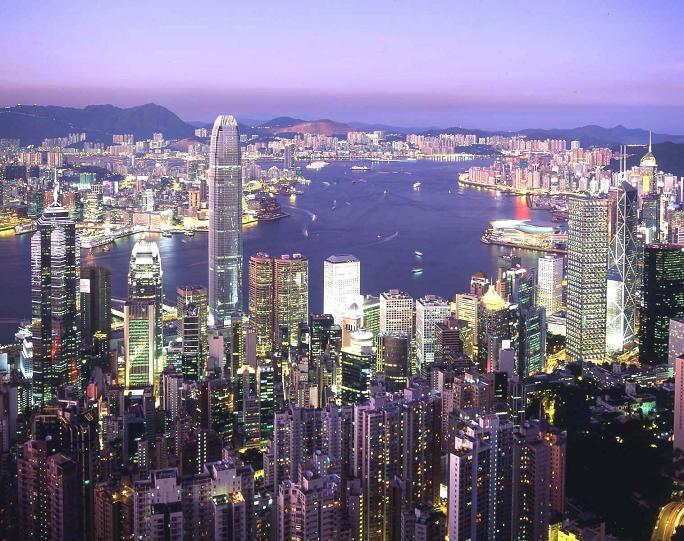 Sightseeing: Aberdeen, Victoria Peak, Repulse Bay

Today we will start to explore Victoria Peak first. The Peak is Hong Kong's number one tourist destination. It features the city's oldest mode transport, the 112-year old Peak Tram and Hong Kong's most unusual building and icon, The Peak Tower where you will find shopping, restaurants, and entertainment.

Then you will visit lovely Repulse Bay: Primarily an exclusive residential area, Repulse Bay has a relaxed, resort-like atmosphere. You will find statues of Kwun Yum and Tin Hau, both protectors of fishermen.

The tour will continue with a visit to Aberdeen fishing village where you will enjoy a Sampan Ride on the harbor to get a close-up look at this unusual way of life.

For the rest of the day you will have leisure time to explore Hong Kong on your own.
Day 3 Hong Kong / Kunming (B)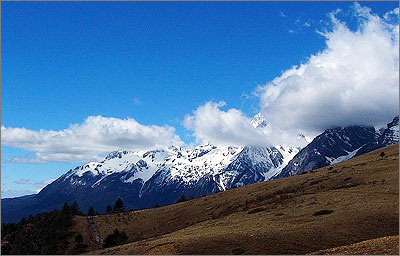 Transfer via: flight on our arrangement
Sightseeing: West Hill

In the morning your guide will pick you at at the hotel and transfer you to the airport. There you take the flight to Kunming.

After arriving there, your local guide will welcome you and visit West Hill with you. West Hill contains Huating Hill, Taihua Hill and Luohan Hill, extending a distance of more than 40 kilometers at an altitude of between 1900 meters to 2350 meters above sea level. You will be astonished by the beautiful lush vegetation, blooming flowers, green grass and tranquil surroundings. West Hill has enjoyed great fame for unique natural scenery since ancient time and was renowned as "the most beautiful place in Yunnan".
Day 4 Kunming (B, L)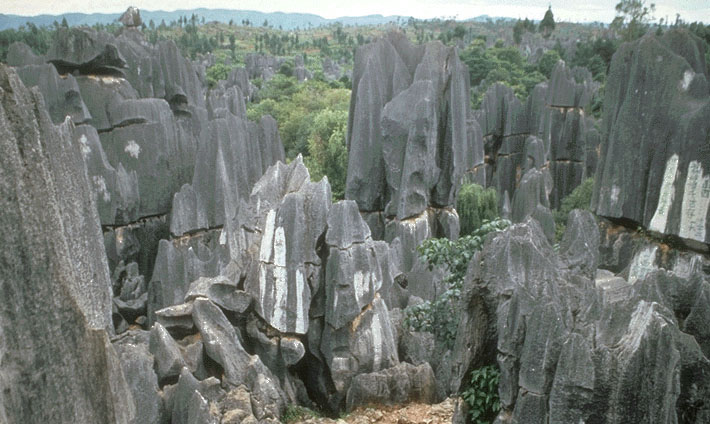 Sightseeing: Stone forest, Kunming Flowers and Birds Market

Today we will go on a full day trip to Stone forest. Due to a process of weathering and erosion, nature has created an art gallery of stone sculpture here. This typical karst physiognomy seems like a forest of stone pillars and boulders. You will see fascination natural creations like Lion Arbor, Sword Peak Pond, Lotus Peak, Moon Lake, Jade Lake, and Dadie Waterfall.

Then we will visit Kunming Flowers and Birds Market, the city's biggest, most attractive shopping market where spring reigns all year. Since 1983, the Flowers and Birds Market has gradually been built into a comprehensive public spot for leisure, shopping, and trading. Strolling on the market street, you will see shops and stalls of all sorts, especially those featuring flowers, birds, and fish.
Day 5 Kunming / Dali (B, L)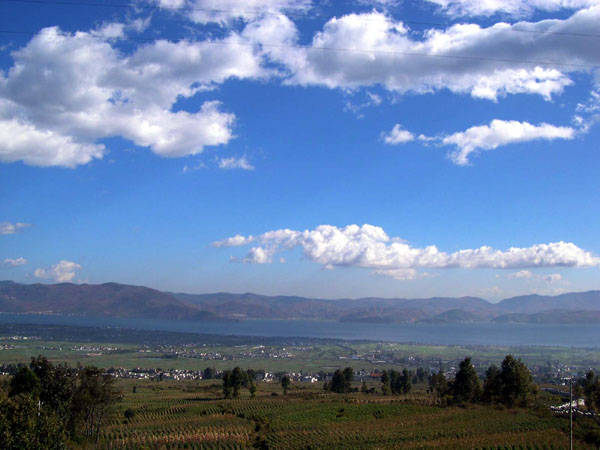 Transfer via: Bullet train on our arrangement
Sightseeing: Erhai Lake, three Pagodas of Chongshen Temple, Ancient City of Dali

In the morning you will take bullet train to Dali. There you will be met by your local guide and the visit Erhai Lake. Erhai Lake is the largest highland lake next to Dianchi and one of the seven biggest fresh water lakes in China. It means, 'sea shaped like an ear', in Chinese. Implying that the lake is ear shaped and as large as a sea, hence it was so named. The lake covers an area of 250 square kilometers. On a sunny day, the crystal waters of Erhai Lake and the snow mantled Cangshan Mount radiate with each other.

Then you will head to the Three Pagodas of Chongshen Temple. It has a history of over 1,800 years and is a symbol of the history of Dali City, and a record of the development of Buddhism in the area. As its name implies, Three Pagodas are made of three ancient independent pagodas forming a symmetrical triangle. This is unique in China. A visit to The Three Pagodas should not be missed by any visitor to Dali City.

Finally you will see the Ancient City of Dali facing Erhai Lake to the east ad Cangshan Mountain to the west. The gate tower of the City is grand and the sights here are beautiful. Dali is a magnificent ancient city with a perimeter of 6 kilometers. Its former city wall is 7.5 meters high and 6 meters thick. There used to be four city gates, each on one side. On the gates were the gate towers. The Ancient City of Dali will give you a simple, unsophisticated and quiet impression.
Day 6 Dali / Lijiang (B, L)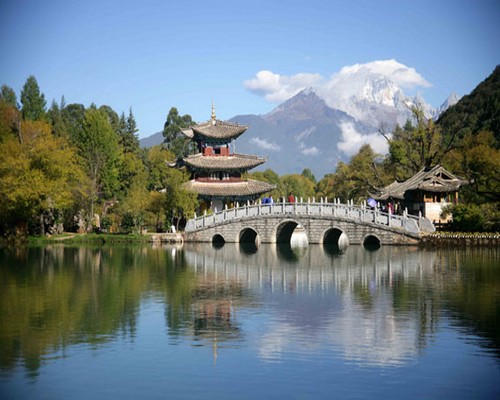 Transfer via: Private vehicle on our arrangement
Sightseeing: house of Bai people in Xizhou, Tie-Dyeing Zoucheng, Lijiang Ancient Town

In the morning you will take a private car into the dicrection of Lijiang. On the way, you will make a first stop at a house of Bai people in Xizhou. The town of Xizhou is next to Erhai Lake and the Wanhua Brook. Historically, it was a military fortress of Nanzhao Kingdom and a temporary palace of the King of Nanzhao. Because of its favorable geographical situation, the town used to be a commercial centre before 1949 and where more than 140 national capitalist families used to live. Their houses are of the typical Bai design known as "Sanfang Yizhaobi" (a courtyard rooms on three sides and a screen wall on the remaining side) and "Sihe Wutianjing" (one big courtyard with four smaller ones at the four corners of the main one).

Our next stop will be Tie-Dyeing Zoucheng, the largest and the farthest northern village of Dali City. The village has 7,571 inhabitants of 1,470 families. The entire village is in a square shape with row upon row of houses.

Arriving in Lijiang, you will be met by your local guide and then visit Lijiang Ancient Town. It is also known as Dayan Town in Lijiangba and was included in the UNESCO world heritage list in 1997. It was first built in the Southern Song Dynasty and in 1253 and became larger during Ming and Qing dynasties.
Day 7 Lijiang (B, L)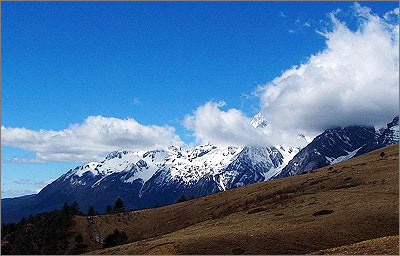 Sightseeing: Yulong Snow Mountain, Dongba Village

Today we will depart to Yulong Snow Mountain. It is the southernmost marine glacier in the temperate zone of the northern hemisphere. Altogether there are 13 peaks along the range, stretching for over 35km from south to north. The summit, Shanzidou, is 5596 meters above sea level. Viewed from afar, the snow-capped range resembles a silver dragon with snow curling up its middle. Rich forest, herb and animal resources thrive on the mountain.

On our way we will stop at Dongba Village in Yushui Stockade, which is built completely according to the traditional life style of Naxi Minority. You can feel the traditional atmosphere of national culture from the layout of its yard, building facilities, tools and details of life.
Day 8 Lijiang / Diqing (Shangri-La) (B, L)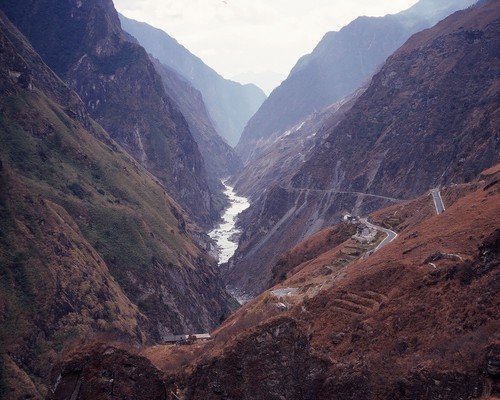 Transfer via: Private Vehicle on our arrangement
Sightseeing: First Bend of Yangtze River, Tiger Leaping Gorge

In the morning you will be transferred to Shangri-La.

On the way, you will fist visit Tiger Leaping Gorge. Being one of Yunnan's most famous spots, the gorge itself is tucked neatly between the Yulong Snow Mountain and Haba Snow Mountain, which surround its two sides.

Secondly, we will see the first bend of the Yangtze River. It lies in Shigu Town, Lijiang. Rushing down from the Qinghai-Tibet Plateau, "the roof of the world", the Yangtze surges into Yunnan from its northwest, where it meets Lancang River and Nu River. Then, they go together through the high mountains and deep gorges of Hengduan Mountains. You will be impressed by this natural power.
Day 9 Diqing (Shangri-La) (B, L)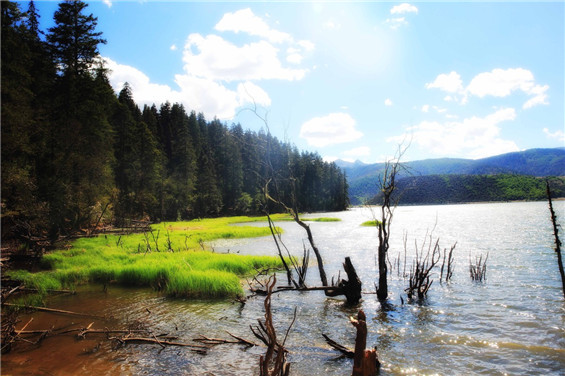 Sightseeing: Song Zanling Monastery, Shudu Lake, Napahai Lake

Today your tour will start with a visit of Songzanlin Monastery, which is is a typical Lama monastery. Located at the foot of Mt. Foping, four kilometers north of Zhongdian County, a monastery was first built here in 1679 and has been rebuilt many times. The architectural style of the building is a faithful imitation of the Potala Palace in Lhasa, Tibet.


Then you will see the picturesque Shudu Lake. As one of the largest plateau lakes in Shangri-la, Shudu Lake is renowned for its limpid water and unique fish in it. The lake is surrounded by green hills with lush virgin forests, which is the home to a variety of rare birds and animals. The lakeside is a famous pasture, where the water and grass are abundant.
Finally, we will head to
Napahai Lake
, both an ideal grazing field for herdsmen and a paradise for many species of birds. This is, in the true sense, a seasonal lake. When summer comes, snow on the adjacent mountains melts and flows down into about ten rivers forming a vast lake. In the dry season, Napahai becomes boundless green grassland--the best time for herding sheep or cattle. Nevertheless when you will come, the whole scenery will be kind of unique.
Day 10 Diqing / Kunming/ Departure Hong Kong (B)
Transfer via: Flights of Diqing/Kunming/Hong Kong are on our arrangement
Flight departure from Hong Kong is on your arrangement

In the morning, you will be transferred to airport for Kunming first, then connect flight to Hong Kong for your departure.
Tour Price
Season
Tour Class
Group Size
Single Room
Supplement
1pax
2-5pax
6-9pax
Peak Season
3*(Tourist Class)
$3405
$2305
$1957
$374
4*(Deluxe Class)
$3545
$2375
$2027
$444
5*(First Class)
$4159
$2682
$2334
$751