10 Days China Dreams Tour
Tour Code:CCT01
Tour Duration: 10 Days
Tour overview:A perfect choice for the first time visitor, this tour of China takes you to all the most famous and iconographic sites in China. In Beijing, you will visit many breathtaking sites, including; The Great Wall, The Forbidden City, and the Temple of Heaven. In Xian, the capital of many of China's ancient dynasties, you will see the breathtaking Terracotta Warriors. In Guilin, you will cruise down the Li River, admiring the world famous scenery. In Yangshuo, you will stroll down its streets lined with wonderful boutiques, cafés, and tea shops, and in Hong Kong, you will enjoy many incredible sites, while enjoying the unique culture blending English and Chinese traits.
Tour Price:2-5 pax (Tourist Class) : USD1711 per person
Day by Day Itinerary
Day 1 Arrival Beijing
Transfer via: Flight on your own arrangement

Upon your arrival you will be greeted by your local guide and then transferred to your hotel by a private air-conditioned car. For the rest of the day you will enjoy some leisure time.
Day 2 Beijing (B, L)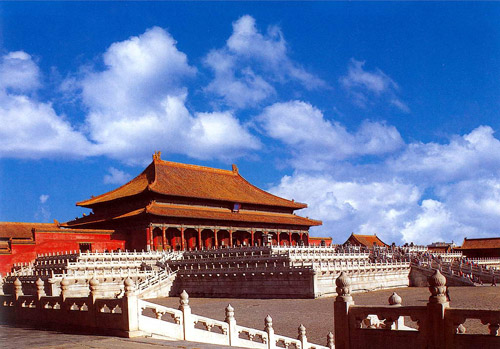 Sightseeing: Temple of Heaven, Tiananmen Square, Forbidden City

This morning your tour will begin with a visit of the Temple of Heaven, which was completed in 1420, and expanded over the years by two Qing Dynasty Emperors. It was the place where the Emperor came every winter solstice to worship heaven and to solemnly pray for a good harvest. With the three blue-tiled cone-shaped roofs, a unique wooden and blue-tiled structure built without a nail, it has become a worldwide symbol of Beijing.

After lunch, we will go on our city tour to visit Tiananmen Square, the symbolical heart of China and gathering place for the masses. It is the biggest public square in the world, which can hold one million people.

From here we will walk across the Golden River Bridge to visit the Forbidden City and experience the ancient Emperor's daily life. For 5 centuries Chinese emperors carried out their administration here. With almost 10,000 rooms, it was the centre of the Ming and Qing dynasties, a massive complex of palaces, pavilions, courtyards and gardens where 24 emperors used to live. Forbidden City was the largest palace in the world, and in the past it was indeed a forbidden place for commoners. Your tour here will include private access to the Emperor's palace.
Day 3 Beijing (B, L)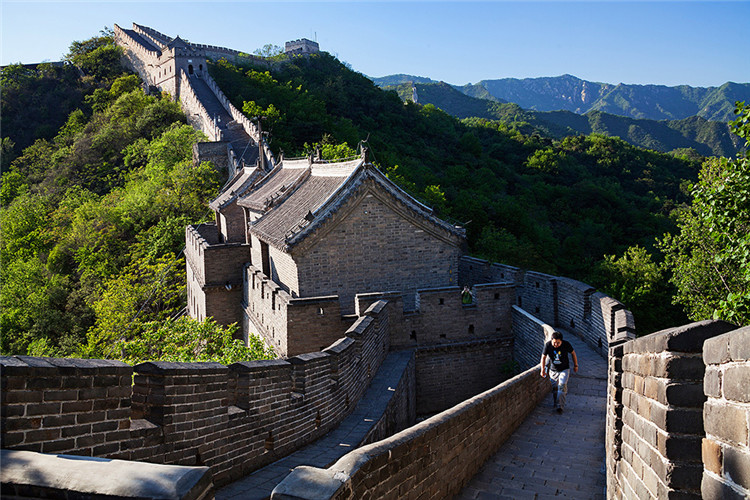 Sightseeing: Mutianyu Great Wall, Panjiayuan Market

After experiencing the royal lifestyle, today we will be transferred to the surrounding countryside of Beijing and visit the Mutianyu Great Wall, the pride of China and one of the Seven Wonders of the World. Where as Genghis Khan contemplated it as a military obstacle, Richard Nixon described it as one of humankind's greatest achievements. You will be able to climb and walk one of the best preserved sections of the 2,000 years old ancient wall, admiring the splendid mountain views. Bring a jacket and layer- although it is breezy, the climbing is tough. So be in a good shape!

In the afternoon, you will visit Panjiayuan Market. At the mention of Panjiayuan market, people will take great delight talking about it as it is a famous city card as well as a distinguished spot in the capital city of Beijing. Along with climbing the Great Wall and eating Peking roast duck, going to the Panjiayuan Market is the Top Three Musts in Beijing for all visitors home and abroad. Also, take an exterior visit of both Beijing National Stadium (Bird's Nest/Olympic Stadium), National Swimming Centre('The Water Cube'),feel free to take some photos of the stadiums.
Day 4 Beijing / Xi'an (B, L)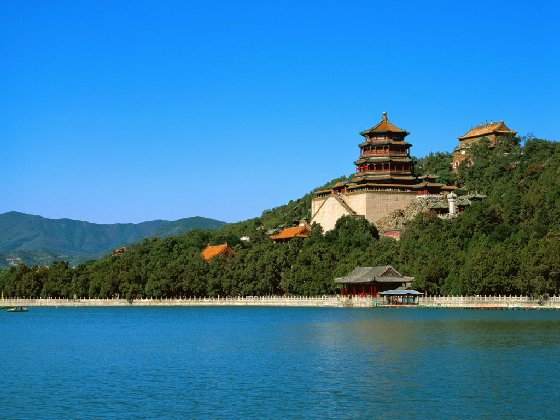 Transfer via: Flight on our arrangement
Sightseeing: Hutongs, Summer Palace

We will experience a unique Hutong tour by taking a rickshaw this morning. Hutongs are a kind of ancient city alley or lane and are very typical for Beijing. Most of them can be found close to the Forbidden City, and many were built during the three dynasties of Yuan, Ming and Qing. Today, the Hutong is a living museum of Beijing history showing the traditional lifestyle of Beijing people.

We will continue by visiting the Summer Palace. Equally famous as the Forbidden City, the Summer Palace is called 'Yiheyuan' (Garden of Nurtured Harmony) in Chinese. Until nowadays, it is the best preserved and the largest imperial garden in China. You will regret it if you leave Beijing without having visited this grand imperial garden. Later that day you will take the flight to Xi'an. After your arrival there, you will be met and transferred to your hotel by your local guide.
Day 5 Xi'an (B, L)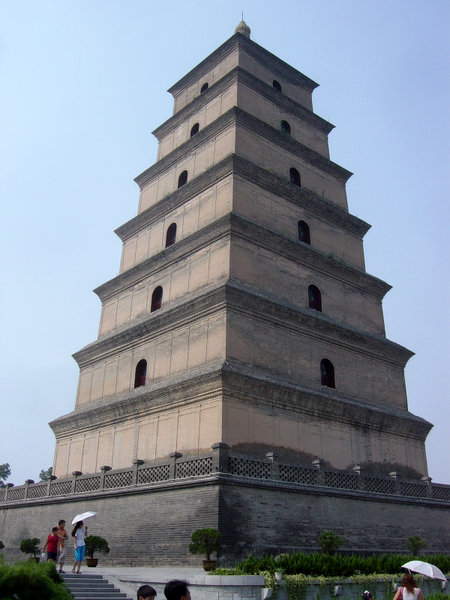 Sightseeing: Terra-cotta Warriors and Horses, Big Wild Goose Pagoda, Muslim Street

Today you will experience the highlights of Xi'an. After breakfast, you will depart you're your hotel. You will visit the amazing 2000-year-old Terra-cotta Warriors and Horses. Regarded as the 8th Wonder of the World, the Terra-cotta Warriors and Horses are the most significant archeological excavations of the 20th century. Over 2,200 years ago, the first emperor of China, Qin Shi Huang, ordered the construction of a vast army of Terra-cotta warriors in search of immortality. After his early death they were buried with him to protect his empire.

Another highlight today is the Big Wild Goose Pagoda. Situated in the south of Xian city, it is one of the main constructions in the famous Buddhist temple-Da-Ci-En Temple. There, the well-known Buddhist Master Xuanzang (Monk Tripitaka) stored his collection of classic Buddhist artifacts brought from India in Tang Dynasty. Now it is the Landmark of Xian.

Then we will go on to visit the Muslim Street, known as Huimin Jie as well by Chinese, is a Muslim community in the city. The district houses the architectures in the style of Ming and Qing dynasties, with the Drum Tower in the south and memorial archway in the north, and embracing many ancient courtyards as well as some 10 mosques in diverse sizes that built in different time, around where inhabited bout 20 000 Muslims retaining their pristine religious tradition and life style.
Day 6 Xi'an / Guilin (B, L)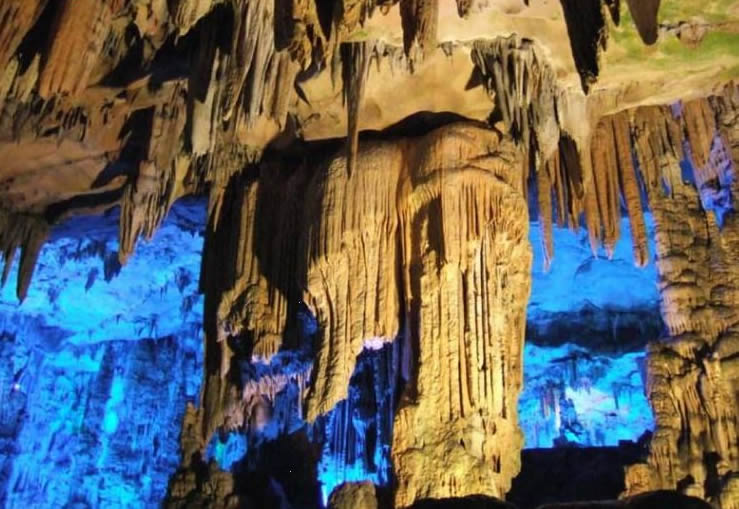 Transfer via: Flight on our arrangement
Sightseeing: Ancient City Wall, Reed Flute Cave

In the morning we will visit the Ancient City Wall. You will experience a half-hour's hike along the Ancient City Wall. You will experience a half-hour's hike along the Ancient City Wall. It is the largest and best preserved present city wall in ancient China and is probably the best military battlement in the world. If you want to, you can rent a bicycle for a ride on top of the spectacular city wall. The wall was built in the Tang dynasty (618 -907) and enlarged in the Ming dynasty (1368-1644).

Then you will take the flight to Guilin. After you arrived in Guilin, you will be met and transferred to your hotel by our local guide.

In the afternoon we will visit Reed Flute Cave, which is a vast and very impressive cave system, and one of the most important sights of Guilin. Known as "the Palace of Natural Arts", you can see beautiful stalactites & stalagmites and learn how they are formed.
Day 7 Guilin / Yangshuo / Guilin (B, L)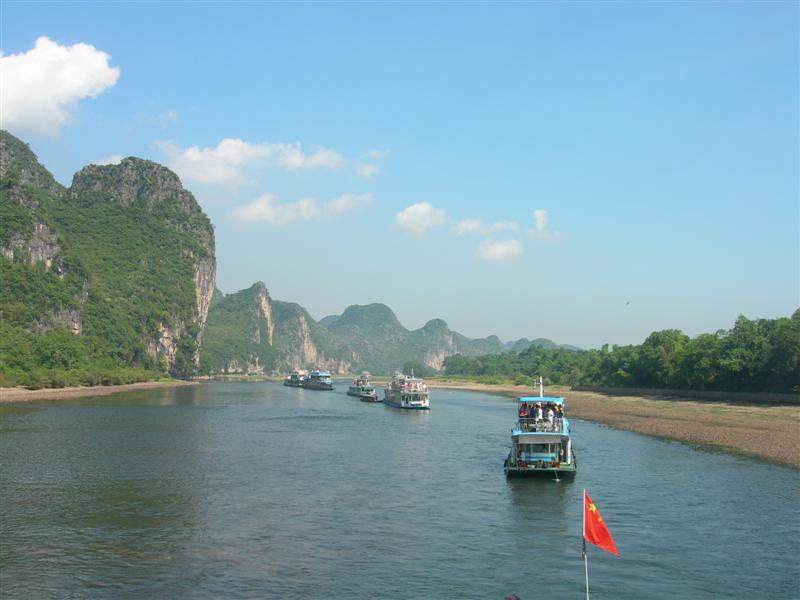 Sightseeing: Li River Cruise, West Street

Guilin is famous for its picturesque scenery, and the best way to see it is from the deck of Li River Cruise ships. In the morning you will depart from your hotel and be transferred to the Zhujiang Pier (about 1 hour drive) for a 4.5 hours wonderful cruise. You will enjoy the unique mountains, peaceful green fields, farms and villages with water buffalos, cows wondering around on both sides of the river bank.

In the afternoon you will disembark at the old town Yangshuo. Having a history of more than 1,400 years, West Street is the oldest street in Yangshuo. You will also enjoy countryside tour to the local villages, even visit a local family. Then you will be transferred back to Guilin city in the evening.
Day 8 Guilin / Hong Kong (B, L)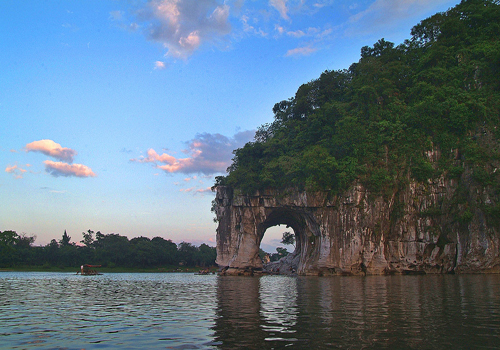 Transfer via: Bullet train on our arrangement
Sightseeing: Fubo (wave-subduing) Hill, Elephant Trunk Hill

This morning you will begin with visiting the Fubo Hill. You will see lots of rock stone carvings & Buddha statues from since Tang Dynasty. If you climb to the summit, you will have a wonderful bird's-eye view of Guilin city.

You'll continue to visit Elephant Trunk Hill. Located at the conjunction of the Li River & the Peach Blossom River, the whole hill looks very much like a giant elephant with a long trunk drinking out of the river; it is the symbol of Guilin city.

Afterwards you will take bullet train to Hong Kong. Arriving in Hong Kong, you will be met and transferred to your hotel by your local guide.
Day 9 Hong Kong (B, L)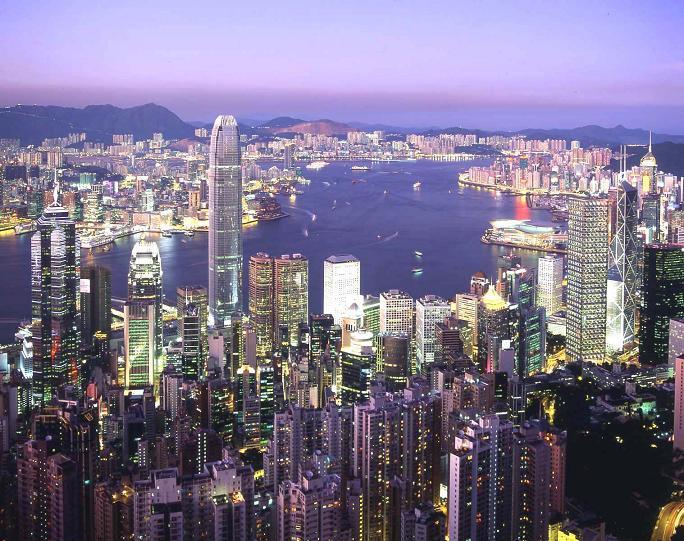 Sightseeing: Aberdeen, Victoria Peak, Repulse Bay

Today you will start to explore Victoria Peak first. The Peak is Hong Kong's number one tourist destination. It features the city's oldest mode transport, the 112-year old Peak Tram and Hong Kong's most unusual building and icon, The Peak Tower where you will find shopping, restaurants, and entertainment.

Then you will visit lovely Repulse Bay: Primarily an exclusive residential area, Repulse Bay has a relaxed, resort-like atmosphere. You will find statues of Kwun Yum and Tin Hau, both protectors of fishermen.

The tour will continue with a visit to the Aberdeen fishing village where you will enjoy a Sampan Ride on the harbor to get a close-up look at this unusual way of life.

For the rest of the day you will have leisure time to explore Hong Kong on your own.
Day 10 Departure Hong Kong (B)
Transfer via: Flight on your own arrangement

You will have the last hours in Hong Kong for yourself until your guide will escort you to the airport for your flight to your next destination.
Tour Price
Season
Tour Class
Group Size
Single Room
Supplement
1pax
2-5pax
6-9pax
Peak Season
3*(Tourist Class)
$2875
$1933
$1711
$423
4*(Deluxe Class)
$3195
$2093
$1871
$583
5*(First Class)
$3787
$2389
$2167
$879