15 Days National Park Impression Tour
Tour Code:CWHT08
Tour Duration: 15 Days
Destination:Beijing, Chengdu, Jiuzhaigou, Leshan, Shanghai, Zhangjiajie
Tour overview:You will see some of China's most incredible sites of natural beauty on this World Heritage Site tour. You will visit Zhangjiajie and Jiuzhaigou, gems of natural beauty that have to be seen to be believed. No photograph can even begin to do them justice. You will also visit Shanghai and Beijing, two of China's most exciting cosmopolitan centers, and home to ancient sites and cultures that are world-famous. In Chengdu, home to the giant panda, you will get up and close to these living treasures.
Day by Day Itinerary
Day 1 Beijing Arrival
Transfer via: Flight on your own arrangement

Upon your arrival you will be greeted by our local guide and then transferred to your hotel by a private air-conditioned car. For the rest of the day you will enjoy some leisure time.
Day 2 Beijing (B, L)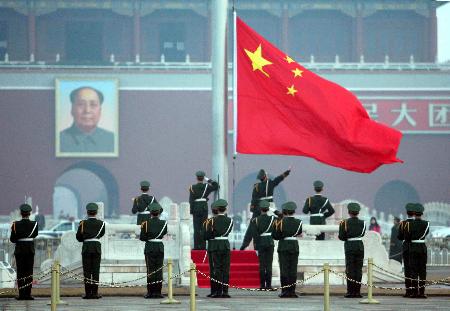 Sightseeing: Temple of Heaven, Tiananmen Square, Forbidden City

This morning our tour will begin with a visit of the Temple of Heaven, which was completed in 1420, and expanded over the years by two Qing Dynasty Emperors. It was the place where the Emperor came every winter solstice to worship heaven and to solemnly pray for a good harvest. With the three blue-tiled cone-shaped roofs, a unique wooden and blue-tiled structure built without a nail, it has become a worldwide symbol of Beijing.

After lunch, we will go on our city tour to visit Tiananmen Square, the symbolical heart of China and gathering place for the masses. It is the biggest public square in the world, which can hold one million people.

From here we will walk across the Golden River Bridge to visit the Forbidden City and experience the ancient Emperor's daily life. For 5 centuries Chinese emperors carried out their administration here. With almost 10,000 rooms, it was the centre of the Ming and Qing dynasties, a massive complex of palaces, pavilions, courtyards and gardens where 24 emperors used to live. Forbidden City was the largest palace in the world, and in the past it was indeed a forbidden place for commoners. Your tour here will include private access to the Emperor's palace.
Day 3 Beijing (B, L)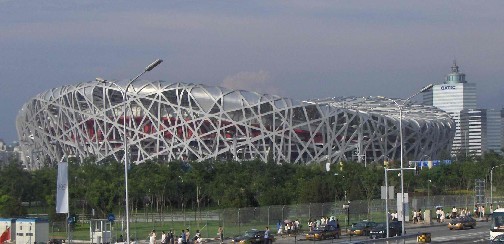 Sightseeing: Mutianyu Great Wall, Ming Tomb, Sacred Way, the Beijing National Stadium (Bird's Nest/Olympic Stadium) National Swimming Centre (The Water Cube),

After experiencing the royal lifestyle, today we will be transferred to the surrounding countryside of Beijing and visit the Mutianyu Great Wall, the pride of China and one of the Seven Wonders of the World. Whereas Genghis Khan contemplated it as a military obstacle, Richard Nixon described it as one of humankind's greatest achievements. You will be able to climb and walk on the sections of the 2,000 years old ancient wall, admiring the splendid mountain views. Bring a jacket and layer- although it is breezy, the climbing is tough. So be in a good shape!

This afternoon we will visit the legendary Ming Tombs, The Ming Tombs are situated at the foot of Heavenly Longevity Mountain, northwest of Beijing. Since there are 13Ming emperors buried there, there are also called the 13 Ming Tombs. Passing though the Sacred Way, a road guarded on both sides with stone statues by which the ancient emperors went to hold a memorial ceremony for the ancestors, you will encounter the marble tombs of the Ming Dynasty emperors.

On the way back to hotel, you will be driven to visit the main 2008 Beijing Olympic venues, take an exterior visit of both the, Beijing National Stadium (Bird's Nest/Olympic Stadium), National Swimming Centre('The Water Cube'),feel free to take some photos of the stadiums.
Day 4 Beijing to Chengdu (B, L)
Transfer via: Flight on our arrangement
Sightseeing: Hutong Tour, Summer Palace.

We will experience a unique Hutong tour by taking a rickshaw this morning. Hutongs are a kind of ancient city alley or lane and are very typical for Beijing. Most of them can be found close to the Forbidden City, and many were built during the three dynasties of Yuan, Ming and Qing. Today, the Hutong is a living museum of Beijing history showing the traditional lifestyle of Beijing people

We will continue by visiting the Summer Palace. Equally famous as the Forbidden City, the Summer Palace is called 'Yiheyuan' (Garden of Nurtured Harmony) in Chinese. Until nowadays, it is the best preserved and the largest imperial garden in China. You will regret it if you leave Beijing without having visited this grand imperial garden.

Later that day you will take the flight to Chengdu. Upon arrival in Chengdu, you will be met and transferred to your hotel by our local guide.
Day 5 Chengdu (B, L)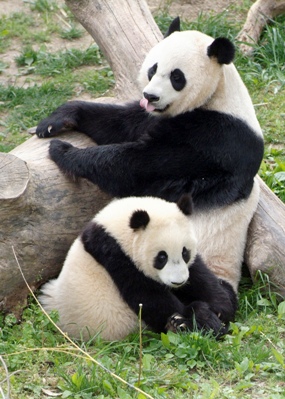 Transfer via: Flight on our arrangement
Sightseeing: Chengdu Research Base of Giant Panda Breeding, Dufu's Thatched Cottage , Jinli Street

Today we will visit the Chengdu Panda Breeding Research Base, which was built to imitate the wild ecological environment of pandas. It covers a space of 92 acres, with a green coverage of 96 percent. The base created a perfect ecological environment for the living and breeding of pandas and other precious and rare wild animals. It breeds over 20 pandas and lesser pandas, black-necked cranes, white cranes and others.

And then we will continue to visit the Thatched Cottage of Dufu, located by the side of the Huanhua Stream in Chengdu's western suburb, will be our next stop. It was the residence of Dufu, the great poet of the Tang Dynasty when he took refuge in Chengdu. Du Fu (712-70 AD),one of China's most famous poets, left home at the tender age of 20, becoming a court official at the former capital in Chang'an (near Xi'an). Du Fu's civil service duties did not last long however, and he was captured by rebels and forced to flee the city for Chengdu after only a few years. It was in Chengdu, at this small and simple house, that Du Fu was inspired to write more than 200 poems which are regarded today as masterpieces of realist poetry.

Today we will finish the tour at Jinli street, a busy trading street with a history stretching back to the Qin Dynasty around two thousand years ago. Today, a new Jinli Street has been built on the site of the ancient lane in the southern part of Chengdu. It has become a tourist attraction, featuring aged buildings and folk customs from the area.
Day 6 Chengdu to Leshan to Chengdu (B, L)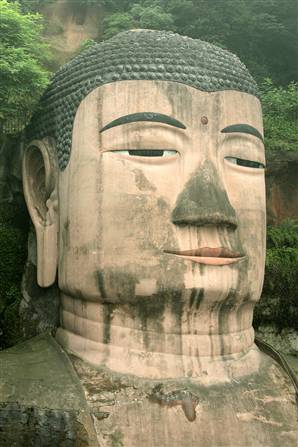 Transfer via: Private vehicle on our arrangement
Sightseeing: Lenshan Giant Buddha

Today we will make a trip to famous Leshan Giant Buddha Statue. Leshan Giant Buddha is the largest Buddha in the world, about 71 meters high. It is a statue of Maitreya (a Bodhisattva usually represented as a very stout monk with a broad smile on his face and with his naked breast and paunch exposed to view) in sitting posture. It started to be carved in 713 A.D and finished 90 years later. Facing the river, the Buddha has symmetrical posture and looks which have been beautifully captured in its solemn stillness. It has three-meter-long (about 11 feet) fingers. The eight-meter-long (about 27 feet) instep is big enough for one hundred people to sit on and the 28-meter-wide (about 92 feet) shoulder is large enough to be a basketball playground. You will be astonished by its grace. Take the river cruise to enjoy the Giant Buddha completely,

Afterwards, you will be driven back to Chengdu.
Day 7 Chengdu to Jiuzhaigou (B, L)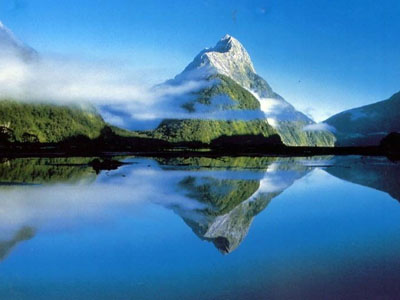 Transfer via: Flight on our arrangement
Sightseeing: Huanglong (Yellow Dragon) Scenic Area

In the morning you will be transferred to airport to take flight to Jiuzhaigou. After your arrive there, you will be met by our local guide and visit Huanglong (Yellow Dragon) Scenic Area It was named after the ancient Huanglong Temple within the area. The most remarkable scene in the area is the Huanglong Valley noted for its unique open karst landscape. The main attraction of the valley is the 3.6-kilometer-long and 30 to 70-meter-wide pale yellow calcareous deposits.
Day 8 Jiuzhaigou (B, L)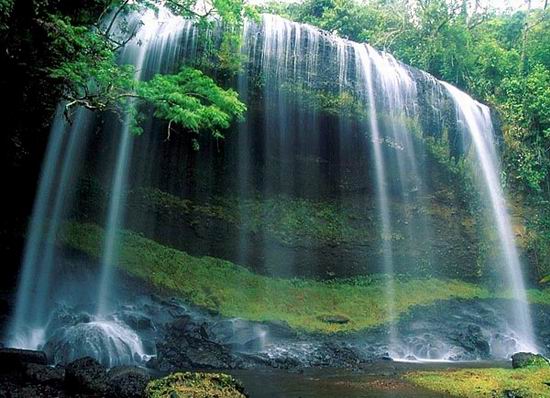 Sightseeing: Jiuzhaigou National Park

We have a full day visit in the Jiuzhaigou Scenic Area, which is the home of nine Tibetan villages. The place is dotted with more than 100 gorgeous lakes, and the lakebeds and embankments are all covered with crystals. The water is so clear that the bottom can be seen at depths of over several dozen meters. Waterfalls are the essence of the scenery in Jiuzhaigou. They are created between lakes on different levels with water flowing down from the tree covered cliffs. In 1992, UNESCO entered this scenic area onto the world natural heritage list.
Day 9 Jiuzhaigou to Chengdu (B, L)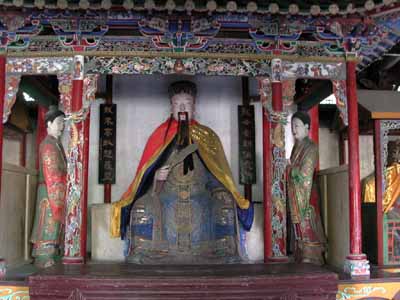 Transfer via: Flight on our arrangement
Sightseeing:, Wuhou Memorial Temple

In the morning you will be transferred to airport to take flight to Chengdu. After you arrive there, you will be met by our local guide and transferred to your hotel.

And then you will visit the Wuhou Memorial Temple. The Temple is dedicated to Zhuge Liang, the Martial Marquis of Shu in the Three Kingdoms. His outstanding intelligence place Zhuge Liang above all emperors, generals, and ministers in history.
Day 10 Chengdu to Zhangjiajie (B)
Transfer via: Flight on our arrangement

Free at leisure till be transferred to airport for your flight departure.(On high season, there are direct flight from Chengdu to Zhangjiajie. On low season, you will have a stopover in Changsha.)

Arrive in Zhangjiajie, your guide will greet you and transfer you to the hotel.
Day 11 Zhangjiajie (B, L)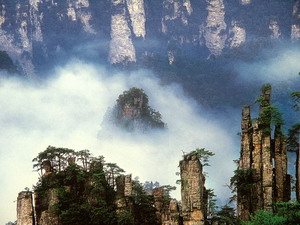 Sightseeing: Zhangjiajie National Forest Park, Huangshizhai Cable Car, Jinbian Brook, Huangshi Fort)

You will have a full day visit .including the following places: Zhangjiajie National Forest Park Zhangjiajie's main tourist draw is the Wulingyuan Scenic Area, which was added to the UNESCO World Heritage list for its lush vegetation, unique sandstone pillars, pristine waters and a wide variety of species of flora and fauna.

You can take a cable car to Huangshizhai where you will appreciate the daunting rock columns. From the top, enjoy spectacular views of the forest with rough landscape.

Another scenic spot is the Jinbian Brook. It covers a distance of 7.5 km from north to south, winding across mountains and valleys. The brook is limpid through the year and is famous for Jinbian Cave-which has a height of 382km and looks like a huge flying eagle.

You will also have chance to explore the Huangshi Fort. It is a mesa higher on the north side elevated by stiff cliffs. Huangshi Fort has the most of marvelous view of Zhangjiajie National Forest Park including Treasure Box of Heavenly Books, Magic Sea-suppressing Needle, South Pillar of Heaven, Golden Tortoise Watching the Sea etc.
Day 12 Zhangjiajie to Shanghai (B, L)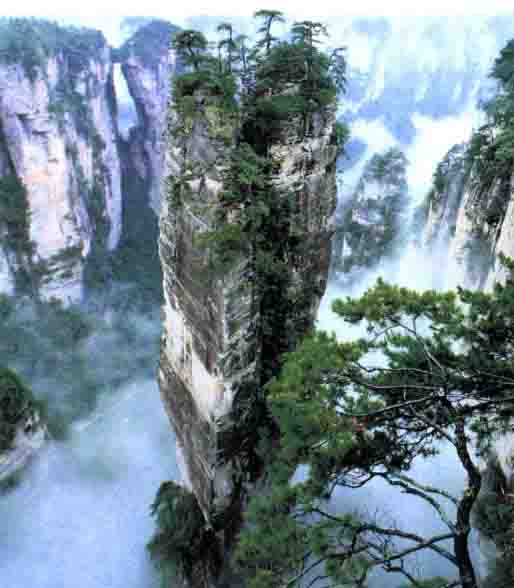 Transfer via: Flight on our arrangement
Sightseeing: Tianzi Mountain

You will continue to visit the Tianzi Mountain today. Tianzi Mountain Nature Reserve is a mesa in the northwest of Wulingyuan. Up on the mesa, the field of vision is widely opened up and it is a perfect location to have a panoramic view of the nature reserve. Tianzi Mountain has four scenic wonders, namely Cloud Billows, Moon Brightness, Sun Glow and Winter Snow. The cloud billows are ever changing, morning and evening sun glows vast sky, moon shines in the still night, winter snow falls enchanting the scenery, like a lyric, like a landscape painting

In the afternoon, you will be transferred to airport to take flight to Shanghai. Upon arrive in Shanghai, be met and transferred to your hotel.
Day 13 Shanghai (B, L)
Sightseeing: Nanjing Road, the Bund, Yuyuan Garden, Jade Buddha Temple

In the morning you will take a walk to the famous Nanjing Road and the Bund. They are among the most recognizable architectural symbols of Shanghai and therefore a must-see when visiting Shanghai.

Then we will take a relaxing walk to the lovely Yuyuan Garden, a beautiful garden in the south of the Yangtze River. Wandering through it, you will find pavilions, corridors, streams, courtyards as well as many other natural features.

Finally we head to the Jade Buddha Temple. The old-time and classical architectural style makes the temple unique and inimitable in this modern city. Both, the Sitting Buddha and the Recumbent Buddha are carved with whole white jade. If you're lucky, you can watch the monks serving a ceremony in a side room.
Day 14 Shanghai (B, L)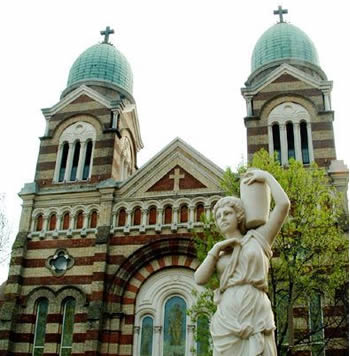 Sightseeing: Shanghai Museum, Oriental Pearl Tower, French concession region.

Today you will visit Shanghai Museum which is the biggest museum of China. It incorporates a collection of over 120,000 pieces of Chinese art & cultural relics and is especially famous for its treasures of bronzes, ceramics, paintings and calligraphy.

After lunch, we will visit the Oriental Pearl Tower, the highest TV Tower in Asia, which creates a picture of 'twin dragons playing with pearls'. The entire scene is a photographic jewel that excites the imagination and attracts thousands of visitors all year-round.

Afterwards, have a visit to French concession region. The French Concession is the breadth of shanghai already appointed for the French in 1849 and retook by China in 1943, with a history of about one hundred years. Today, it has become a acclaimed day-tripper arena in Shanghai and the tree-lined avenues and abounding Tudor mansions there still absorb an air of the "Paris of the East". Located in the Luwan District and Xuhui District, it has a abundant of things to be explored, from the old European barrio in adumbral avenues to the cafes and restaurants of its axial Huaihai Road, a active arcade street.
Day 15 Shanghai Departure (B)
Transfer via: Flight on your own arrangement

Today will be free for your own purposes, until our guide will escort you to the airport for your next destination.