15 Days China Natural Scenery, Ethnic Flavor and Historic Culture Tour
Tour Code:CTT17
Tour Duration: 15 Days
Tour overview:China's scenery, culture, and history are unique, which is one of the reasons visitors have been coming to China for thousands of years. This China train tour takes you to some of the best destinations and sites in China and focuses on its culture, people, and history. In Beijing, Guangzhou, and Hong Kong, you will see how the past mingles with China's future in a very exciting way. You will travel between destinations by a soft sleeper train, which is a fantastic way to visit China.
Day by Day Itinerary
Day 1 Arrival / Hong Kong
Transfer via: International flight –on your own arrangement
Upon your arrival in Hong Kong, your local guide will welcome you and transfer you to your hotel. For the rest of the day you will enjoy some leisure time to relax or have a first look at the surrounding.
Day 2 Hong Kong (B)
Sightseeing: Aberdeen, Victoria Peak, Repulse Bay, Aberdeen
Today we will start to explore Victoria Peak first. The Peak is Hong Kong's number one tourist destination. It features the city's oldest mode transport, the 112-year old Peak Tram and Hong Kong's most unusual building and icon, The Peak Tower where you will find shopping, restaurants, and entertainment.

Then you will visit lovely Repulse Bay: Primarily an exclusive residential area, Repulse Bay has a relaxed, resort-like atmosphere. You will find statues of Kwun Yum and Tin Hau, both protectors of fishermen.

The tour will continue with a visit to Aberdeen fishing village where you will enjoy a Sampan Ride on the harbor to get a close-up look at this unusual way of life.

For the rest of the day you will have leisure time to explore Hong Kong on your own.
Day 3 Hong Kong / Guangzhou (B, L)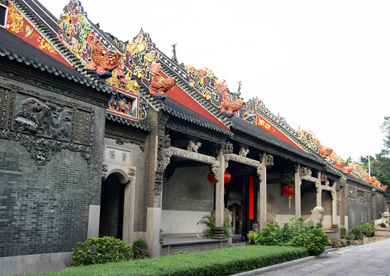 Transfer via: Train (soft seat ticket) – on our arrangement
Sightseeing: Sun Yat-sen Memorial Hall, Ancestral Temple of the Chen Family
This morning, you will be met and transferred to railway station to take train for Guangzhou.
Upon your arrival at the railway station you will be met by your local guide. Then you will start your sightseeing tour by visiting Sun Yat-sen Memorial Hall. It is a magnificent building in the shape of octagon and an important place for large scale meeting and performance. Sun Yat-sen Memorial Hall was built in order to commemorate the contributions of Sun Zhongshan, the great predecessor of Chinese revolution for democracy. It is a memorial construction donated by the people in Guangzhou and the overseas Chinese and is listed as one of the first class cultural relics in Guangdong Province.

Afterwards you will visit the Ancestral Temple of the Chen Family which is also called Chen Clan Academy. It is a place both for offering up sacrifices to ancestors and for study. Now the Chen Clan Ancestral Temple in Guangzhou City, the Ancestors' Temple in Foshan City, the former Residence of Sun Yat-sen in Zhongshan City and the Opium War Memorial Hall in Dongguan City are regarded as the four major cultural tourist sites in Guangdong Province.
Day 4 Guangzhou / Guilin (B, L)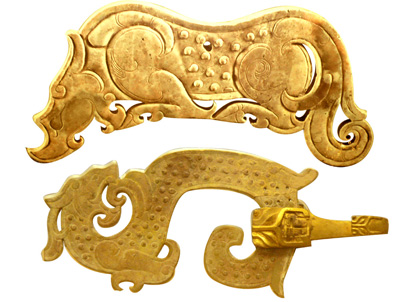 Transfer via: Overnight train (soft sleeper tickets)- on our arrangement
Sightseeing: Yuexiu Park, Temple of Six Banyan Trees, Western Han Nanyue King Tomb Museum
After breakfast, we will start off to Yuexiu Park, the biggest comprehensive sight-seeing park. Yuexiu Park consists of seven hummocks and three artificial lakes. Yuexiu Park is well-known for beautiful hills and waters and plenty of antiques which you can enjoy at ease in the park. There are verdant grasses and trees, birds' singing, and fragrant flowers all through the year. Travelers will lose themselves in the elaborately engraved and Lingnan-styled pavilions, platforms, towers, and corridors; and the rippling water of the lakes.

Then you will head to the Temple of Six Banyan Trees. It has a long history in Guangzhou and is an ancient monastery famous at home and abroad. There are majestic towers, dense trees, plenty of antiques and valuable heritage from those famous people in the history. It is one of the four Buddhism temple complexes in Guangzhou is an important unit for the preservation of antiques.

Finally you will visit Western Han Nanyue King Tomb Museum, which is the oldest and largest Han tomb with the most funerary objects in Lingnan (South of the Nanling Mountain) Area. As one of the 80 famous museums in the world, the museum covers 14,000 square meters (150, 699.6 square feet) with 10 exhibition halls.


This evening, you will be transferred to railway station to take overnight train T38 (19:47- next day 07:01) for Guilin.
Day 5 Overnight train / Guilin (B, L)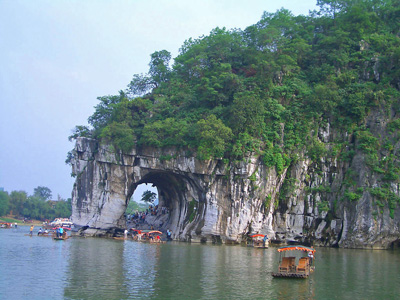 Sightseeing: Reed Flute Cave, Elephant Trunk Hill, Fubo Hill
This morning we will drive back to Guilin. Start off with visiting the Reed Flute Cave, which is a vast and very impressive cave system. Known as "the Palace of Natural Arts" where you can see beautiful stalactites & stalagmites, it is one of the most famous attractions of Guilin.

Later we'll head for Fubo Hill. There, you can see lots of rock stone carvings & Buddha statues from Tang Dynasty. If you climb to the summit, you will have a wonderful bird's-eye view on Guilin city.

We will continue our tour and visit Elephant Trunk Hill. Located at the conjunction of the Li River & the Peach Blossom River, the hill looks very much like a giant elephant with a long trunk drinking out of the river; it is the symbol of Guilin city.
Day 6 Guilin to Yangshuo / Kunming (B, L)
Transfer via: Overnight train (soft sleeper ticket)- on our arrangement
Sightseeing: Li River Cruise to Yangshuo,
Guilin is famous for its picturesque scenery, and the best way to see it is from the deck of Li River Cruise ships. In the morning you will depart from your hotel and be transferred to the Zhujiang Pier (about 1 hour drive) for a 4.5 hours wonderful cruise. You will enjoy the unique mountains, peaceful green fields, farms and villages with water buffalos, cows wondering around on both sides of the river bank.

In the afternoon you will disembark at the old town Yangshuo. Your guide will pick you up from the dock and then transfer you to Guilin railway station directly to catch the overnight train K393 (16:53-next day 10:43am) for Kunming.
Day 7 Kunming (L)
Sightseeing: West Hill, Dragon Gate
Arrive in Kunming around 11:00am. You will be met by your local guide and then be transferred to your hotel.
This afternoon, have a visit to the West Hill and Dragon Gate.
Day 8 Kunming / Dali (B, L)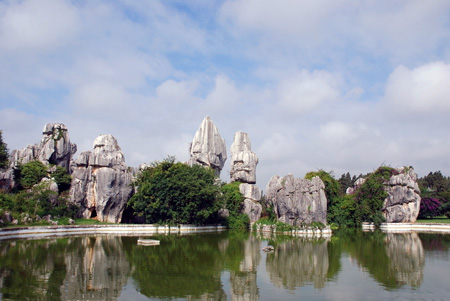 Transfer Via: Overnight Train (soft sleeper ticket) on our arrangement
Sightseeing: Stone Forest, Golden Temple
Today we will go on a full day trip to Stone forest. Due to a process of weathering and erosion, nature has created an art gallery of stone sculpture here. This typical Karst physiognomy seems like a forest of stone pillars and boulders. You will see fascination natural creations like Lion Arbor, Sword Peak Pond, Lotus Peak, Moon Lake, Jade Lake, and Dadie Waterfall.

Then we will head to Golden Temple, located on top of Mingfeng (Singing Phoenix) Hill. It is the largest copper temple in China and is also known as the Tongwa Temple (Bronze Tile Temple).
In the evening, you will be transferred to railway station to take overnight train to Dali.
Day 9 Dali (B, L)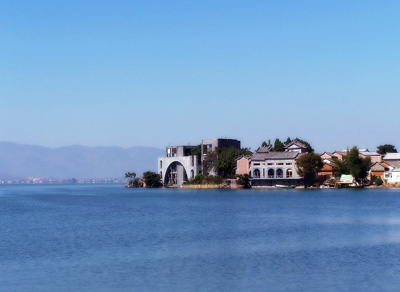 Sightseeing: Erhai Lake, Ancient City of Dali, Three Pagodas of Chongsheng Temple
Arrive in Dali in the morning, your local guide will meet you at railway station and then transfer you to your hotel for breakfast and have a short rest.
First we will visit Erhai Lake. Erhai Lake is the largest highland lake next to Dianchi and one of the seven biggest fresh water lakes in China. It means, 'sea shaped like an ear', in Chinese. Implying that the lake is ear shaped and as large as a sea, hence it was so named. The lake covers an area of 250 square kilometers and is located about two kilometers east of Dali.
The next stop will be the Ancient City of Dali, which is a magnificent ancient city with a perimeter of 6 kilometers. Its former city wall is 7.5 meters high and 6 meters thick. There used to be four city gates, each on one side. On the gates were the gate towers. While Xiaguan, the capital of the Autonomous Region of Dali, depicts you an scene of prosperity and bloom, the Ancient City of Dali will give you a simple, unsophisticated and quiet impression.
Finally you will see the Three Pagodas of Chongsheng Temple. It is a symbol of the history of Dali City, and a record of the development of Buddhism in the area. As its name implies, Three Pagodas are made of three ancient independent pagodas forming a symmetrical triangle. This is unique in China.
Day 10 Dali / Lijiang (B, L)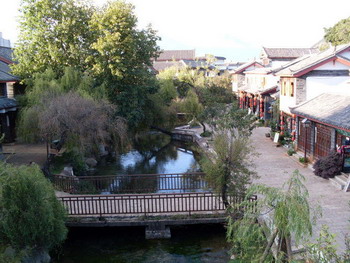 Transfer via: Private Car on our arrangement
Sightseeing: House of Bai people in Xizhou, Tie-Dyeing Zoucheng, Lijiang Ancient Town
In the morning you will take a private car into the direction of Lijiang. On the way, you will make a first stop at house of Bai people in Xizhou. The town of Xizhou is next to Erhai Lake and the Wanhua Brook. Historically, it was a military fortress of Nanzhao Kingdom and a temporary palace of the King of Nanzhao. Because of its favorable geographical situation, the town used to be a commercial centre before 1949 and where more than 140 national capitalist families used to live. Their houses are of the typical Bai design known as "Sanfang Yizhaobi" (a courtyard rooms on three sides and a screen wall on the remaining side) and "Sihe Wutianjing" (one big courtyard with four smaller ones at the four corners of the main one).
Our next stop will be Tie-Dyeing Zhoucheng, the largest and the farthest northern village of Dali City. The village has 7,571 inhabitants of 1,470 families. The entire village is in a square shape with row upon row of houses.
Arriving in Lijiang, you will be met by your local guide and then visit Lijiang Ancient Town. It is also known as Dayan Town in Lijiangba and was included in the UNESCO world heritage list in 1997. It was first built in the Southern Song Dynasty and in 1253 and became larger during Ming and Qing dynasties.
Day 11 Lijiang (B, L)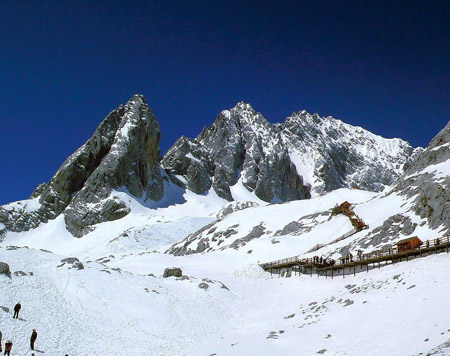 Sightseeing: Yulong Snow Mountain, Dongba Village
Today we will depart to Yulong Snow Mountain. It is the southernmost marine glacier in the temperate zone of the northern hemisphere. Altogether there are 13 peaks along the range, stretching for over 35km from south to north. The summit, Shanzidou, is 5596 meters above sea level. Viewed from afar, the snow-capped range resembles a silver dragon with snow curling up its middle. Rich forest, herb and animal resources thrive on the mountain.
On our way we will stop at Dongba Village in Yushui Stockade, which is built completely according to the traditional life style of Naxi Minority. You can feel the traditional atmosphere of national culture from the layout of its yard, building facilities, tools and details of life.
Day 12 Lijiang / Beijing (B, L)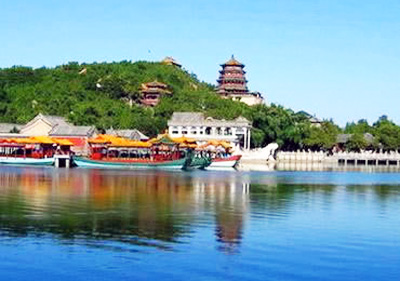 Transfer via: Flight - on our arrangement
Sightseeing: Summer Palace
Today, you will be transferred to airport to take morning flight to Beijing. Upon arriving at the Beijing airport, your local guide will meet you and escort you to your hotel.
Then have a visit to the Summer Palace. Equally famous as the Forbidden City, the Summer Palace is called 'Yiheyuan' (Garden of Nurtured Harmony) in Chinese. Until nowadays, it is the best preserved and the largest imperial garden in China. You will regret it if you leave Beijing without having visited this grand imperial garden.
Day 13 Beijing (B,L)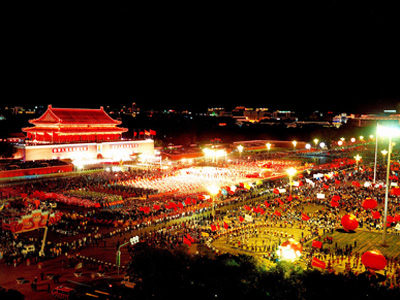 Sightseeing: Temple of Heaven, Tiananmen Square, Forbidden City

This morning our tour will begin with a visit of the Temple of Heaven, which was completed in 1420, and expanded over the years by two Qing Dynasty Emperors. It was the place where the Emperor came every winter solstice to worship heaven and to solemnly pray for a good harvest. With the three blue-tiled cone-shaped roofs, a unique wooden and blue-tiled structure built without a nail, it has become a worldwide symbol of Beijing.

After lunch, we will go on our city tour to visit Tiananmen Square, the symbolical heart of China and gathering place for the masses. It is the biggest public square in the world, which can hold one million people.

From here we will walk across the Golden River Bridge to visit the Forbidden City and experience the ancient Emperor's daily life. For 5 centuries Chinese emperors carried out their administration here. With almost 10,000 rooms, it was the centre of the Ming and Qing dynasties, a massive complex of palaces, pavilions, courtyards and gardens where 24 emperors used to live. Forbidden City was the largest palace in the world, and in the past it was indeed a forbidden place for commoners. Your tour here will include private access to the Emperor's palace.
Day 14 Beijing (B,L)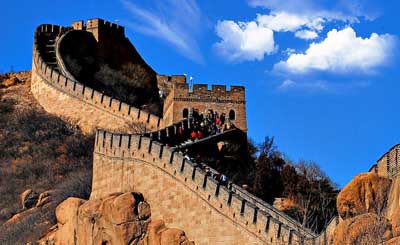 Sightseeing: Badaling Great Wall, Ming Tombs, Sacred Way

After experiencing the royal lifestyle, today we will be transferred to the surrounding countryside of Beijing and visit the Badaling Great Wall, the pride of China and one of the Seven Wonders of the World. Whereas Genghis Khan contemplated it as a military obstacle, Richard Nixon described it as one of humankind's greatest achievements. You will be able to climb and walk one of the best preserved sections of the 2,000 years old ancient wall, admiring the splendid mountain views. Bring a jacket and layer- although it is breezy, the climbing is tough. So be in a good shape!

In the afternoon we will visit the legendary Ming Tombs, which are situated at the foot of Heavenly Longevity Mountain, Changping, northwest of Beijing. Since there are 13 Ming emperors buried there, this place was called the 13 Ming Tombs. You will walk along the Sacred Way, a road guarded by stone statues on both sides, as the ancient emperors did to hold a memorial ceremony for their ancestors. In addition, you will encounter the marble tombs of the Ming Dynasty emperors.
Day 15 Beijing / Departure (B)
Transfer via: flight on your own arrangement

Today you will be free for your own purposes, until our guide will escort you to the airport for your next destination.