11 Days China Honeymoon Tour in Shangri-La
Tour Code:CHT03
Tour Duration: 11 Days
Tour overview:This honeymoon tour includes three top tourist destinations in China – the old and modern capital city Beijing, mysterious and beautiful Yunnan Province where more than 10 Chinese minority ethnic groups live and Guilin, a picturesque city known all over the world. Experience this tour and your honeymoon trip will be more unforgettable because of the colorful Chinese cultural deposit and amazing landscapes...
Day by Day Itinerary
Day 1 Beijing Arrival
Transfer via: International flight on your own arrangement
You will be greeted by our local guide upon your arrival and then be transferred to your hotel by a private air-conditioned car. A specially decorated room is waiting for you. Then you will spend the rest of day on your leisure.
Day 2 Beijing (B,L)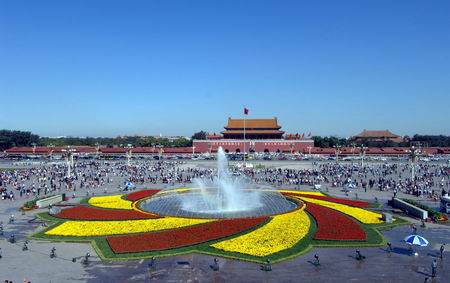 Sightseeing: Temple of Heaven, Tiananmen Square, Forbidden City


Your China Honeymoon tour start today's highlights with a visit of the Temple of Heaven, The temple of Heaven was where the Emperor came every winter solstice to worship heaven and to solemnly pray for a good harvest. With the three blue-tiled cone-shaped roofs, a unique wooden and blue-tiled structure built without a nail, it has become a worldwide symbol of Beijing.
After lunch, we go on our city tours to visit Tiananmen Square, the symbolical heart of China and gathering place for the masses. It is the biggest public square in the world, which can hold one million people.
From here we walk across the Golden River Bridge to visit the Forbidden City and experience ancient Emperor's daily life. For 5 centuries Chinese emperors carried out their administration here. With almost 10,000 rooms, this was the centre of the Ming and Qing dynasties, a massive complex of palaces, pavilions, courtyards and gardens where 24 emperors used to live. Forbidden City was the largest palace in the world, and it was indeed a forbidden place limited to commoners for 500 year in the past. Your tour here will include private access to the Emperor's palace
Day 3 Beijing (B,L)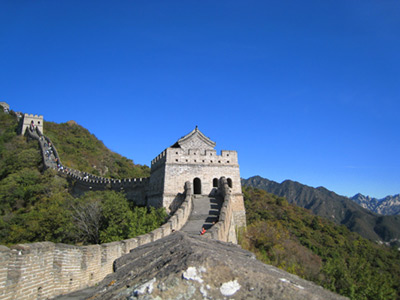 Sightseeing: Mutianyu Great Wall, Ming Tombs. Hutong Tour
After experiencing the royal lifestyle, today your China Honeymoon tour is to visit the Mutianyu Great Wall, the pride of China and one of the Seven Wonders of the World. Whereas Genghis Khan contemplated it as a military obstacle, Bill Clinton described it as an unbelievable achievement of the humankind. The hike takes about 2-3 hours. After lunch, continue to visit Changling, one of the 13 Ming Tombs the 13 emperors of the Ming.

In the afternoon we will visit the legendary Ming Tombs, which are situated at the foot of Heavenly Longevity Mountain, Changping, northwest of Beijing. Since there are 13 Ming emperors buried there, this place was called the 13 Ming Tombs.
Then we will experience a unique Hutong tour by taking a rickshaw this afternoon. Hutongs are a kind of ancient city alley or lane and are very typical for Beijing. Most of them can be found close to the Forbidden City, and many were built during the three dynasties of Yuan, Ming and Qing. Today, the Hutong is a living museum of Beijing history showing the traditional lifestyle of Beijing people.
In the evening, you are taken to the Lotus Lane – a dynamic restaurant & bar area by Shishahai Lake. You'll take a wooden-boat cruise on the lake, floating paper boats with candle on the water, it's really a romantic evening.
Day 4 Beijing/Lijiang (B,L)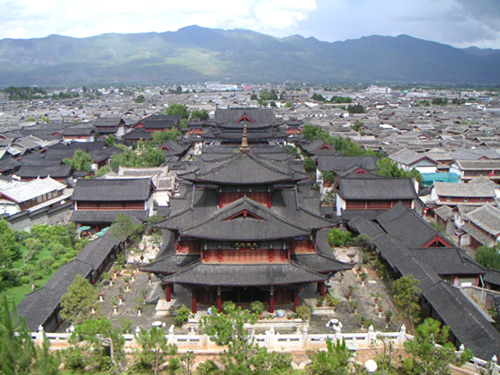 Transfer via: Flight on our arrangement
Sightseeing: Summer Palace, Lijiang Ancient Town
After breakfast, you will visit the famous royal garden-Summer Palace. In 1888, the notorious Empress Cixi used the money intended for the Chinese Navy to build this opulent summer retreat for herself. We will have a lakeside cruise on the lovely Kunming Lake and enjoy the magical views of the temples, pavilions and covered corridors around.
Then, your Honeymoon trip will go on to one of the oldest city in China – Lijiang. It is also known as Dayan Town in Lijiangba and was included in the UNESCO world heritage list in 1997. It was first built in the Southern Song Dynasty and in 1253 and became larger during Ming and Qing dynasties.
Upon arrival, our local guide will meet you and transfer you to hotel. After a rest, your guide will accompany you to explore the Lijiang Ancient Town.
Day 5 Lijiang (B,L)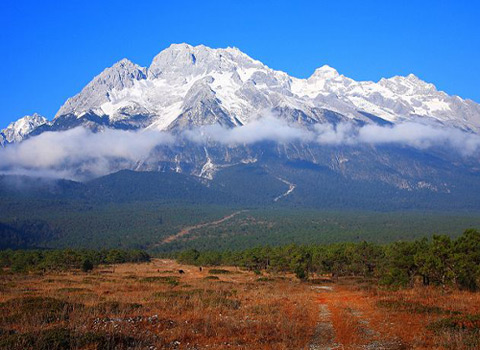 Sightseeing: Yulong Snow Mountain, Dongba Village
Today we will depart to Yulong Snow Mountain. It is the southernmost marine glacier in the temperate zone of the northern hemisphere. Altogether there are 13 peaks along the range, stretching for over 35km from south to north. The summit, Shanzidou, is 5596 meters above sea level. Viewed from afar, the snow-capped range resembles a silver dragon with snow curling up its middle. Rich forest, herb and animal resources thrive on the mountain.
On our way we will stop at Dongba Village in Yushui Stockade, which is built completely according to the traditional life style of Naxi Minority. You can feel the traditional atmosphere of national culture from the layout of its yard, building facilities, tools and details of life.
Day 6 Lijiang/Zhongdian (B,L)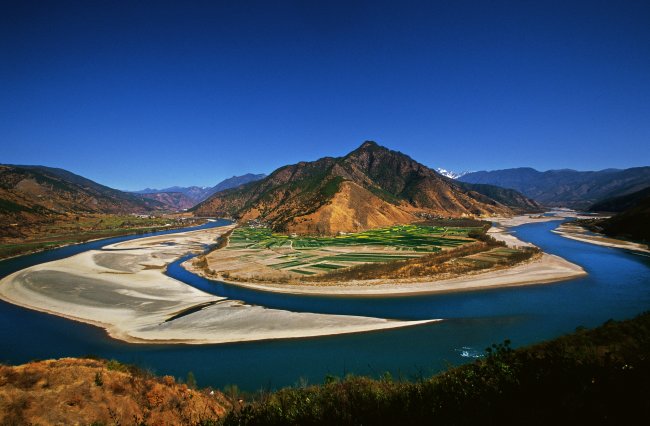 Transfer via: Private Vehicle on our arrangement
Sightseeing: First Bend of Yangtze River, Tiger Leaping Gorge
In the morning you will be transferred to Shangri-La. On the way, you will fist visit Tiger Leaping Gorge. Being one of Yunnan's most famous spots, the gorge itself is tucked neatly between the Yulong Snow Mountain and Haba Snow Mountain, which surround its two sides.
Secondly, we will see the first bend of the Yangtze River. It lies in Shigu Town, Lijiang. Rushing down from the Qinghai-Tibet Plateau, "the roof of the world", the Yangtze surges into Yunnan from its northwest, where it meets Lancang River and Nu River. Then, they go together through the high mountains and deep gorges of Hengduan Mountains. You will be impressed by this natural power.
Day 7 Zhongdian (B,L)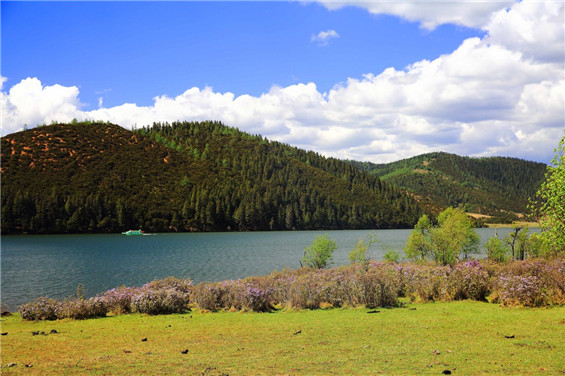 Sightseeing: Song Zanling Monastery, Shudu Lake, Napahai Lake
Today your tour will start with a visit of Songzanlin Monastery, which is a typical Lama monastery. Located at the foot of Mt. Foping, four kilometers north of Zhongdian County, a monastery was first built here in 1679 and has been rebuilt many times. The architectural style of the building is a faithful imitation of the Potala Palace in Lhasa, Tibet.


Then you will see the picturesque Shudu Lake. As one of the largest plateau lakes in Shangri-la, Shudu Lake is renowned for its limpid water and unique fish in it. The lake is surrounded by green hills with lush virgin forests, which is the home to a variety of rare birds and animals. The lakeside is a famous pasture, where the water and grass are abundant.

Finally, we will head to Napahai Lake, both an ideal grazing field for herdsmen and a paradise for many species of birds. This is, in the true sense, a seasonal lake. When summer comes, snow on the adjacent mountains melts and flows down into about ten rivers forming a vast lake. In the dry season, Napahai becomes boundless green grassland--the best time for herding sheep or cattle. Nevertheless when you will come, the whole scenery will be kind of unique.
A picnic lunch or BBQ on the meadow will be a sparking point of your honeymoon tour.
Day 8 Zhongdian/Kunming (B,L)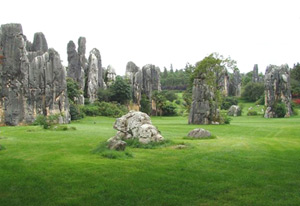 Sightseeing: Stone Forest
Take morning flight to Kunming. Upon arrival, you will be met by your local guide and then be transferred to your hotel. After check in, you will go on a trip to Stone forest. Due to a process of weathering and erosion, nature has created an art gallery of stone sculpture here. This typical Karst physiognomy seems like a forest of stone pillars and boulders. You will see fascination natural creations like Lion Arbor, Sword Peak Pond, Lotus Peak, Moon Lake, Jade Lake, and Dadie Waterfall.
Day 9 Kunming/Guilin (B,L)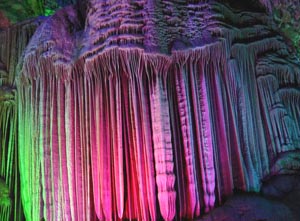 Transfer via: Flight on our arrangement
Sightseeing: Reed Flute Cave, Elephant Trunk Hill and Fubo Hill.
This day your honeymoon tour will go ahead to Guilin—a famous historic and cultural city with uniquely beautiful landscapes.
Firstly, we will visit Reed Flute Cave, which is a vast and very impressive cave system, and one of the most important sights of Guilin. Known as "the Palace of Natural Arts", you can see beautiful stalactites & stalagmites and learn how they are formed.
Then visit the Elephant Trunk Hill. Located at the conjunction of the Li River & the Peach Blossom River, the whole hill looks very much like a giant elephant with a long trunk drinking out of the river; it is the symbol of Guilin city.
In the afternoon we will continue to visit the Fubo (wave-subduing) Hill. Located at the conjunction of the Li River & the Peach Blossom River, the whole hill looks very much like a giant elephant with a long trunk drinking out of the river; it is the symbol of Guilin city.
Day 10 Guilin/Yangshuo (B,L)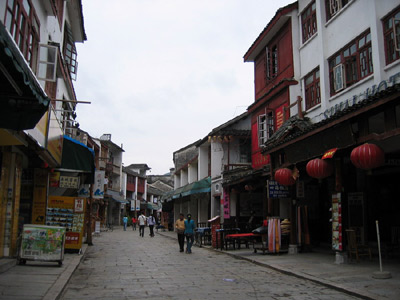 Sightseeing: Li River Cruise, West Street
Guilin is famous for its picturesque scenery, and the best way to see it is from the deck of Li River Cruise ships. In the morning you will depart from your hotel and be transferred to the Zhujiang Pier (about 1 hour drive) for a 4.5 hours wonderful cruise. You will enjoy the unique mountains, peaceful green fields, farms and villages with water buffalos, cows wondering around on both sides of the river bank.
In the afternoon you will disembark at the old town Yangshuo. Having a history of more than 1,400 years, West Street is the oldest street in Yangshuo. You will have some time to explore the old town's lovely attractions.
Then you can take car or bike to the countryside. On the tour, you will have opportunity to enjoy the beautiful scenery of limestone hills, the rice paddy fields and pass through some captivating villages. You can also visit the local farmers and talk with them personally.
Day 11 Yangshuo/Guilin/Departure (B)
Transfer via: Flight on our own arrangement
Your time is your own, until our guide escorts you to the Guilin airport for your flight to your next destination.
End of your unforgettable China Honeymoon tour.