10 Days China Hiking Tour with Upper Yangtze River and Ethnic Minorities Discovery
Tour Code:CHTT11
Tour Duration: 10 Days
Destination:Diqing(Shangri-La), Kunming, Lijiang
Tour overview:This is a China hiking tour containing many best natural and ethnic highlights in Yunnan. By taking this tour, you can not only explore the natural wonders such as the Jade Dragon Snow Mountain and the First Bend of the Yangtze River, but also experience the Tiger Leaping Gorge hiking as well as discovering the pristine Naxi minority and local cusine.
Day by Day Itinerary
Day 1 Arrive in Kunming
Transfer via: Flight on your own arrangement
Upon your arrival in Kunming, your local guide will welcome you and transfer you to your hotel. For the rest of the day you will enjoy some leisure time.
Day 2 Kunming / Lijiang (B, L)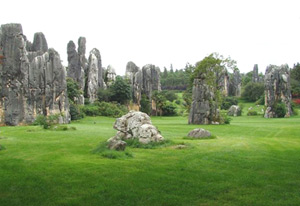 Transfer via: Flight on our arrangement
Sightseeing: Stone Forest, Golden Horse and Phoenix Archway, Green Lake, Flower and Bird Market


Today we will go to visit the famous Stone Forest. Due to a process of weathering and erosion, nature has created an art gallery of stone sculpture here. This typical karst physiognomy seems like a forest of stone pillars and boulders. You will see fascination natural creations like Lion Arbor, Sword Peak Pond, Lotus Peak, Moon Lake, Jade Lake, and Dadie Waterfall.

After lunch, drive back to Kunming to visit the Golden Horse and Phoenix Archway - the landmark of Kunming located at the corner of Sanshi Road and Jinbi Road. Then, have a leisurely stroll along the Green Lake, which is a charming area of teahouses and small boutiques selling handicrafts and beautiful local paintings. Our last stop today will be the Kunming Flower and Bird Market in the downtown.

Take night flight to Lijiang and enjoy the night view of the ancient town.
Day 3 Lijiang (B, L)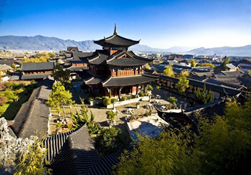 Sightseeing: Lijiang Ancient Town, Mu's Residence, Wangu Pavilion, Black Dragon Lake, Dongba Culture Museum

Have a full day tour in Lijiang. Firstly we will visit the Lijiang Ancient Town (also known as Dayan Town), a well-preserved old town of ethnic minorities, which was listed as the World Cultural Heritage by the UNESCO 1997 because of the exotic Naxi ethnic culture.

As the highlight of Lijiang Ancient Town, the Mu's Residence will be also included today. Located at the southwest part of Lijiang and built symmetrically according to imperial palace of Han nationality, the Mu's Residence was the mansion of the Mu family, the ruler of Naxi people that ruled Lijiang for about 470 years in ancient China. Go ahead to visit the Wangu Pavilion, a landmark building of Lijiang which close to the Mu's Residence. With five-story and whole wooden structure, Wangu Pavilion is 33 meters high, symbolizing the original 330,000 people of all nationalities in Naxi Autonomous County of Lijiang. Today we will also visit the Black Dragon Lake. Also known as Jade Spring Park or Temple of Dragon King to local people, Black Dragon Lake is a famous one for its clear water, thousand-year-old trees, and picturesque landscape. Continue to visit the Dongba Culture Museum, a museum about Dongba Culture of the Naxi people in Lijiang. The culture is mainly about the language and sculpture, or architecture. There are over 1,400 picture-like characters and symbols in Dongba literature that are still used by nowadays, which makes great contributions to the culture study of mankind.
Day 4 Lijiang (B, L)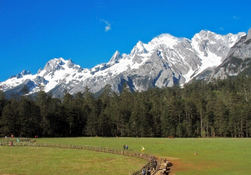 Sightseeing: Yulong Snow Mountain, Baishui River, Yak Meadow, Jade Peak Temple, Baisha Old Town

Today we will visit Baisha Old Town, Baishui(White Water) River, Jade Peak Temple; take the chairlift to visit the Yak Meadow(3700M) on the Yulong Snow Mountain.

Baisha Old Town is the most original one among the three ancient towns in Lijiang. Located at the foot of Jade Dragon Snow Mountain, Baisha Old Town was the ancient capital of Naxi people, as well as the center of politics, economy, commerce, and culture of Lijiang. The highlight there is Baisha Frescos. Formed by the thawing water of Jade Dragon Snow Mountain, Baishui (White Water) River will be included today. It runs through a deep valley named Blue Moon Valley, the bed of the River presents a color of grey white as it is composed of sedimentary crushed limestone thus got the name. Continue to visit the Jade Peak Temple. Constructed in 1700 during ancient China's Qing Dynasty, Jade Peak Temple is one of the five famous lamaseries in suburb of Lijiang, and it is especially famous for camellias. We will visit the well-known Yulong (Jade Dragon) Snow Mountain and take the chairlift to the Yak Meadow (3700M) on the Mountain. Yak Meadow is a good place for shooting the Jade Dragon Snow Mountain and the best point to watch its thirteen peaks which are covered with snow all year round.
Day 5 Lijiang / Shigu Town (B, L)
Sightseeing: Shigu Town, First Bend of the Yangtze River, Tiger Leaping Gorge

Drive to Shigu Town of Lijiang, to visit the town and the First Bend of the Yangtze River (in Shigu Town). Shigu Town is a famous one at the upper reach of Yangtze River, it got the name for there is a drum-shaped stone tablet carved with white marble. The great Yangtze flows down from the world's roof –Tibet Plateau and enter into the Yunnan province from Batang (one county in Tibet), the river mixes two other great rivers, Lancang (Lantsang) River and Nu River (the Angry River) here, and then the Three Parallel Rivers landscape is formed. Blocked by Hailou Mountain Cliff, the river takes a sudden turn to the northeast in the Shangri-la County to form a peculiar 'V' shape valley, and people call this wondrous spectacle the "First Bend of the Yangtze River".

Then continue to drive to Tiger Leaping Gorge. Known as the 'First Gorge of the Yangtze River', Tiger Leaping Gorge became famous after American pilot Rock's three fly experiences here and his photos of the gorge shocked the world. Since then, the gorge has become the holy land for outdoor adventure fans and is regarded as one of the top 10 classic hiking routes in the world. After lunch, start to hike (passing 28 zigzagging turns, etc), after about 5 hours, we will arrive at Tea Horse Guesthouse, then stay overnight there.
Day 6 Tea Horse Guesthouse / Ha Ba village (B, L)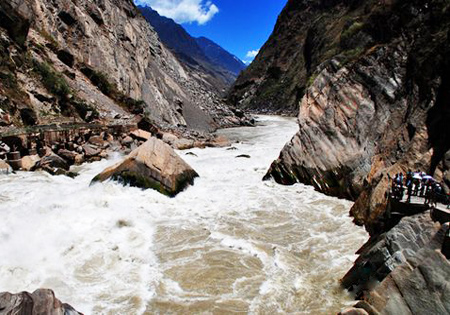 Sightseeing: Tiger Leaping Gorge

After breakfast we start to hike, after about 4 hours' hiking, we will arrive in Tina's Guesthouse and have lunch there. Then hike again along the highway and then take local minivan to Ha Ba village.

The whole Tiger Leaping Gorge is about 20 kilometers in length and divided into three sections: the upper gorge, the middle gorge and the lower gorge. Generally travelers hike the upper and middle gorges.
Day 7 Ha Ba village / Shangri-la (B, L)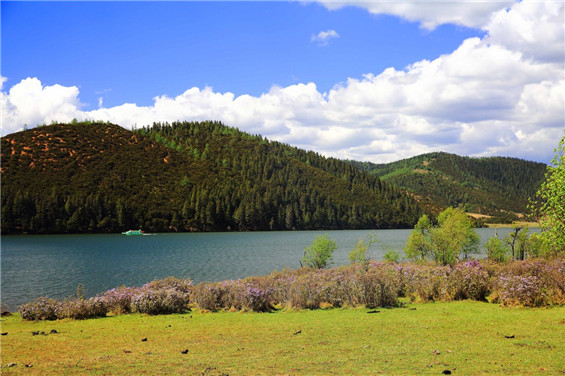 Sightseeing: Baishui Terrace, Shuoduhai Lake

Drive to visit the beautiful Baishui Terrace, after visiting it then drive to Shangri-la, on the way we will visit the Pudacuo National Park including Bitahai Nature Reserve and Shudu Lake.

Rising 2,380 meters above sea level, Baishui Terrace is a marvelous geological sight because it was formed as calcium carbonate dissolved in the spring. When spring containing calcium bicarbonate flowed down, carbonate gradually precipitated, and over long years, terrace-shaped tableland was formed, known as celestial field. Shudu Lake is 3,705 kilometers above sea level, covering a catchment area of 15 square kilometers, it is surrounded by mountains. The beautiful scenery there is just like a painting.
Day 8 Shangri-la (B, L)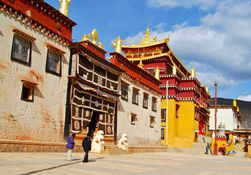 Sightseeing: Songzanlin Monastery, Ren An Village, Rutapo Mountain

In the morning we will visit Songzanlin Monastery, in the afternoon go to Ren An Village and start hiking there, after about 4 hours' hiking, arrive at Rutapo Mountain, then drive back to Shangri-la.

Songzanlin Monastery, or Ganden Sumtseling Monastery, is the largest Tibetan Buddhism monastery in Yunnan Province, and it wins the name of "little Potala Palace". Built beside a hill, the monastery is like a castle collecting great achievements of Tibetan plastic arts, thus it also has the name of "Tibetan Art Museum".
Day 9 Shangri-la (B, L)
Sightseeing: Zhongdian (Shangri-la) ancient town, Tibet minority village

In the morning we will visit the Zhongdian (Shangri-la) ancient town and Tibet minority village. In the afternoon we will enjoy free time.

Day 10 Shangri-la Departure (B)
Transfer via: Flight on your own arrangement

Today will be free for your own purposes, until our guide escort you to the airport for your flight departure.