9 Days Breathtaking Jiuzhaigou and Mt. Emei(Emeishan) Treking Tour
Tour Code:CHTT08
Tour Duration: 9 Days
Destination:Chengdu, Emeishan, Jiuzhaigou
Tour overview:Reputed for its many multi-level waterfalls and colorful lakes, Jizhaigou was declared a UNESCO World Heritage Site in 1992. It belongs to the category V (Protected Landscape) in the IUCN system of protected area categorization; enjoying the names of 'World Wonder' and 'Fairy Land on Earth', Huanglong Scenic and Historic Interest Area is well known for its colorful lakes, snow clad mountains, valleys and virgin forest and was also included in the UNESCO world heritage list in 1992; and Mt. Emei, one of the four famous Buddhist holy mountains in China as well as a renowned scenic spot filled with mysterious atmosphere, is worshiped by many people and popular with tourists all the time...Undoubtedly, you will return from a rewarding journey!
Day by Day Itinerary
Day 1 Chengdu Arrival
Transfer via: Flight on your own arrangement

Arrive in Chengdu. You will be met at the airport by your guide and then be transferred to the hotel.
Day 2 Chengdu to Jiuzhaigou (B, L, D)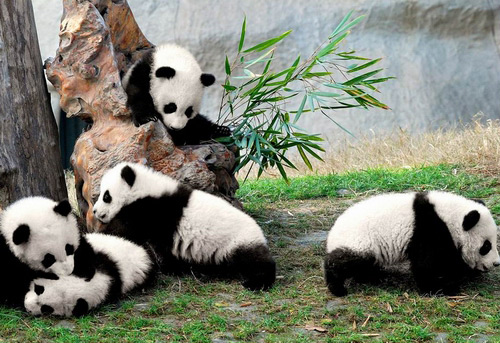 Transfer via: Flight on our arrangement
Sightseeing: Chengdu Panda Breeding Research Base

Today we will visit the Chengdu Panda Breeding Research Base, which was built to imitate the wild ecological environment of pandas. It covers a space of 92 acres, with a green coverage of 96 percent. The base created a perfect ecological environment for the living and breeding of pandas and other precious and rare wild animals. It breeds over 20 pandas and lesser pandas, black-necked cranes, white cranes and others.

In the afternoon, you will be transferred to Chengdu airport to take flight o Jiuzhaigou. Upon arrival, you will be met and transferred to hotel.
Day 3 Jiuzhaigou (B, L, D)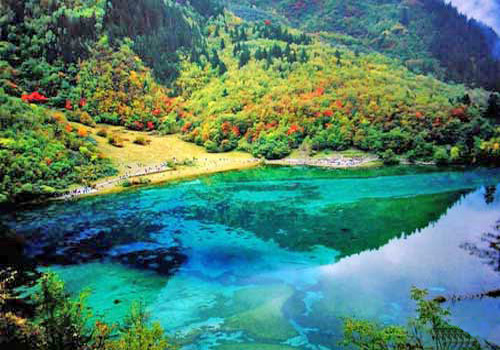 After breakfast, take taxi to the Jiuzhaigou National Park, then you will take eco-buses to sightsee the Park. Three valleys in Jiuzhaigou National Park Shuzheng, Rize and Zezhawa Valley, you may have one day trekking tour in two of the three valleys (Hiking 5-6 hours). Visit the Rize and Zezhawa Valleys: Nuorilang waterfalls, Pearl Shoal, Wuhua Hai (Five Flower Lake), Panda Lake Waterfall, Swan Lake, Hanging Dagger Spring, Five Color Pool Filled with crystal-clear waters the pool looks colorful, radiant and fascinating. Long Lake - It's the largest lake in Jiuzhaigou Valley, covering an area of 7.5 km, long and 0.375 km. wide. It is 3103 metres above sea level, with a maximum depth of 103 metres.
Day 4 Jiuzhaigou (B, L, D)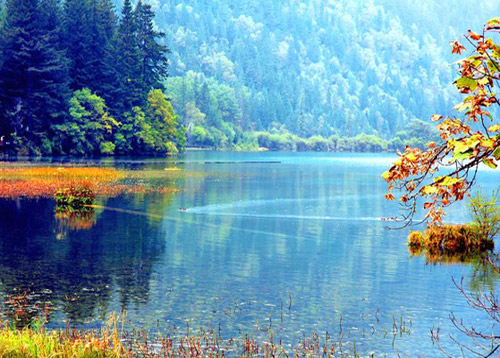 Today you may have the other day trekking tour in Shuzheng Valley of this national park (Hiking around 5-6 hours). After breakfast, take taxi to the Jiuzhaigou National Park. Penjingtan Lake (Miniature Landscape Lake), Shuzheng Waterfall, Tibetan village of Shuzheng, and numerous picturesque lakes including Luweihai (Reed Marshes), Huohuahai (sparkling Lake), Shuzheng Group of Lakes, tiger Lake and Rhinoceros Lake.
Day 5 Jiuzhaigou to Huanglong to Chengdu to Mt. Emei (B, L, D)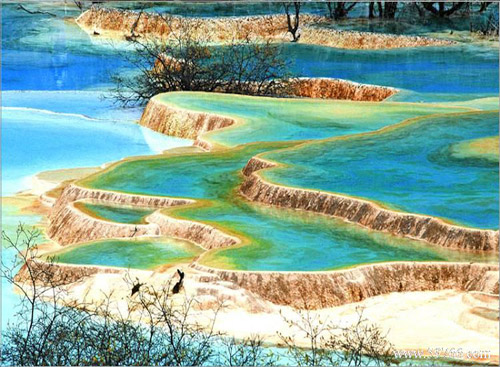 This morning, we will drive about 3 hours to Huanglong (Yellow Dragon) National park. The Tibetan area we enter is marked with lines of banners standing along the mountain with scriptures written in Tibetan. The Tibetans have a tradition of letting the wind do their praying for them - every time the prayer flag flutters in the wind, it is equivalent to a blessing. Driving beyond several imposing mountains, you will reach the valleys of Huanglong, a scenic area through which a stretch of river from the summit of Minjiang Mountain flows down like a yellow dragon. Small ponds, waterfalls and dense forests scatter in a spectacular canyon, which is between 3,000 m-3,500 m above sea level and interspersed with colorful flowers in spring. Hiking in Huanglong for about 3-3.5 hours.

Then we will drive to airport for you to take flight back to Chengdu. Upon arrival, you will be pick up and then drive to Mt.Emei directly (two hours along expressway). One the way, we will enjoy countryside. Arrive at Mt. Emei, your guide will help you check in the hotel.
Day 6 Mt. Emei (B, L, D)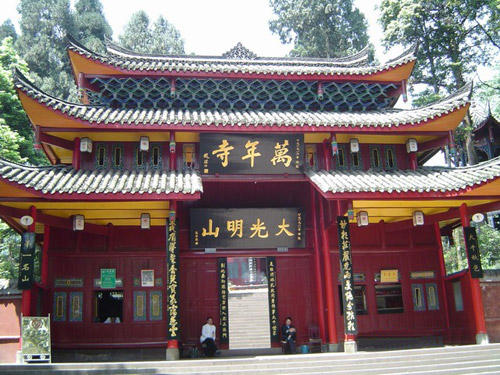 After breakfast, take public tour bus to Wannian(Longlife) Monastery parking lot, change to the cable car to Wanniansi Temple. Have a visit in this most famous temple on Mt. Emei. Then we start trekking. Passing the 5 km-long Heart Watching Hill, you will be at Calming House. On the journey from Calming House to Elephant-Bathing Pool, there are the scenic spots of Zhanglao Terrace, Chu Hall, Huayan Summit, Jiuling Mountain and Zuantian Slope. Have a good relaxation and Enjoy a tranquil night here. You might meet some wild monkeys because you are on the half of Mt. Emei.
Day 7 Mt. Emei (B, L, D)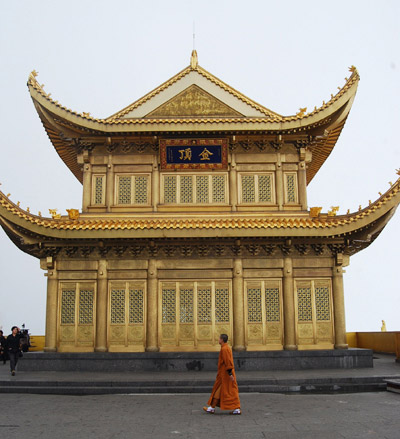 Today you will continue trekking to Golden Summit is 1.5 km. far from Elephant-Bathing Pool through Lianwang Slope and Leidong Ground. On the Golden Summit, beyond Woyun Nunnery and Golden summit Temple, people could enjoy the four spectacles on Golden Summit which the height is 3077M above sea level.
Day 8 Mt. Emei to Chengdu (B, L)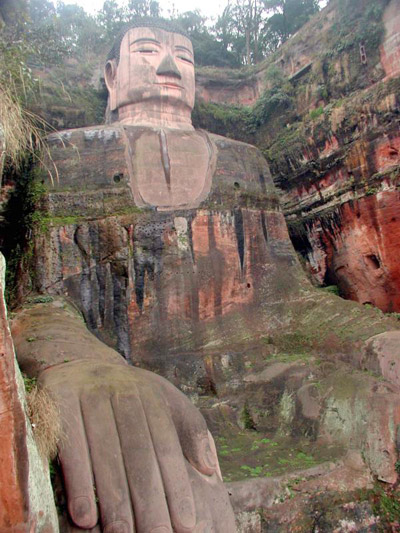 Transfer via: Private Vehicle on our arrangement
Sightseeing: Leshan Buddha Statue

Take cable car down to Leidong Groud parking lot, and then take bus to the Traffic Center on the foot of the Mt. Emei. Change to our car and drive to Leshan, have a boat cruise to view of the biggest carved Buddha statue in the world.

In the afternoon, we will drive back to Chengdu.
Day 9 Chengdu Departure (B)
Transfer via: Flight on your own arrangement

Free at leisure until your guide pick you up from your hotel lobby and then you wil be transferred to Chengdu airport for your flight departure.