12 Days Trekking from Siguniang Shan to Miyalou
Tour Code:CHTT07
Tour Duration: 12 Days
Destination:Chengdu
Tour overview:This tour can be considered as a combination of trekking and adventure in some way, as you will spend quite much time in hiking instead of driving enroute this unconventional tour route. If you are a trek and adventure liker who are interested in challenging the nature, do not miss this adventure!
Day by Day Itinerary
Day 1 Chengdu Arrival
Transfer via: Flight on your own arrangement
Arriving in Chengdu, you will be met by your local guide and then be transferred to your hotel. In the afternoon, your guide will give you a brief introduction of your treking trip.
Day 2 Chengdu to Rilong(B, L, D)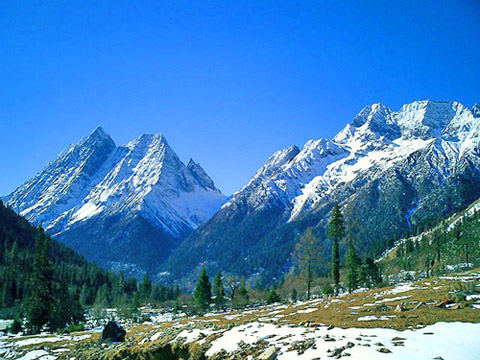 Transfer via: Private Vehicle on our arrangement
After breakfast, we depart Chengdu for Rilong which is the nearest town to Mount Sigu'niang. Mount Sigu'niang is comprised of four undulating, sword-sharped, precipitous peaks, the chief one being the forth sister peak, which rises to 6,250m/20,500ft above sea level. Mount Sigu'niang is the highest of the Qionglai Mountains in the Hengduan Mountain range. The third the second and the first sister peaks stand at elevations of 5355m/17,565ft, 5276m/17,305ft and 5025m/16,482ft.respectively.
Overnight in local guesthouse in Rilong.
Day 3 Rilong to Sigu'niang Shan to Erdaoping(B, L, D)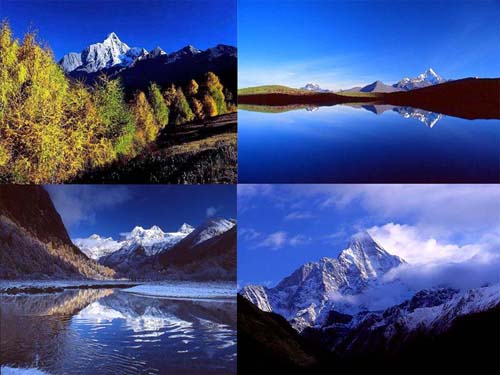 This morning we will explore around Mount Sigu'niang to admire the breathtakingly beautiful landscape of snowy mountains, alpines slopes and highland vegetation.
After lunch, we continue head 8 km to Erdaoping via a ruined Lama Monastery.
Overnight camp at Erdaoping.
Day 4 Erdaoping to Lianghekou(B, L, D)
Today, we will trek about 20 kms from Erdaoping to Lianghekou, the middle of Changping Valley. The trek today is strenuous and will take us about 6-7 hours.
Overnight Camp.
Day 5 Lianghekou to Yangwantaigou (B, L, D)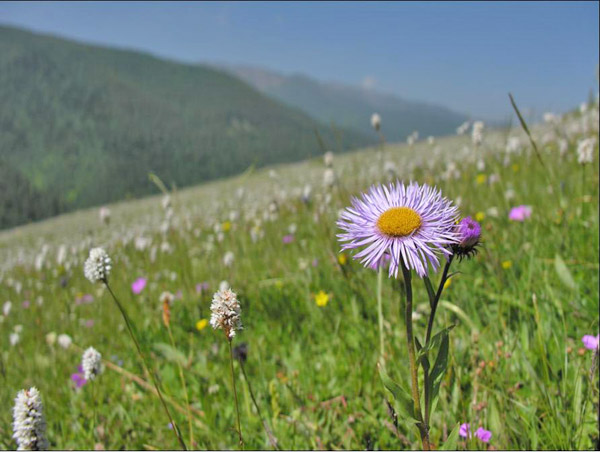 We hike about 10 km to the end of the Changping Valley, the bottom of the mountain pass. On the way, you will enjoy the beautiful scenery, e.g. snowy mountains, glaciers and brooks, etc.
Overnight Camp.
Day 6 Yangwantaigou to Chazigou(B, L, D)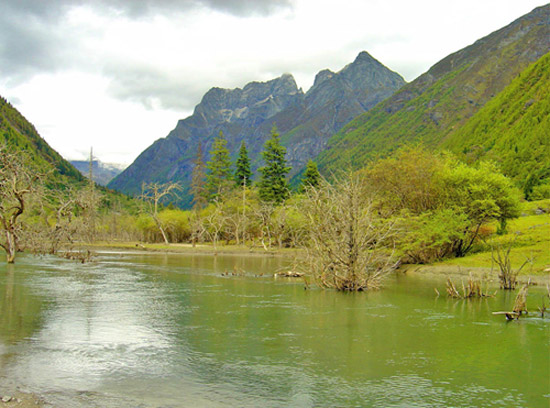 After breakfast, we start today's trek from Yangwantai to Chazigou, the end of the Changping Valley. The scenery in Chazigou is breathtaking, mountains surround us and the snow melts into water, joining together to form a brook and flow down. The green slopes are dotted with yaks and unknown birds take to the skies at sunset.
Overnight Camp.
Day 7 Chazigou to Bipenggou Valley over Mt. Pass(B, L, D)
Today we have to set out very early to overtake the mountain pass which is 4620m and always covered with snow throughout the whole year. This is the hardest day of our trek. We have to trek on snow and wade over a steam on our way down.
Overnight Camp.
Day 8 Beipenggou Valley to Linchang(B, L, D)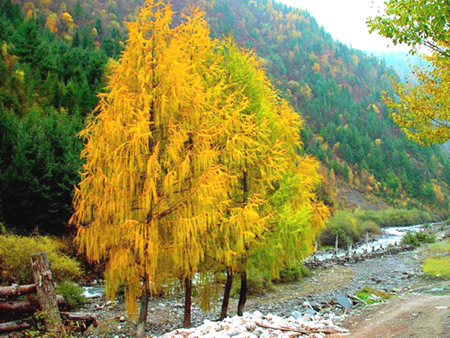 The unconquered Bipeng Valley is hardly ever visited by people. The scenery is similar to that of the day before, we will be trekking downhill. Today, we trek to Linchang No. 309 and we will spend our night in there.
Overnight Camp.
Day 9 Linchang 309 to Campsite(B, L, D)
As we descend, the vegetation changes and we arrive at tonight's campsite. Our vehicles are waiting for us there.
Overnight Camp.
Day 10 Drive to Zagunao Town(B, L, D)
After breakfast we will drive to Zagunan Town in Li country. After a week in the wild, we get back to town where we can enjoy well cooked food and take a hot shower. Enjoy your free time in the town of Zagunao.
Overnight at guesthouse in Zagunao Town.
Day 11 Zagunao Town to Chengdu (B, L)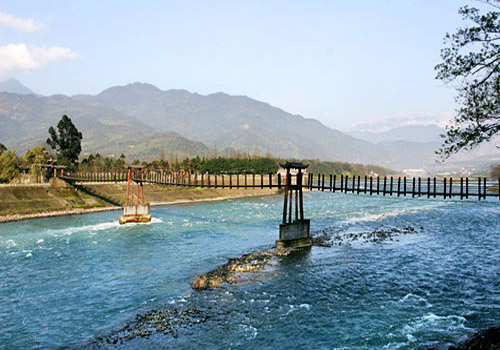 In the morning, we will depart Zagunao for Chengdu, en route, we pay a visit to the 2000 year old Dujiangyan Irrigation System.
Day 12 Chengdu Departure(B)
Transfer via: Flight on your own arrangement
Free at leisure until your guide pick you up from your hotel lobby and then you will be transferred to airport for your flight leave.