8 Days Chengdu & Sacred Mt. Emei(Emeishan) Trekking Tour
Tour Code:CHTT06
Tour Duration: 8 Days
Tour overview:Being positioned as one of China's national treasures, giant pandas, which originally live only in Sichuan Province, are very cute and get great attention from home and abroad. In the duration of these 8 days, you will take a good chance to get close to these rare and friendly animals and keep a remarkable and lovely memory. Besides, you can also pay a visit to Mt. Emei (one of Four Famous Buddhist Sacred Mountains) and the reputed the 71 meters high Leshan Giant Buddha, which was chiseled on crag beside water in 713 A.D.... Do this tour and believe that these wonders will be carved on your mind!
Day by Day Itinerary
Day 1 Chengdu Arrival
Transfer via: Flight on your own arrangement
Arrival in Chengdu. You will be met at the airport by your guide and then be transferred to the hotel.
Day 2 Chengdu (B, L)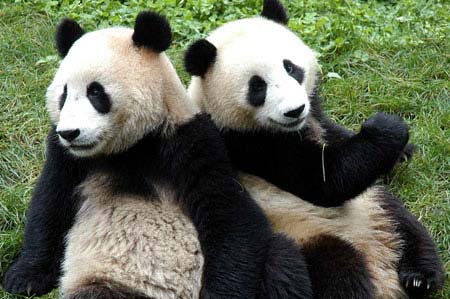 Sightseeing: Chengdu Panda Breeding Research Base, Sanxingdui Ruins
Today we will visit the Chengdu Panda Breeding Research Base, which was built to imitate the wild ecological environment of pandas. It covers a space of 92 acres, with a green coverage of 96 percent. The base created a perfect ecological environment for the living and breeding of pandas and other precious and rare wild animals. It breeds over 20 pandas and lesser pandas, black-necked cranes, white cranes and others.

Then we will drive to Sanxingdui Ruins. In the long-history city there are green hills and fresh water, the scenery is beautiful, the climate is gentle, the product is rich. The name Sanxingdui means the three-star mounds at the ruins, indicating three stars in company with the moon. The scientific discoveries and excavation to Sanxingdui unveiled the history of 5,000 years of ancient Shu.
After dinner, another exotic experience is waiting for us. A tea break at the local teahouse. Visit Sichuan folk arts performances including the spectacular "face changing, and spiting fire".
Day 3 Chengdu/Leshan/Mt.Emei (B, L)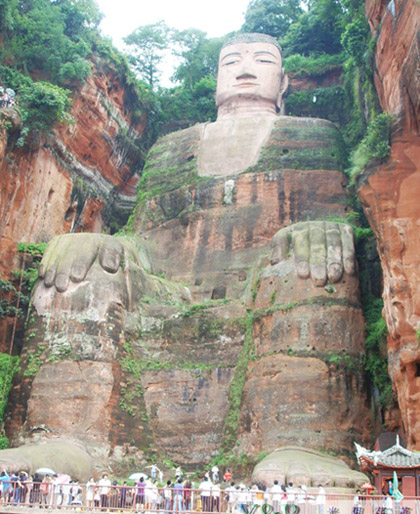 Transfer via: Private Vehicle on our arrangement
Sightseeing: Leshan Giant Buddha Statue
Today we will make a trip to famous Leshan Giant Buddha Statue. Leshan Giant Buddha is the largest Buddha in the world, about 71 meters high. It is a statue of Maitreya (a Bodhisattva usually represented as a very stout monk with a broad smile on his face and with his naked breast and paunch exposed to view) in sitting posture. It started to be carved in 713 A.D and finished 90 years later. Facing the river, the Buddha has symmetrical posture and looks which have been beautifully captured in its solemn stillness. It has three-meter-long (about 11 feet) fingers. The eight-meter-long (about 27 feet) instep is big enough for one hundred people to sit on and the 28-meter-wide (about 92 feet) shoulder is large enough to be a basketball playground. You will be astonished by its grace.
In the afternoon, we will drive the other on hour to Mt. Emei.


Day 4 Mt.Emei (B, L, D)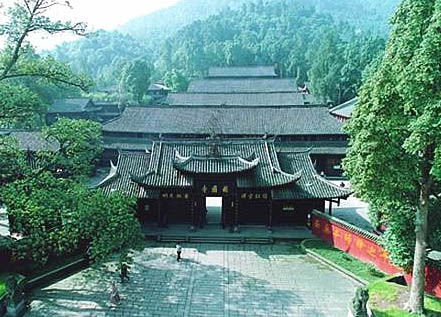 Trekking route: Baoguo Temple to Fuhu Temple to Wannian Temple to Qingying Temple
After breakfast, Visit Baoguosi (Nation Dedicating Temple) which was built in the 16th century, enlarged in the 17th century by Emperor Kangxi and recently renovated. Fuhu Temple (Crouching Tiger Monastery) is sunk in the forest. Inside is a seven-meter-high copper pagoda inscribed with Buddhist images and texts. Take a bus to Wannian Temple Parking Lot, and start our trekking. You are not only visiting the temple but also enjoy the amazing vegetarian lunch cooked by the monks. After lunch trekking 1.5KM to Qingying Temple.
Day 5 Mt.Emei (B, L, D)
Keep on trekking today. Passing the 5 km-long Heart Watching Hill, you will be at Calming House. On the journey from Calming House to Elephant-Bathing Pool, there are the scenic spots of Zhanglao Terrace, Chu Hall, Huayan Summit, Jiuling Mountain and Zuantian Slope. Overnight in the Guesthouse near Eelephant-Bathing Pool. Have a good relaxation and Enjoy a tranquil night here. You might meet some wild monkeys because you are on the half of Emei Mountain.
Day 6 Mt.Emei (B, L, D)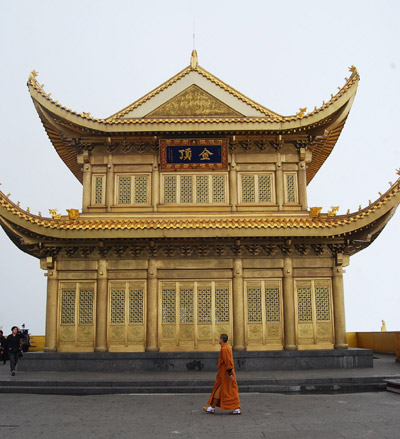 Today you will continue trekking to Golden summit is 1.5 km. far from Elephant-Bathing Pool through Lianwang Slope and Leidong Ground. On the Golden Summit, beyond Woyun Nunnery and Golden Summit Temple, people could enjoy the four spectacles on Golden Summit which the height is 3077M above sea level.
Day 7 Mt.Emei to Chengdu (B, L)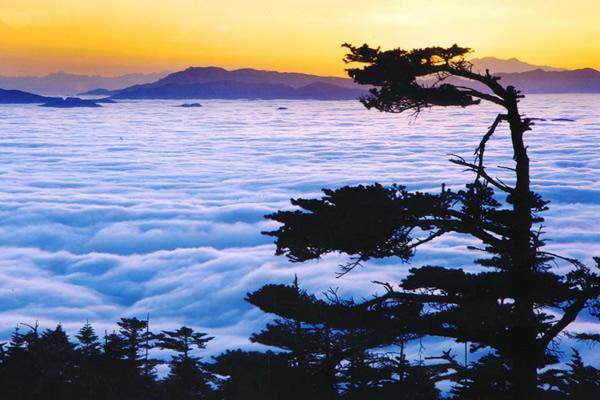 Transfer via: Private Vehicle on our arrangement
Today, you will get up early and enjoy the beautiful sunrise which is one of the four spectacles of Mt. Emei. After breakfast, trekking back to Leidong Groud parking lot and then take bus to the Traffic Center on the foot of the Mt.Emei. Your private car is waiting for you there. Then we will drive 2.5 hours back to Chengdu.


Day 8 Chengdu Departure
Transfer via: Flight on your own arrangement
Free at leisure until your guide pick you up from your hotel lobby and then you will be transferred to Chengdu airport for your flight departure.