5 Days Leisurely Yangshuo Hiking & Biking Tour
Tour Code:CHTT04
Tour Duration: 5 Days
Tour overview:During this tour, you will spend a memorable time in selected destinations, including Li River, ethnic minority villages in Xingping Ancient Town and Gaotian Town for of Yangshuo. Not only will you reap picturesque natural sight and mysterious ethnic custom but also you will enjoy both of relaxing cruise on a bamboo raft and excises of hiking and biking...
Day by Day Itinerary
Day 1 Guilin Arrival / Yangshuo
Transfer via: Flight on our arrangement
You will be greeted by our local guide upon your arrival in Guilin and then be transferred to your hotel in Yangshuo by a private air-conditioned car. Then you will spend the rest of day at your leisure.
Day 2 Yangshuo (B, L)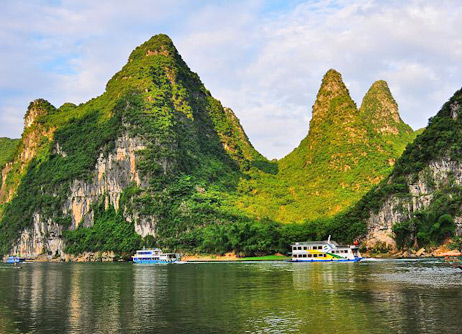 Sightseeing: Xingping, Yangdi Village
After having breakfast, we will drive to Xingping dock where today's hiking tour start from. Xingping is an ancient town with 63 km (39 miles) from Guilin and 25 km (15.5 miles) from Yangshuo, on the east bank of the river. The town is surrounded by enthralling scenery. Both Mural Hill and Yellow Cloth Shoal belong to this scenic area.
First we will walk along Li River to Yangdi. About 4.5 hours' hiking, we will get Yangdi, a small fishing village. The landscapes there are very spectacular, elegant mountains, winding water, delicate beach, striking waterfall, dense green bamboos and dotted villages. Yangdi is also an ideal place to enjoy the misty rain of Li River, Which seems to be a wonderland, quiet, peaceful and mysterious in spring. The hiking tour finishes here. Our vehicle will pick us up and transfer us back to Yangshuo.
Day 3 Yangshuo (B, L)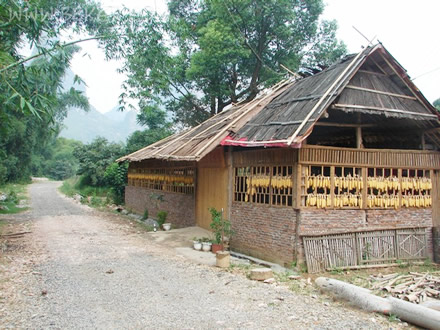 Route: Yangshuo - Fuli - Liugong - Yongcun - Yangshuo
Sightseeing: Fuli Old Town, Liugong Fishing Village
After breakfast, we will cycle for 2 hours from Yangshuo to Fuli, an ancient town along the Li River with nice traditional buildings. Then we will take our bike to the ferry boat to cross the river and begin the cycle tour on local bumping trails. Route turns more difficult for bicycle riding. After another two hours riding, we will arrive at Liugong Fishing Village. Located among beautiful carst hills, Liu Gong Village's typical ancient buildings are preserved till now. There are many footpaths between farmers fields. The Main attractions here are water-flowing cave, Liugong Three-Pond, Gold Lion Drinking Water, beauty and peach Li River, Eight-immortal Dragging a Horse and the pavilion on Riverside. The water flows very smooth and safe all long year. Then we will have free time to walk around this village.
Later afternoon, we will cycle back to Yangshuo. Visit Yongcun Village on the way.
Day 4 Yangshuo (B, L)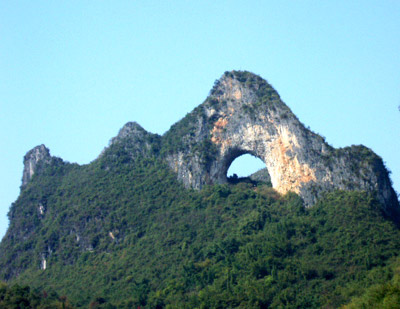 Routes: Yangshuo - Chaoyang -Yulong River –Gaotian- Yangshuo
Sightseeing: Yulong River, Moon Hill
In the morning, we will cycle to Yulong River. The Yulong River, also called Dragon River and this River Valley is said to rival Li River Scenic Area in beauty and prestige. The part of the river that stretches from Yulong Bridge in Baisha Town, to Gongnong Bridge near the Big Banyan Tree, is known as the Yulong River Scenic Area, and includes some spectacular scenic views along each river bank. The languid river is surrounded by a primitive, but pure, natural landscape, combined with green bamboo forests and rolling hills.
First we will take around 1 hour biking to Chaoyang dock on Yulong River, and then we will take the bike onto the bamboo raft and have a two-hour rafting on the crystal clear river. This afternoon, we will cycle around Gaotian area and have a visit to Moon Hill on the way. Moon Hill, named for the crescent shaped cave running through the moon. The journey up to the summit is an arduous one which covers 800 steep steps. The scenery overlooking the countryside through the half moon, however, is well worth the trek, which is probably the best you will get in the area.
Cycle back to Yangshuo.
Day 5 Yangshuo / Guilin Departure (B)
Transfer via: Flight on your own arrangement
Free at leisure until your guide pick up you from your hotel lobby and then transfer to Guilin airport for your next destination.