10 Days Cycling & Hiking Tour with Best Highlights in Yunnan
Tour Code:CHTT03
Tour Duration: 10 Days
Destination:Dali, Diqing(Shangri-La), Kunming, Lijiang
Tour overview:Located in the Southwest of China, Yunnan Province is a place where 25 Chinese ethnic groups live together, which provides it with good condition to form and maintain colorful and mysterious ethnic culture; on the other hand, endowed with pleasant climate and special landform, Yunnan has become a paradise of tourism...Spending your time with hiking among the nice landscapes and thick local minority atmosphere in Kunming, Dali, Lijiang and Diqing (Shangri-La), you will<B> </B>get captivated and expect for a second time to them!
Day by Day Itinerary
Day 1 Kunming Arrival
Transfer via: Flight – on your own arrangement

Upon your arrival in Kunming, your local guide will welcome you and transfer you to your hotel. For the rest of the day you will enjoy some leisure time to relax or have a first look at the new surrounding
Day 2 Kunming (B, L)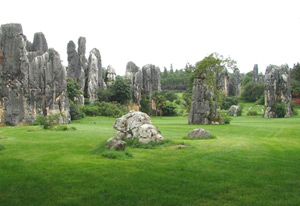 Sightseeing: Stone Forest

Today we will go on a full day trip to Stone forest. Due to a process of weathering and erosion, nature has created an art gallery of stone sculpture here. This typical karst physiognomy seems like a forest of stone pillars and boulders. You will see fascination natural creations like Lion Arbor, Sword Peak Pond, Lotus Peak, Moon Lake, Jade Lake, and Dadie Waterfall.

Following, we will drive for three hours to Jianshui. Jianshui, is a culturally significant city south of Kunming, historically it has served as the home of many important officials.
Day 3 Kunming to Dali (B, L)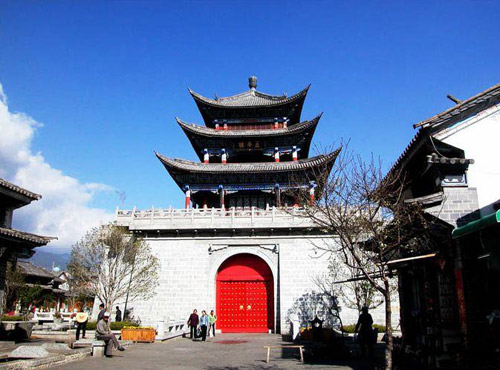 Transfer via: Bullet train on our arrangement
Sightseeing: Dali Ancient City, Three Pagodas, Xizhou

After breakfast, you will be transferred to railway station to take bullet train to Dali. Upon arrival in Dali, you will be met & transferred to your hotel for check in. The Ancient City of Dali, which is a magnificent ancient city with a perimeter of 6 kilometers. Its former city walll is 7.5 meters high and 6 meters thick. There used to be four city gates, each on one side. On the gates were the gate towers. While Xiaguan, the capital of the Autonomous Region of Dali, depicts you an scene of prosperity and bloom, the Ancient City of Dali will give you a simple, unsophisticated and quiet impression.

Then start today's cycling from Dali Ancient City to Xizhou. First biking 3km from ancient city to Three Pagodas, have a visit in there. The Three Pagodas of Chongsheng Temple. It is a symbol of the history of Dali City, and a record of the development of Buddhism in the area. As its name implies, Three Pagodas are made of three ancient independent pagodas forming a symmetrical triangle. This is unique in China.

Then we will continue the ride of 20km to Xizhou. Visit Houses of Bai People in Xizhou and try Three Cups of Bai Tea. Carry on biking 8 km to Zhoucheng, where Bai minority people live and are famous for their elaborate batik crafts.

Afternoon ride back to Dali.
Day 4 Dali to Lijiang (B, L)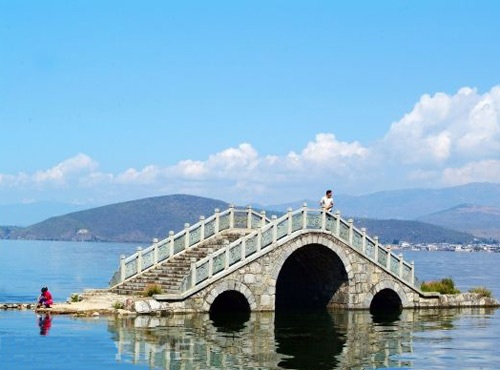 Transfer via: private vehicle on our arrangement
Sightseeing: Cangshan, Erhai Lake, Lijiang Ancient Town

In the morning, we take a cable car to the top of Mt.Cangshan for a bird's eye view of the Erhai valley.

Then take cable car down the moutain and have a cruise on Erhai Lake. Erhai Lake is the largest highland lake next to Dianchi and one of the seven biggest fresh water lakes in China. It means, 'sea shaped like an ear' in Chinese. Implying that the lake is ear shaped and as large as a sea, hence it was named so. The lake covers an area of 250 square kilometers and is located about two kilometers east of Dali.

In the afternoon, we will drive to Lijiang. Arrive in Lijiang; we will have a visit to Lijiang Ancient Town after check in hotel.
Day 5 Lijiang (B, L)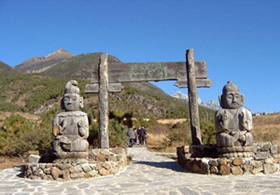 Sightseeing: Baisha village, the Museum of Naxi Culture

After breakfast, we will first cycle 8km from Lijiang Ancient City to Baisha village. Baisha Old Town is one of the oldest towns in Lijiang. It is the earliest settlement of the Naxi people and is the birthplace of "Tusi".

Then we continue on another 3km to Shuhe Naxi Village. Visit the Museum of Naxi Culture (or Dongba Culture). Four kilometers (2 miles) to the northwest of the Old Town of Lijiang, at the foot of Jade Dragon Snow Mountain, lies a compact village hidden in the forest, the Old Town of Shuhe. UNESCO has listed it as an important component of Lijiang as it is a well-preserved example of a town along the ancient tea route and one of the earliest settlements of the ancestors of Naxi people. It is called 'the hometown of springs'.

This evening, we will enjoy Naxi Ancient Music.
Day 6 Lijiang (B, L)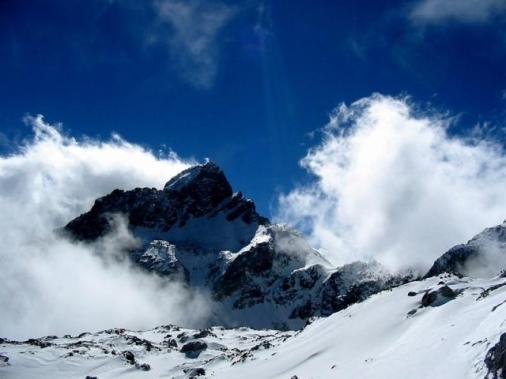 Sightseeing: Black Dragon Pool Park, Jade Dragon Snow Mountain, Yufengsi Lamasery.

This morning, we visit the Jade Dragon Snow Mountain along with a bridge and a peaceful lake. It is the southernmost marine glacier in the temperate zone of the northern hemisphere. Altogether there are 13 peaks along the range, stretching for over 35km from south to north. The summit, Shanzidou, is 5596 meters above sea level. Viewed from afar, the snow-capped range resembles a silver dragon with snow curling up its middle. Rich forest, herb and animal resources thrive on the mountain.

Also, we will have a visit to the Black Dargon Pool Park. At the foot of Longquan Hill, about 17 kilometers (10 miles) north of the center of Kunming, there is a beautiful place called Black Dragon Pool (Heilongtan), also known for the Dragon Fountain Temple(Longquanguan).
Day 7 Lijiang to Tiger Leaping Gorge (B, L)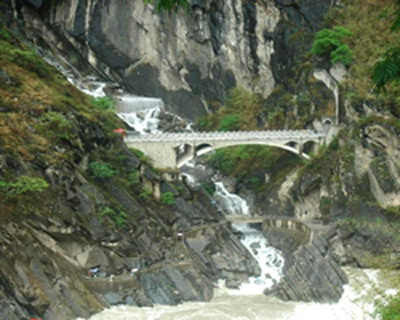 Transfer via: private vehicle on our arrangement
Sightseeing: Tiger Leaping Gorge,

In the morning, we will drive around 1.5 hours to Qiaotou town, then start hike to Halfway. Right from Qiaotou, we ascend up to the Haba Mountain which forms the Tiger Leaping Gorge with the Jade Dragon Snow Mountain facing it. The trail uphill is very steep, particularly on the 28 benches, followed which we can take a glimpse of the River at the bottom of the gorge like a thin line.

Then, we continue hike to Halfway, a hostel nestles on a small piece of land on the mountain slope.
Day 8 Halfway to Zhongdian (B, L)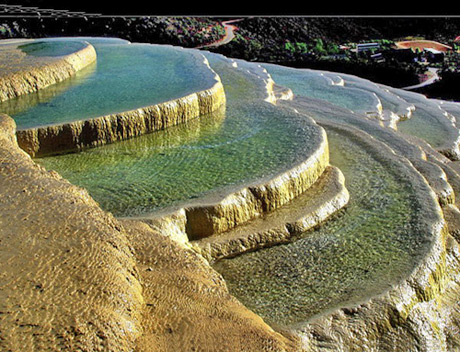 Transfer via: Private vehicle on our arrangement
Sightseeing: Baishui Terrace

From Half way hostel, we start our one hour of descending to Tina's guest house which is located by the road along the gorge. Then we continue ascending down into the middle gorge.

Then, we start ascending on a slowly going up trail to the road and walk another 2 hours to Xincun village where we meet our vehicle and drive to 3 hours to Zhongdian via Baishuitai. the Baishui Terrace is one of the most important scenic spots of the Zhongdian county, Diqing Tibetan Autonomous Prefecture. Snugly situated on a mountain slope 2,380 meters (about 7,806 feet) above sea level, Baishui Terrace, 140 meters (about 459 feet) in length and 160 meters (about 525 feet) in width, is one of the biggest such terraces in China. The spring water runs down from the top row by row to the bottom, like a white terraced field.
Day 9 Zhongdian (B, L)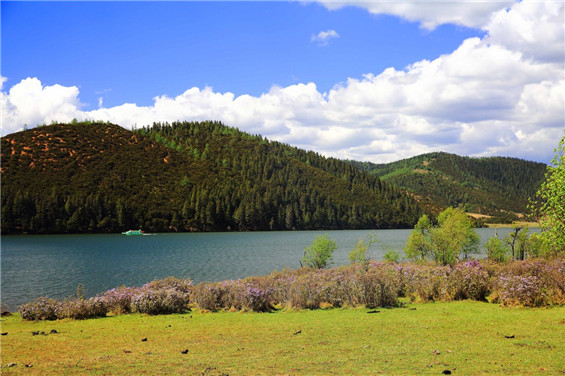 Sightseeing: Song Zanling Monastery, Shudu Lake

This morning, we drive to the Songzanling Monastery to photograph the tranquil morning scenery before visiting the monastery. Songzanlin Monastery, which is a typical Lama monastery. Located at the foot of Mt. Foping, four kilometers north of Zhongdian County, a monastery was first built here in 1679 and has been rebuilt many times. The architectural style of the building is a faithful imitation of the Potala Palace in Lhasa, Tibet.

In the afternoon, we drive to the picturesque Shudu Lake. As one of the largest plateau lakes in Shangri-la, Shudu Lake is renowned for its limpid water and unique fish in it. The lake is surrounded by green hills with lush virgin forests, which is the home to a variety of rare birds and animals. The lakeside is a famous pasture, where the water and grass are abundant.
Day 10 Zhongdian to Kunming / Departure
Transfer via: Flight on your own arrangement

In the morning, you will be met and transferred to airport to take a flight back to Kunming and then a connecting flight to next destination.