11 Days Great Wall Hiking Tour
Tour Code:CHTT01
Tour Duration: 11 Days
Destination:Beijing
Tour overview:Great Wall, which winds for around 8852 kilometers in North China, has been being known throughout the world as one of the Eight World Wonders and attracting millions of visitors from home and abroad. Hike in different section of it and you can feel its great splendor! 
Day by Day Itinerary
Day 1 Beijing Arrival
Transfer via: Flight on your own arrangement

Upon arrival, you will be met and transferred to your hotel. Your guide will give you a briefing of the schedule of the next few days, and will answer your questions. Rest of the day will be your free time; you can explore the city by yourself or just relax.
Day 2 Beijing to Old Dragon's Head to Shanhaiguan (B,L,D)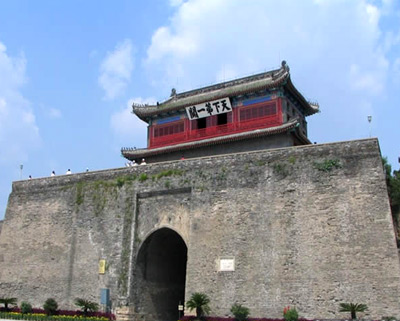 After an eraly breakfast we will have 4 hours drive from Beijing to Old Dragon's Head (Laolongtou).

After lunch, we will hike 3 kms from Chenghailou Tower to Shanhaiguan Pass which is appraised as the First Pass Under Heaven. Shanhaiguan had played an incomparable strategic important role in China's history. Then, we tour around the tower of Shanhaiguan

Overnight in Haisheng Garden Hotel.
Day 3 Jiaoshan to Sandaoguan (B,L,D)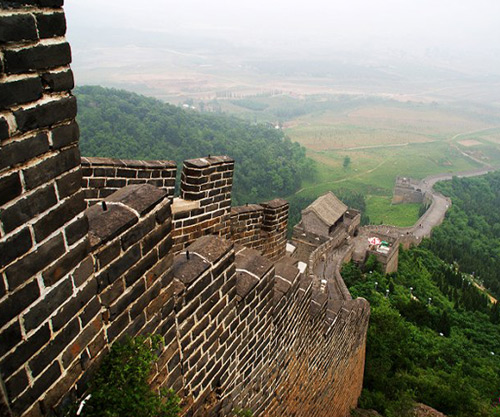 This morning, we will drive to the foot of Jiaoshan and start our hiking with ascending to the peak. After Jiaoshan, we keep on hiking downhill and uphill for a couple of times, you will enjoy the amazing scenery. We will have lunch box.

In late afternoon, we get to a village by Sandaoguan which is the trail end of hour hiking today. Then, we drive back Shanhaiguan.

Overnight in Haisheng Garden Hotel.
Day 4 Dongjiakou to Great Wall Village (B, L, D)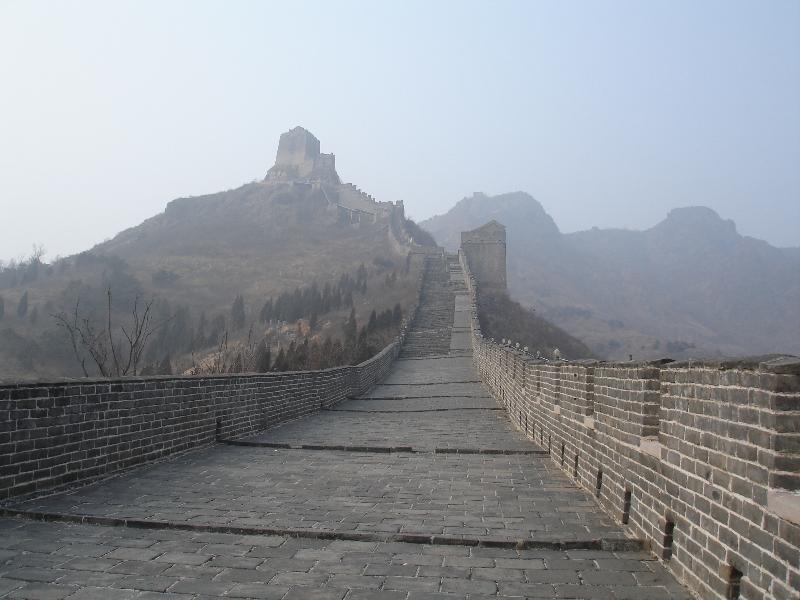 This morning, we will drive about 40 kms to Dongjiakou after breakfast.

The trek from Dongjiakou starts with the various construction with embossment on some of the arches which are very rare to see. About 2.5 hours later, we descend down the wall to a local family for lunch.

Hike another 3-4 hours along the Great Wall to another direction near the Village.

Overnight Home stay in Great Wall Village.
Day 5 Luweishan to Liujiakou (B, L, D)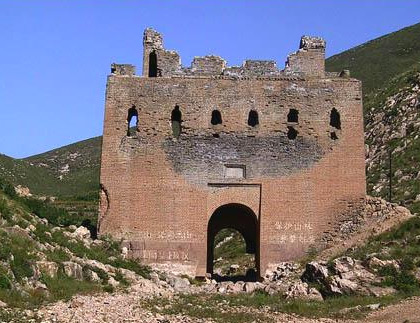 After breakfast, we will drive 2 hours about 130kms to Luweishan, which means the hill of Deer Tail for its formation. The Great Wall on this section is also wild and renowned as Great Wall in the Water.

It is about 4-5 kms and the trekking will take us about 5 hours till we get to Liujiakou village.

Then we drive to Zunhua town for hotel check in.

Overnight in Zunhua International Hotel.
Day 6 Zunhua to Huangyaguan (B,L,D)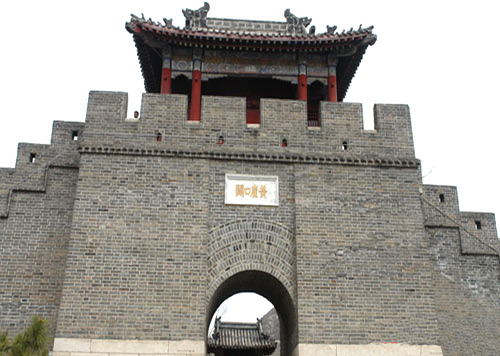 This morning we will hike about 3 hours in another section of the Great Wall near Zunhua.

After lunch, we drive to Huangyaguan Great Wall. Huangya, (yellow cliff), named after the yellowish hills and rocks nearby. It was originally built in Tianbao 7th of Beiqi (557 A D), the Huangyaguan was mainly repaired for the first time in Ming Dynasty with bricks under the leadership of General Qi Jiguang.

If weather permits, we could admire the sunset over the Yellow cliff from our hotel. Also if you like, you can climb a small section of Huangyaguan on the western sectioin.

Overnight in Huangya Shanzhuang.
Day 7 Huangyaguan to Simatai (B,L,D)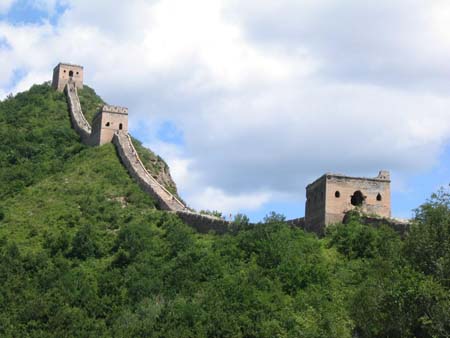 This morning, we drive about 20 minutes up to Taipingzhai village, then we will start our 3-4 kms hiking from there to Huangyaguan.

After lunch, we drive to Simatai Great Wall, which is well known for its ruggedness. The construction of Simatai Great Wall started under the supervision of General Qi Jiguang in the early Hongwu years (1368-1398) of the Ming Dynasty. It is 5 km long with all together 35 watchtowers.

After check into the hotel, if time permits, we come to hike the eastern section of Simatai Great Wall.

Overnight in Changcheng Shanzhuang.
Day 8 Hike from Simatai to Jinshanling (B,L,D)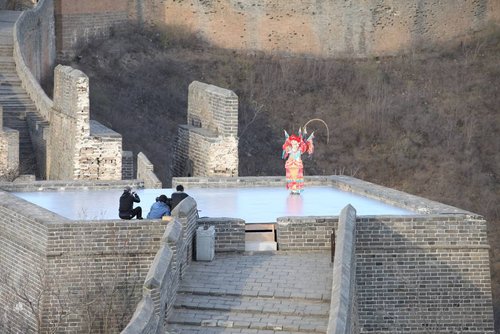 Today, we will hike from Simatai westwards to Jinshanling, it's around 12 kms.

The Jinshanling Great Wall was initially built from 1368 to 1389, also mainly directed by General Qi Jiguang. The 700 meters elevated Great Wall is about seven to eight meters high and five to six meters wide, which is made of brick and stone and its Watching Beijing Tower is on the highest position, where people say they could see Beijing right from here.

Overnight in Jinshanling Hotel.
Day 9 Jinshanling to Jiankou (B,L,D)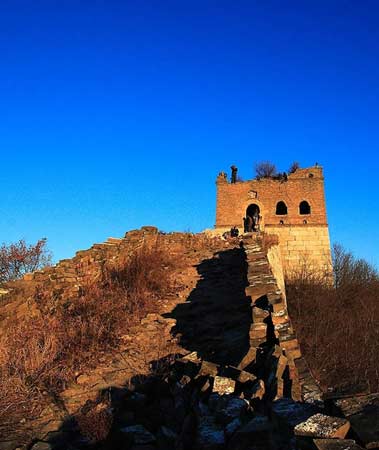 In the morning, we start 12 km about 4 hours hike along the Great Wall from Jinshanling to Gubeikou.

In the afternoon, we get to Gubeikou town and drive about 1 hour to Huairou town. Then keep on driving to Xizhazi village by Jiankou Great Wall and so convenient to explore different section of the Wall.

Jiankou has a large range of the Great Wall and worth to explore around for a couple of days.

Overnight Home Stay in Xizhazi Village.
Day 10 Jiankou to Beijing (B,L)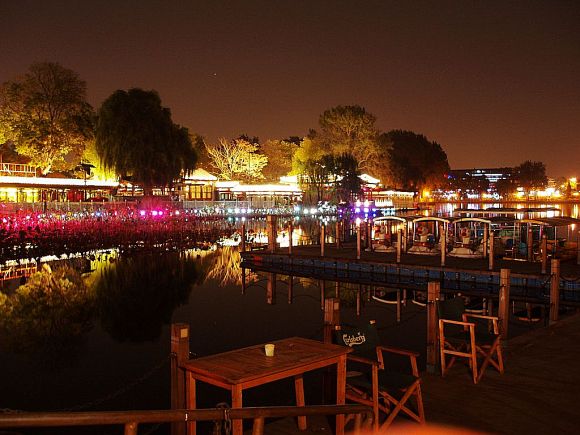 This morning, after a hike on the other section of Jiankou Great Wall, we drive to Huairou town for lunch, followed with a visit to Mutianyu Great Wall. In Mutianyu, we hike up to the peak of the mountain and come back the same way.

Afternoon, we drive 2.5 hours back to downtown of Beijing.
Day 11 Beijing Departure (B)
Transfer via: International flight on your own arrangement

Free at leisure until your guide meet you in your hotel lobby and then transfer you to airport for your flight home.