3 Days Zhangjiajie Tour from Shanghai
Tour Code:CET09
Tour Duration: 3 Days
Destination:Shanghai, Zhangjiajie
Tour overview:Zhangjiajie, the manuscript of Chinese brush painting, possesses thousands of mountains rising abruptly from the ground, forming marvelous pictures. You would marvel at the great works of nature here!
Day by Day Itinerary
Day 1 Shanghai / Zhangjiajie
Transport via: Flight on our arrangement
Upon your arrival in Zhangjiajie, you will be met by you local guide and then be transferred to the hotel. Enjoy some leisure time for the rest of the day.
Day 2 Zhangjiajie (B, L)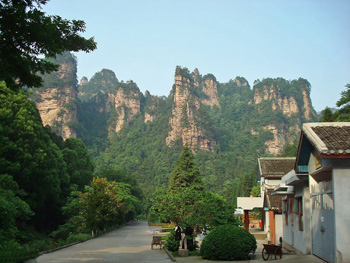 Sightseeing: Zhangjiajie National Forest Park, Huangshizhai Cable Car, Jinbian Brook, Huangshi Fort)
You will have a full day visit .including the following places: Zhangjiajie National Forest Park Zhangjiajie's main tourist draw is the Wulingyuan Scenic Area, which was added to the UNESCO World Heritage list for its lush vegetation, unique sandstone pillars, pristine waters and a wide variety of species of flora and fauna.
You can take a cable car to Huangshizhai where you will appreciate the daunting rock columns. From the top, enjoy spectacular views of the forest with rough landscape.
Another scenic spot is the Jinbian Brook. It covers a distance of 7.5 km from north to south, winding across mountains and valleys. The brook is limpid through the year and is famous for Jinbian Cave-which has a height of 382km and looks like a huge flying eagle.
You will also have chance to explore the Huangshi Fort. It is a mesa higher on the north side elevated by stiff cliffs. Huangshi Fort has the most of marvelous view of Zhangjiajie National Forest Park including Treasure Box of Heavenly Books, Magic Sea-suppressing Needle, South Pillar of Heaven, Golden Tortoise Watching the Sea etc.
Day 3 Zhangjiajie / Shanghai (B, L)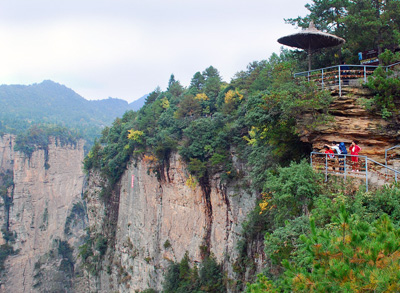 Transfer via: Flight on our arrangement
Sightseeing: Tianzi Mountain
You will continue to visit the Tianzi Mountain today. Tianzi Mountain Nature Reserve is a mesa in the northwest of Wulingyuan. Up on the mesa, the field of vision is widely opened up and it is a perfect location to have a panoramic view of the nature reserve. Tianzi Mountain has four scenic wonders, namely Cloud Billows, Moon Brightness, Sun Glow and Winter Snow. The cloud billows are ever changing, morning and evening sun glows vast sky, moon shines in the still night, winter snow falls enchanting the scenery, like a lyric, like a landscape painting.
After the tours, you will be transferred to airport to take flight and fly back to Shanghai.