3 Days Guiyang Tour from Shanghai
Tour Code:CET06
Tour Duration: 3 Days
Tour overview:Here you can see the largest waterfall in the world, and visit other primitive landscapes in Guizhou Province. A distinguish destination from Shanghai, worth your visiting!
Day by Day Itinerary
Day 1 Shanghai / Guiyang
Transfer: Flight on our arrangement
Upon your arrival you will be greeted by our local guide and then transferred to your hotel by a private air-conditioned car. For the rest of the day you will enjoy some leisure time.
Day 2 Guiyang / Anshun / Guiyang (B, L)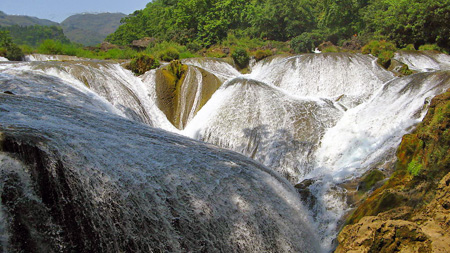 Sightseeing: Huangguoshu Waterfall & Tianxingqiao Scenic Area, Cultural Village in Tianlong
In the morning you will drive to Anshun. Arriving there, you will visit Huangguoshu Waterfall. Huangguoshu Waterfall, a milky way in miniature, is the largest waterfall in Asia. Seventy-four meters (243 feet) high and eighty-one meters (266 feet) wide, it is a scenic marvel. Do not miss it if you are in Guizhou Province. Known as the Huangguoshu Waterfall Scenic Area, it is 45 kilometers (28 miles) southwest of Anshun city in Guizhou Province. Together with minor waterfalls, the charms of Huangguoshu Waterfall are a natural tourist drawing card. Hospitable ethic groups add the human touch.
Tianxingqiao Scenic Area: Featuring the perfect combination of stones, trees and water, the Tianxingqiao Scenic Zone is a natural miniascape evolving from the growing stone forests in water. Compared with the grandness of the Huangguoshu Waterfalls, it is more bijou and beautiful. A couplet generalizing its verve goes like that: "It is compared to a gigantic miniature garden created by wind knife and water sword; also an ancient painting painted by root pen and vine ink".
Then continue visit the Cultural Village in Tianlong. It is one of these ancient Tunbao settlements built during the reign of Emperor Hongwu by the descendants of the soldiers of the expeditionary troops of the Ming Dynasty, where locals still wear the old-style clothes of that time and keep most of the cultural traditions of the Ming Dynasty. This shows the Han's early migration from Central China to this mountainous area. You can see a similar life style to that of Central China. Moreover, you could enjoy a Chinese traditional local opera called "Dixi" which is only found in Guizhou as your optional choice.
Drive back to Guiyang after the tours.
Day 3 Guiyang / Guangzhou (B, L)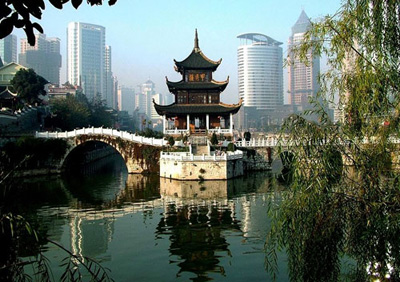 Transfer: Flight on our arrangement
Sightseeing: Jiaxiu Tower, Qianling Park
This morning you will have a visit to Jiaxiu Tower. It is a magnificent 3-level pavilion about 20 meters high. Its turnup eaves and white stone pillars are well carved and preserved. Located in water, connected by the Fuyu Bridge (Floating Bridge) with two banks, the tower has green tiles, red pillars, engraved windows and white stone parapets, which makes it superb and striking. Ascending the tower, visitors can get a good view of the surrounding scenery.
Continue visit Qianling Park. Situated on Qianling Hill 1.5 kilometers from the center of Guiyang City, the park covers an area of 426 hectares. First built in 1957, it is a uniquely large park in the city proper and a 4A National Tourist Attraction. The name of Qianling Park was derived from the Qianling Mountain that lies in the park, which is the most famous mountain in southern Guizhou.
In the afternoon, you will be transferred to the airport for your flight back to Shanghai.