Lingering Garden (Garden to linger in)

Chinese name: 留园 (Liu Yuan)
Location: No.338, Liuyuan Road, Jinchang District, Suzhou, Jiangsu Province.
Opening time: 07:30-17:00.
Ticket: CNY40 in high season (Apr 16th-Oct 30th), CNY30 in low season (Oct 31st-Apr 15th).
How to get to Lingering Garden:
- take Tourist bus line No.1, buses No.7, 22, 44, 70, 85, and get off at the stop of Liu Yuan Lu (留园路, Lingering Garden Road);
- take Tourist bus lines No.3, 5 and buses No.6, 317, and get off at the stop of Xi Yuan (西园站, West Garden);
- take buses No.33, 88, 91, and get off at the stop of Zhong Yi Yuan (中医院, Institute of traditional Chinese medicine).
Introduction to Lingering Garden
As one of the Four Best Known Classical Gardens of China, Lingering Garden of Suzhou is celebrated for ingenious layout of architectures and a great deal of rare rocks. It was inscribed in the first batch of cultural relics protected under the nation in 1961 and in the World Heritage List in 1997.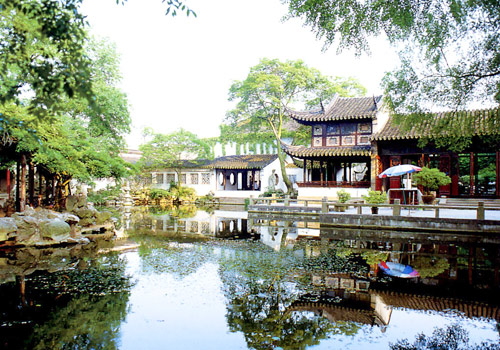 Originally a garden of a senior official mansion of Ming Dynasty (1368-1644), Lingering garden was rebuilt by Liu Shu in Qing Dynasty (1644-1911), who had a distinguished expert design the garden and firstly named the garden as Liu Garden after his family name. The garden was later purchased by Sheng Xuren (father of Sheng Xuanhuai, an eminent businessman and statesman, as well as the founder of present Tianjin University and Shanghai Jiaotong University). He expanded and renovated the garden and named the garden as Lingering Garden, also called Liu Garden in Chinese, reserving the previous pronunciation.
Covering about 2 hectares, Lingering Garden is a combinative product of residential houses, ancestral temple and gardens. It experts in architectures, and is adept in creating contrastive effects on surrounded scenes between big and small, straight and zigzag, light and shade, and high and low. The number of architectures in Lingering Garden crowns all gardens in Suzhou. It consists of dozens of small gardens and courtyards divided by architectures, such as halls, corridors, walls, and doors, with rockeries, pools, flowers and trees. The masterly utilizing of spaces of Lingering Garden is the embodiment of superb techniques, outstanding intelligence, great artistic styles and features of Chinese southern classical gardens.
Layout of Lingering Garden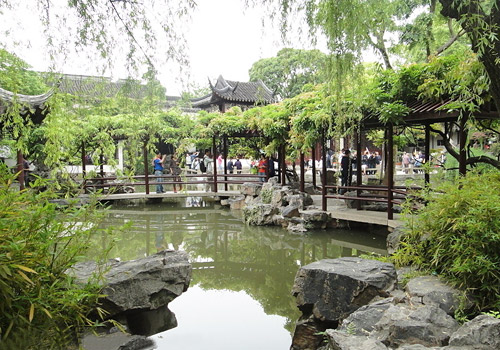 The whole Lingering Garden can be divided into four parts, the central part, eastern part, western part and northern part, offering four totally distinct sceneries of waters, idyllic, woody hills and gardening courtyard.
Centered with a pool, the central part of Lingering Garden is the quintessence of the whole garden. It is a typical mansion layout of south region of Yangtze River. In the northwest of the pool is the rockery with pavilions and woods, of which a Wen Muxi Xiang Pavilion (闻木樨香轩, Osmanthus Fragrance Pavilion) is the best site for a terrific over view of the whole garden; Architectures are in the southeast.
The eastern part is outstanding with a winding veranda, which joins the corridor aside the rockery in western part can run through the whole garden at the peripheral and lead the way to all other parts. Architectures are also the features of this section; there are over 10 halls and pavilions, and three peaks, Guanyun Peak, Ruiyun Peak and Xiuyun Peak, of which the first is one of the Three Wonders of Lingering Garden.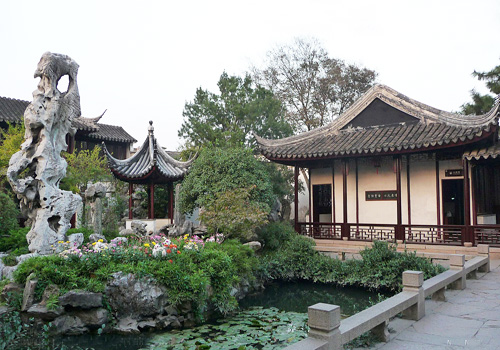 In the northern part, it is the idyllic scenes and a new opened garden of bonsais.
Western part is the empyrean of Lingering Garden with exquisite rockeries. A Hanbi Mountain Villa (涵碧山房) and Mingse Pavilion (明瑟楼) are the main observing buildings in the garden.
Art of architecture in the garden
To appreciate the Lingering Garden of Suzhou, the architectures should be the first, which win great reputation to the garden for delicate arts and techniques. Architectures make up one third of the total area of the garden and divide the garden into four sections with various scenes. All parts are apart by walls but connected by veranda and visible landscapes though lattice-windows and arch doors. The long corridor is measured over 670 meters and equipped with over 200 windows in diverse shapes.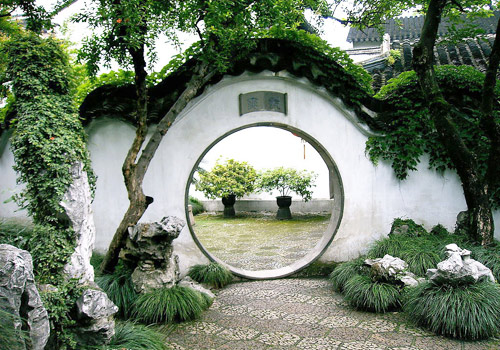 The other feature of architecture in Lingering Garden is the artistic methods of dealing with spaces between inside and outside. Generally, an open space is reserved for a water view in the front, and a wall with an advantageous window is set to picturesquely introduce in land landscapes. It can be concluded that the whole design is in harmony that architectures make up an independent courtyard, while courtyard embraces buildings.
Three Wonders in Lingering Garden
Guanyun Peak (冠云峰)- It is a nonesuch erodierter Kalkstein with all features of great lake rock, such as lean, wrinkling, and transparent. It is said that this rare rock is a relic of Song Dynasty (960-1279).
Nanmu Hall (楠木殿)- It is a nickname of Wufengxian Hall (五峰仙馆, Five-Peak Immortal Hall). The hall is sumptuously built with all beams and columns being made of nanmu, and screens being made of rosewood. Being designed in elegant style with spacious windows, the outside delicate scenes are ingeniously borrowed and the hall is just brilliant and bright unlike other dark and spooky ancient houses.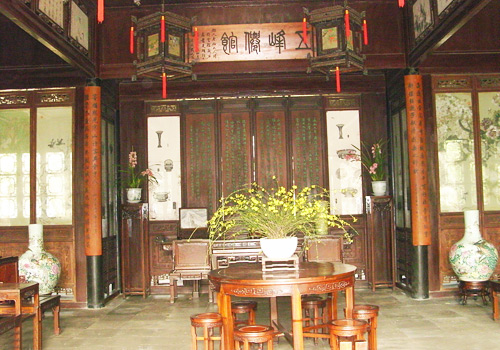 The Portray of the Sun Shines after the Rain (雨过天晴图)- It is a natural formed landscape painting on a marble exhibited in Nanmu Hall. The central of the marble surface are faintly mountains and overlapped cantalevers, the underpart are gurgling waters and waterfalls, while the upper part are graceful clouds, and the upper central is a round sun or moon. It remains a mystery that how the uncanny picture took shape and how amcient people transported such a marble completely from Yunnan Province to Suzhou City in the past.