Likeng Ancient Village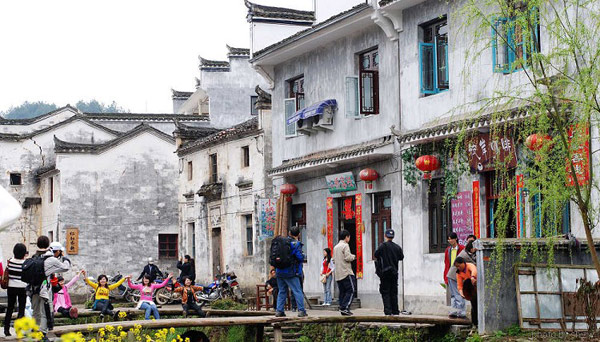 Likeng Ancient Village in Wuyuan County of Jiangxi Province was originally built by the Li Family Clan, and is 12 kilometers from Wuyuan County. Likeng is famous for its original architecture which has become synonymous with that of Anhui Province architecture. The village used to be a prosperous and well-renowned merchant town and cultural hub. Set against the picturesque background of a river and a mountain range, the village is home to some of Anhui's most stunning Qing and Ming Dynasty architecture, white washed home and classic grey tiles; the river flowing by the town is connected by several ancient wooden and stone bridges.
Likeng Cuisines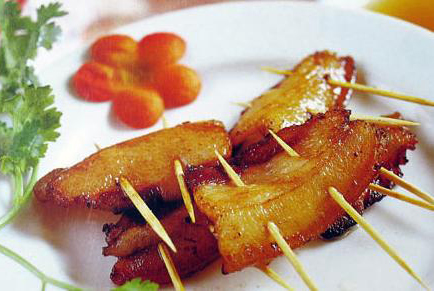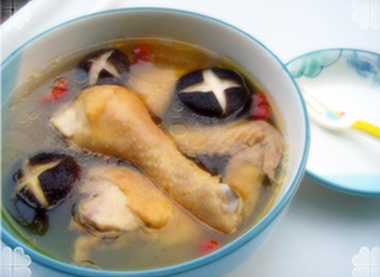 Likeng Roasts: famous for its distinctive flavor, developed in the Tang Dynasty.
Steamed Mushroom Chicken: a delicacy unique to the city, with mushrooms picked in the region around Huang Shan Mountain, steaming the chicken makes it incredibly moist and healthier, the mushrooms apparently ward against cancer.
Likeng Nuo Dance
Nuo Dance is very popular in Likeng Village. It is a kind of exorcise dance that steps from the Yangtze River basin. It functioned as a ceremony of praying and had a spiritual significance in ancient time, and developed into folk dance gradually. While dancing, dancers wear simple but fantastic masks and perform a mock of witchcraft. There are about 50 types of masks, usually crafted from wood, and much like Chinese opera indicate to the audience the role or mood of the performer.
Likeng Mid-Autumn Festival Dragon Dance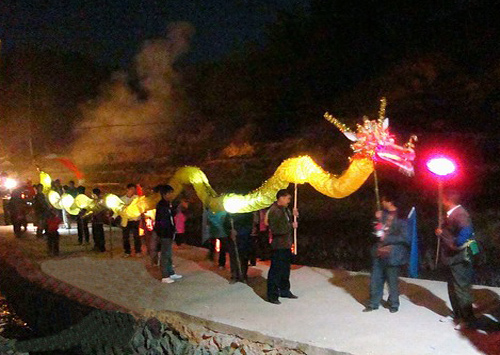 Every year during the Mid-Autumn Festival, the village will perform a traditional paper-made dragon dance. Unusually ten men per dragon will begin from the entrance of the village and slowly make their way in. when reaching a house, the family will set off a firecracker then the "dragon" will dance at front of the house until the firecracker burns down. From the gate to the end of the village, the whole celebrating activities will continues into the early hours of the morning.
Likeng Glutinous Rice Wine
As with many regions in China, Likeng has is local liquor. This thick and rich liquor is powerful and every bottle is said to capture the spirit of the region.
Getting there
1. Buses from Wuyuan County to Likeng Village start off every 30 minutes from 06:00 to 16:30.
2. Buses leaving from Shanghai, Hangzhou, Huangshan to Wuyuan County pass through Likeng.