Nanjing Road

Chinese name: 南京路 (Nan Jing Lu)
Location: in the city center starts at the Bund in the east and ends in the west at the junction of Jing'an Temple and Yan'an West Road, neighboring People's Square and spanning two districts of Jing'an and Huangpu.
Length: 5.5km for an overall length; 1599m for Nanjing East Road, 1033m of which is the pedestrian street; and 2933m for Nanjing West Road.
Ticket: free
Opening time: all day long

Introduction to Nanjing Road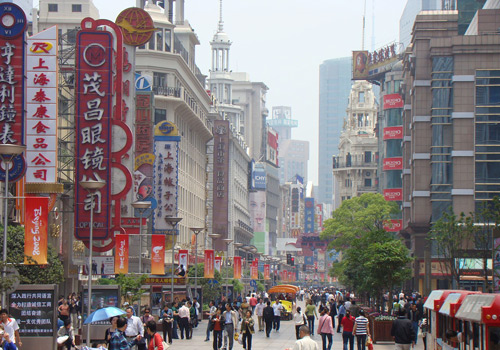 Labeled as the No.1 Business Street in China, Nanjing Road of Shanghai is one of the most famed and bustling streets in the world equally famous as the Fifth Avenue in New York and Champs Elysees in Paris. A miniature of the history and culture of Shanghai, Nanjing Road is a striving commercial hub, a field of fortune and a shopping paradise that houses China's key commercial enterprises such as the Shanghai's No.1 Department Store, Yong'an Commercial Building, as well as old honored shops like Old Fengxiang Gold & Jewelry Shop, Maochang Optical Shop and Shanghai No.1 Medicine Shop. Has long been China's golden mile, present Nanjing Road still has great glamour as a must metropolitan destination attracting thousands of people for sightseeing or shopping from all over the world.
History of the road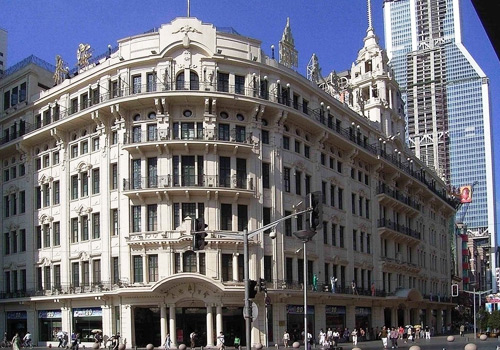 After the first Opium War (1840-1842), Shanghai became a treaty port. The present Nanjing Road was first the British Concession, and then an international settlement. Started from vendors, the road became the earliest shopping street in the city with imported large quantities of foreign goods. To cater for the increasing recreational requirements of foreigners, the street was constantly expanded with department stores, restaurants, shops, and hotels. Over time, the road was restructured and underwent significant changes, and today, modern shopping malls, theatres, specialty stores, cafes and international hotels have flourished on the street.
Components of Nanjing Road
A generalized Nanjing Road possesses two of the top ten commercial centers of the city, the Nanjing East Road and Nanjing West Road; while the Nanjing Road in a narrow sense just refers to the Nanjing East Road, within the widely known Nanjing Pedestrian Street.
Nanjing East Road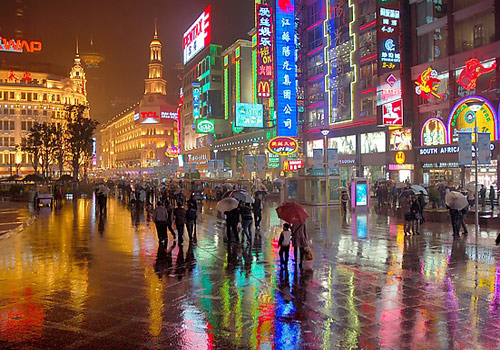 Starts from the Bund, ends in Xizang Central Road and crosses the Hennan Central Road, Nanjing East Road's fame relies on its stylish commercial buildings, advanced equipments, a superb collection of wares, superior management and pleasing shopping environment. As the No.1 business street in the country, it is a street pioneer that first introduced the escalators, hanging garden, kinds of amusement performances of kid shows and magic, cafés, top-level restaurants, tearooms, hotels, as well as uniforms for shop assistants. With a mass of century-old shops and famous modern brands on two sides, the street features mid-range business and enjoys the title as a Shopping Paradise.
Nanjing Pedestrian Street
Belongs to Nanjing East Road, the pedestrian walkway occupies two-thirds of the road. It starts from the Hennan Central Road and the ground is paved with clean faintred stones. Beautiful parterres and green belts lie in the middle path of the road and besides each parterre, dark-red marble seats are set for respites. New fashions, trackless sightseeing trains, hustle and bustle of large crowds and abstract sculptures are all the words for the street.
Nanjing West Road
Falls into Jing'an District from Chengdu North Road to Yan'an West Road, this section is the top-level commercial street of the city that houses various slap-up shops and upscale famous brands as well as a number of traditional stores and specialty shops providing choice silk goods, jade, embroidery, wool and clocks.
How to get to Nanjing Road:
- By buses No.17, 18, 20, 21, 22, 23, 37, 55, 921, etc. and get off at the station of Ren Min Guang Chang (人民广场, People's Square) or intersections of Nanjing Road.
- By subway No.1, 2 or 8 and get off at the station of Ren Min Guang Chang or Nanjing Dong Lu (南京东路, Nanjing East Road).