Weishan Lake

Chinese name: 微山湖 (Wei Shan Hu)
Location: The Wei Shan Lake is located in the Weishan County - south of Qufu city, Shangdong province.
Admission fee: The Lake contains many scenic areas and their admission fees are different. (RMB20 for the Railway Guerrillas Monument Park, RMB30 for Culture Park at Weishan Island, RMB10 for the Tomb of Weizi, etc.)
Best season to see: The splendid blooming of lotus happens every July and August; it is also the fishing season in a year.
Recommended time for a visit: 1 day.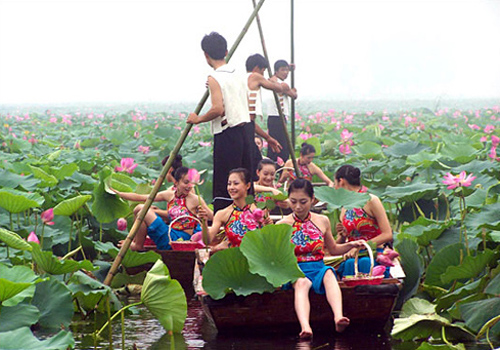 How to get there:
By bus: Get on the shuttle bus which departs 8 times per day from Ququ city to Weishan county, it takes about 2 hours (ticket price at RMB18 yuan), and then change bus to the dork of Weishan Lake before shipping to the Weishan lake island.
By train: Take the Beijing-Shanghai railway lines and get off at Xuecheng, then take bus for about 20 minutes and you will arrive Weishan County.
Introduction of Weishan Lake:
The Weishan Lake is pronounced Weishan Hu in Chinese; the lake receives water from eight areas from Shandong province, Suzhou, Anhui province and Henan province. The lake is composed by four connecting lakes, the Weishan, Shaoyang, Dushan and Nanyang Lake, it is the biggest freshwater lake in northern China. The lake is in the middle of the Beijing-Hangzhou Grand Canal.
The biggest lake at Weishan Lake is the Weishan Island, tons of historical relics, tombs, temples and buildings are located in the island, including the famous The Railway Guerrillas Monument. The TV series of 'the Railway Guerrillas' is a household name in China, it is a story about how elites fought with the invader during the Anti-Japanese war. Weishan Lake and the small county get known by the world firstly because of the lyrics for a song in this TV series.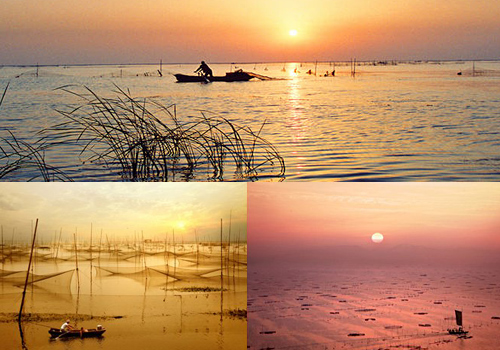 Boating on the Weishan Lake:
Traveling with the small boat here costs about RMB10 to 20 yuan, if you want to hire the small speed boat, it is much expensive at over RMB500 per person, shipping and traveling inside the lotus pool and the lake is one of the most interesting things to do here.
Travel tips:

Weishan Lake is rich in resources, lake fishes, wild ducks, century egg, the lotus, etc. The eating at the lake is not expensive as the main food here is halal. Tourists may ask for lodging at the local's house but it is better to have your own sleeping bag, a standard room at the best hotel in Huishan County is priced at about RMB280 while for other smaller hostels, the price is much cheaper at only RMB80 -150 per room per night.