Kadin Valley

Kadin, Kading in Chinese means Heaven on Earth. Tianfo Waterfall scenic sp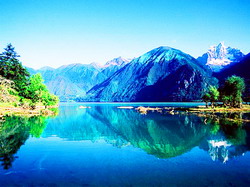 ot of Kadin Valley is steep with broad-leaved trees in the foot, mixed forests of broadleaved trees and coniferous trees in the middle and coniferous trees on the top. From the main peak of mountains in Kadin Valley, a waterfall pours down, forming the shape of many Buddha figures such as Avalokitesvara and Two-face Buddha. Reaching the observation platform through steps laid with thick and round wood blocks, you can experience the "Its torrent dashes down three thousand feet from high" by yourself. The water of mountain streams is clean and sweet.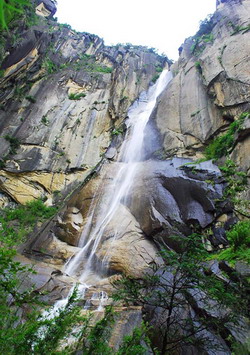 With an altitude of 2980 meters, Tianfo Waterfall spot in Kadin Valley possesses typical highland landform, high mountains and deep valleys, stange peaks and stones and towering trees. The waterfall with a drop of 200 meters falls straightly down, majestic and magnificent, forming a Buddha shape among. If you watch the Tianfo Waterfall with a telescope, you can see a design in a shape of Tibetan girl. What's more interesting is that there is a boy and a girl beside the Buddha and it was said that only the people who have Buddha reason can see it.
There are rolling mountains and rare flowers and trees everywhere in the valley, as well as Buddhist sutras. Some males come here with their mothers in the purpose of attending the Zhuanjing activity or making wishes.