Batsom Lake

The Batsom Lake is a famous holy lake of Nyingmapa sect of Tibetan Buddhism, more than 50 kilometers away from Gongbujiangda County. With altitude of more than 3700 meters and length of 12 kilometers, Batsom Lake of Nyingchi County also named as Basongcuo Lake or Cuogao Lake. "Cuogao" in Tibetan means green water and a lake with three caves. In terms of shape, the Basongcuo Lake is like a New Moon dotted in high mountains and deep valleys. Cuogao Lake covers an area of 25.9 square kilometers and deepest point of it reaches more than 66 meters. The lake is so limpid that the lake bottom can be seen and its surrounding snow-covered mountains are mirrored in it. Sandpipers and white cranes roam above the lake and groups of fishes swim under the lake. In spring, bright-colored flowers blooms and snow mountains are mirrored in the lake; in autumn, it is red all the mountain and the blue sky and red maple leaves blend sunlight and are reflected in the lake. The view of Batsom Lake is amazing!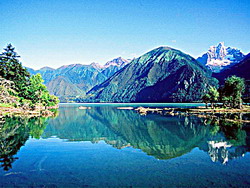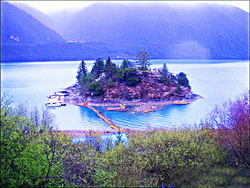 There is a small island about 100 meters away from the Bank of Batsom Lake (Cuogao Lake)-Zhaxi Island. It is said that this island is a hollow island, which means that Zhaxi Island is floating on Batsom Lake, without connecting the lake bottom. You can test if this legend is true or not by yourself. You can reach Zhaxi Island by boat. Cuozonggongba Temple, a famous temple of Nyingma Sect of T Nyingmapa sect of Tibetan Buddhism, is in Zhaxi Island. The temple was built in Late Tang Dynasty, more than 1500 years ago. The rocks on the island are all carved into delicate animal image and Buddha Statues. Cuozonggongba Temple is an earth-and-wood structure with two storeys. Inside the temple, Padmasambhava, Avalokitesvara and Golden Boy and Jade Girl are mainly worshiped. A peach tree and a pine tree to the south of Cuozonggongba Temple are entwisted in the root, forming beautiful landscape in spring with pink peach flowers and green pine leaves.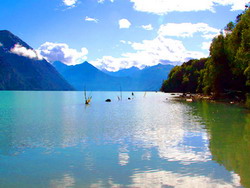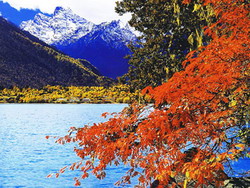 Qiuzi Dong (For Offspring Cave) is situated near a stream of the south bank of Basongcuo Lake. It is said that this cave was blessed by Padmasambhava Master and became quite effective. A huge rock with five square meters is located to the northwest of Batsom Lake, with a holy in the center which only one person can access. The hole is said to be efficient to drive away the evil and diseases. The west bank of Cuogao Lake is where King Gesar testes his sword. It is said a white ribbon appears in the center of the lake bottom, which is said to be the huge white hada (a piece of silk used as a greeting gift) for King Gesar.
Since Batsom lake is a famous holy lake of Nyingmapa sect of Tibetan Buddhism, there are lots of visitors every year. It is a local custom to go around the lake around June 1st, called Zhuanhu. There is an obvious path around the Batsom Lake for one or two days' hiking. But there is no hotel for accommodation so you'd better carry a tent. There are many streams in the path and sometimes you need to pass the stream. Autumn is the best season to visit Cuogao Lake (Basongcuo Lake) when you can see thick golden and red maples. And Batsom Lake is a good summer resort as well.