Nanning Attraction
Read the following introductions for attractions in Nanning. You will know the top attractions there and you can also get to know the city attractions by category.
Top Nanning Attractions
Mt. Qingxiu

Chinese name: 青秀山 (Qinxiu Shan). Location: in Qingxiu District, Nanning City, Guangxi Zhuang Autonomous Region (aka. Guangxi Province). Ticket: CNY15. Opening tim...

Detian Waterfall

Chinese name: 德天瀑布 (Detian Pubu) Location: in Shuolong Town, Daxin County, 243 km to Nanning City, Guangxi Zhuang Autonomous Region. Ticket: CNY80 Opening time: ...

Yangmei Ancient Town

Chinese name: 杨美古镇 (Yangmei Guzhen) Location: in the lower reaches of Zuojiang River, some 30 kilometers to downtown Nanning, Guangxi Zhaung Autonomou Region. Tick...
Local Residential Houses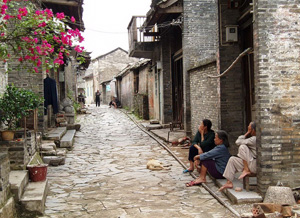 Yangmei Ancient Town
Founded during the Song Dynasty, Yangmei Ancient Town, 30 kilometers away from western Nanning, is a charming destination which is studded with well-preserved old buildings dating back through the dynasties. Here, you can ease strain, recover your original simplicity and trace China's long history.
Museums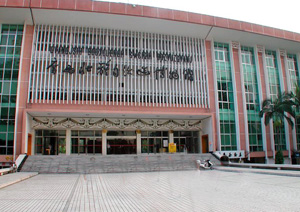 Guangxi Provincial Museum
Founded in 1954, Guangxi Provincial Museum covers an area of 12,900㎡. Symmetrical and stately, it houses bronze drums, contains relative source data, presents minorities' national folkways and shows physical objects, photos of the national characterized clothes, brocade and some important festivals.
Waters(rivers, lakes, waterfalls)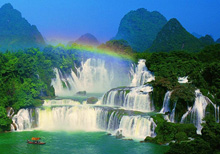 Detian Waterfall
Located in the Chinese nature reserve near the Sino-Vietnam border of China's Daxin County, Detian Waterfall is Asia's largest transnational waterfall, crossing from China to Vietnam. Being 200 plus meters wide and 60 plus meters deep, the magnificent falls will never fail to captivate your heart.
Ethnic Villages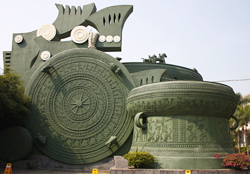 Guangxi Ethnic Relics Center
Guangxi Ethnic Relics Center is a characteristic local outdoor gallery for minority groups. Established in 1988 with an area of 24,000㎡, the center, where the world's biggest bronze drum is displayed, is well reputed a cultural exhibition dedicated to unique handicrafts, local utensils and so forth.
Unique Natural Sights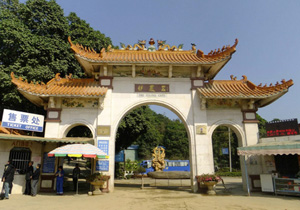 Yiling Cave
Yiliang Cave is estimated to be formed a million years ago. As a karst cave, it is divided into three levels, winding and changing, and it has such beautifully shaped stone flowers, pillars, curtains, stalagmite and stalactite that wonderful, amazing and mysterious view will open out before you.
Natural Attractions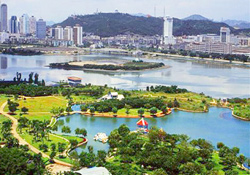 Nanhu Lake Park
Home to subtropical plants, Nanhu Lake Park, established in 1972, in southeast of Nanning City, is a paradise for entertaining and relaxing of visitors of all ages. Its perfect combination of subtropical gardening landscapes and aquatic scenery pull thousands upon thousands of people every year.
Gardens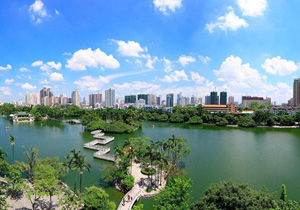 Renmin Park
Covering an area of 70,000㎡, Renming Park, or Bailong Park, is near downtown Nanning. With a long history, the park enjoys many attractions, such as a hillside Wangshanpo, the hightest point of the city, and Bailong Lake where people can feed fish, or pay a visit to memorial tower for revolutionists.
Mountains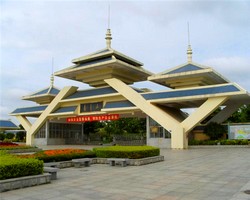 Mt. Qingxiu
Situated on the bank of the Yongjiang River, the Qingxiu Mountain is one of the most popular tourist destinations in Guangxi. It consists of 18 peaks, and has developed as a well-known summer resort for centuries for its pleasant climate, culture charm and marvelous green scenery for all four seasons.