Grand Prix Museum

Chinese name: 大賽車博物館
Location: in the Tourism Activities Center, Rua Luis Gonzaga Gomes, Macau, China, next to Wine Museum.
Admission fee: free
Opening time: 10:00-18:00 (It is close on Tuesday).
How to get there:
- By bus No. 1A, 3, 3A, 10A, 10, 10B, 12, 17, 23, 28A, 28B, 28BX, 28C, 32, AP1.
Best time to visit: All year round.
Introduction to Grand Prix Museum
Grand Prix Museum, adjacent to the Wine Museum, was set up in honour of Grand Prix Macau and was inaugurated at its fortieth on 18th, November, 1993. Opened to the public in the year of 1995, and covering an area of almost eighty square metres, the Grand Prix Museum displays pictures, articles, prizes and objects of great value in connection with Grand Prix Macau. What is attractive and valuable in the museum are such twenty plus racing cars as formula cars and motorcycles of marvelous racing drivers. Of them, the most celebrated is the racing car and overalls of late Aryton Senna, who won the first prize of the first Formula 3 Grand Prix Macau F3 in the year of 1983. Other racings cars of Ralf Schumacher, and late world champion Ayon Senna are in sight, too.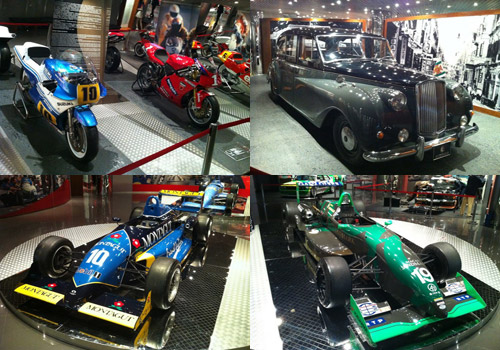 In addition, visitors can get some knowledge of the museum and car race across the world via projecting apparatus, watching photographic highlights of the race. In the museum, two emulational Grand Prix racing car and formula 3 car are available for visitors, who can experience the charming cars in person. By visiting the museum, people will be more familiar with the Grand Prix Macau and the racing drivers, as well as those who made a contribution to the race.