Black Dragon Lake

Chinese name: 黑龙潭 (Hei Long Tan).
Location:at the foot of Xiangshan Mountain, Lijiang City, Yunnan Province.
Opening time: 08:00-17:30.
Service time of foreign languages: 09:00-17:00.
Entrance fee: buy a ticket (CNY80) called "maintenance fee of Lijiang ancitcent town" and tourists can visit the park and some other attractions for free within a week.
How to get there: by bus 3, 6, 7, 8 or 9, get off at the stop of Heilongtan Park (黑龙潭公园).
Best time for visit: March, or September to November.
Black Dragon Lake travel tip:
1. The sky is quite clear during autumn in Yunnan Province and visitors can probably see Yulong Snow Mountain from Black Dragon Lake clearly;
2. Every year local people get together at the Black Dragon Lake Park to hold the Dragon King Temple Fair which attracts many visitors. The temple fair is usually held on the fifteen day of the third month in Chinese lunar calendar.
Brief Introduction to Black Dragon Lake
Located at the foot of Xiangshan Mountain (象山), Black Dragon Lake, also known as Jade Spring Park (玉泉公园) or Temple of Dragon King (龙王庙) to local people, is a lake famous for its clear water, thousand-year-old trees, and picturesque lanscape. The park is about 1 kilometer north from the center of Lijiang Ancient City. The fountainhead spurting waters to form the Black Dragon Lake covers 40,000 square meters, with mountains and trees surrounding. The trademark of Black Dragon Lake is the reflection of Yulong Snow Mountain (玉龙雪山, or Jade Dragon Snow Mountain) on the lake. The Dragon King Hall (龙神祠), the Five Phoenixes Building (五凤楼) and the Museum of Dongba Culture (东巴文化博物馆) are the representatives of famous architectures in the park.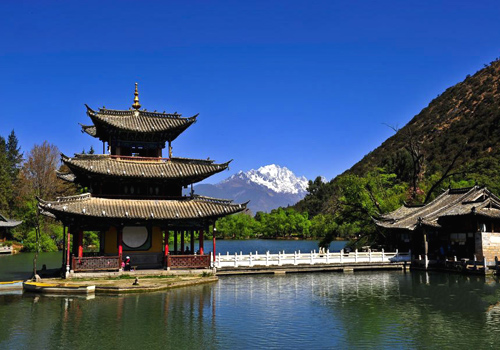 History of Black Dragon Lake
Black Dragon Lake Park was built early in 1737 and named Yunquan Dragon King Temple at first, then renamed as Black Dragon Lake by Emperor Jiangqing (the fifth emperor of Qing Dynasty, reigning from 1796 to 1820) and Emperor Guangxu (the eleventh emperor of Qing Dynasty, reigning from 1875 to 1908) who gave imperial order to the lake honored it as "Dragon King". After the construction of the lake, the opera stage, Deyue Pavilion (得月楼), Pavilion of Longevity (万寿亭), Five-hole Bridge (五孔桥), Five Phoenixes Pavilion (五凤楼), and so on, were built one by one since 1889.
In 1963, the Deyue Pavilion was repaired and had the honor to invited Guo Moruo (郭沫若, 1892-1978, a renowned Chinese literary intelligentsia, to inscribe the name of the building – 得月楼, with two couplets hanging by both sides; And the Institute of Dongba Culture (东巴文化研究所), which focuses on studying Dongba Culture, was built in the park in 1981.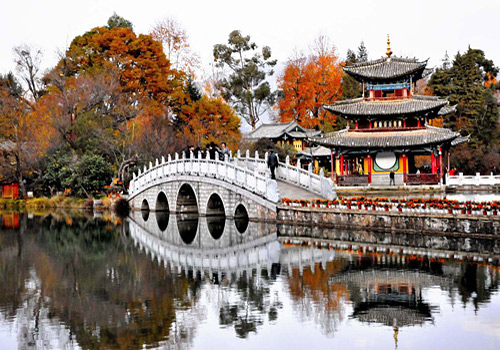 The Park of Black Dragon Lake
The Five-whole Bridge spans over the Black Dragon Lake and divides it into two parts, with the Yiwen Pavilion (一文亭) and the Deyue Pavilion standing in the middle of each part respectively. The later is a typically traditional Chinese structure about 20 meters high constructed on an octagonal base, with multi-eaves and sharp edges. Removed from Guguo Temple (福国寺) in 1979, the Five Phoenixes Pavilion stands on the north bank of the lake and gains its name from its roof, from which the five sharp edges looks like five phoenixes ready to fly from different angles. As one of the important cultural relics of Yunnan Province, the Five Phoenixes Pavilion combines architectural characteristics of Han, Zang and Naxi minority ethnic groups.
Standing at the East and facing the west, the Temple of Dragon King is the main architecture in Black Dragon Lake Park. It composes of entrance building, two wing-rooms and the main temple which are connected together by corridors to form an independent courtyard.
Dongba Culture Museum (东巴文化博物馆) was founded in 1984 which is the first county-level museum preserving culture relic of Dongba. There are thousands of cultural and historical relics including handcrafts and documents kept in the museum. With a history of more than 1000 years, Dongba culture refers to Naxi ancient culture which gains the name from preserving in Religion of Dongba. The Dongba culture including Dongba characters, Dongba scriptures, Dongba paintings, Dongba music, Dongba dance, Dongba fete, and so on. The museum is arranged in historical sequence to show buildings, life and religion scenes of Naxi minority ethnic group. The Dongba Culture Museum cooperated with museums in Canada and Switzerland and made success to hold Dongba Culture Exhibition in the past few years.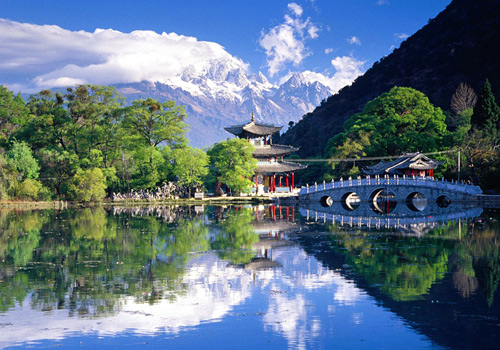 龙潭映雪 (Longtan Yingxue, name of post card), literally Dragon Lake reflects snow mountain, takes the Five-whole Bridge, Deyue Pavilion, Yulong Snow Mountain and its reflection on the lake as background and becomes one of the best-sell memento in Lijiang, and that scenery attracts thousands of visitors to take photos. With continuous expansion, Black Dragon Lake has become a beautiful landscape garden known as Summer Palace in Southwest China.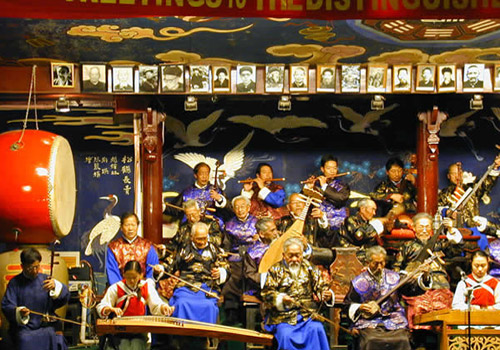 Besides places above for visitors to look around, the opera stage at Black Dragon Park showing Naxi Ancient Music in certain time is also a good way to touch the culture of Naxi people. Naxi ancient music originated from Dongjing music (洞经音乐) and Huangjing music (皇经音乐) which can be traced back to Song Dynasty (960-1279), however, the existing Naxi ancient music is just the part origin from Dongjing music. In ancient times, the Han ethnic group's music, which was often played when people reciting scriptures, passed to Naxi minority ethnic group and be changed into pure music with two main tunes and about fifties minor tunes.