Gansu Provincial Museum

Chinese name: 甘肃省博物馆 (Gansu Sheng Bowuguan)
Location: No.3 West Xijin Road, Qilihe District, Lanzhou City, Gansu province.
Opening time: 09:00-17:00 (no entering after 16:00); the museum is closed on Mondays except for national holidays.
Ticket: free (1200 tickets are offered every morning, and 800 in the afternoon)
How to get there: take buses No.1, 18, 31, 50, 53, 58, 59, 71, 76, 77, 103, 106, 129, 132, 134, 137 and get off at Qi Li He Qiao (七里河桥, Qilihe Bridge) or You Yi Fan Dian (友谊饭店, Friendship Restaurant).
Travel tips:
1. The museum provides twice free explanations separately at 09:30 and 15:00 everyday, and visitors should assemble at the west side of the first floor ahead of schedule.
2. Chargeable explanation and audio guide are provided all day long.
Introduction to Gansu Provincial Museum
Gansu Provincial Museum, commonly called Gansu Museum, is a comprehensive museum located in Lanzhou City with a collection of over 350 000, including historical and cultural relics, modern cultural relics, ethnic cultural relics, paleontological fossils and specimen. There are fossils collected from the Cretaceous period, painted pottery of both the Paleolithic and the Neolithic, bronze, pottery, and jade wares of Shang and Zhou dynasties (1600BC-221BC), Silk Road Civilization of Tang Dynasty (618-907), and rich ceramics, wooden carvings, silk products and paintings of Chinese past dynasties.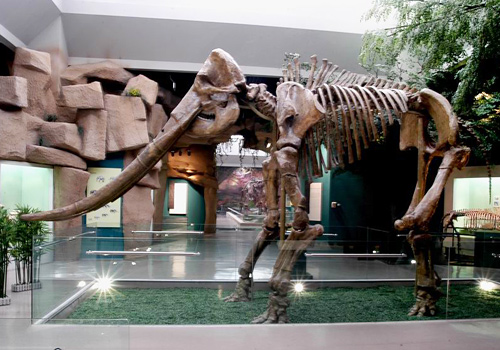 What to see in Gansu Provincial Museum?
Exhibitions of Painted Pottery in Gansu Province
Located in upper reaches of Yellow River, Gansu Province is one of the cradleland of the Chinese Civilization, which is abounding in rich ancient cultural relics. A birthplace of Chinese painted pottery, Gansu enjoys the fame as Home of Painted Pottery with pottery in most types, richest shapes, most exquisite skills, most gorgeous patterns and greatest artistic values. In Gansu Provincial Museum, painted potteries are collected from Dadiwan Culture (6000BC-5000BC), Yangshao Culture (5000BC-3000BC), Majiayao Culture (5100BC-4700BC) and the Chinese Bronze Age (2100BC-500BC). The most celebrated collections in the museum are tripodia painted pottery with broadband patterns, a painted vase with a human-head-shaped mouth, and the famous Dadiwan Drawing.
Silk Road Civilization Exhibition
The ancient Silk Road is the blending between oriental culture and western culture, which left innumerable art treasures of that splendid history. In the Silk Road Exhibition Hall of Gansu Provincial Museum are over 420 pieces fine cultural relics of Silk Road, including bronze from Prairie Culture of North China, bronze horses and honor guard, silk fabrics, Buddhist states, gold and silver wares, the tri-colored glazed pottery of Tang Dynasty (618-907), and blue-and-white pottery of Yuan Dynasty (1271-1368), etc.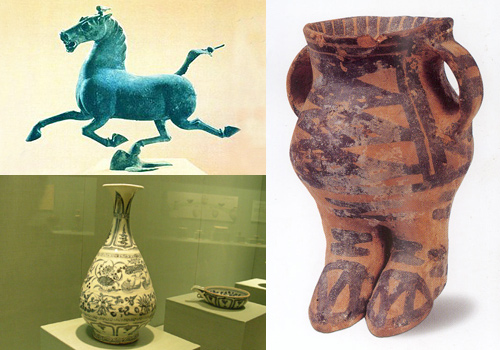 Paleontological Exhibition
With the Life Evolution being the cardinal line, the four subdivided exhibition halls display a great quantity of paleontological fossils and specimen, and respectively introduce relevant knowledge about the evolution of the earth and the life on it, various fossils found from geologic epoch, the Paleozoic, the Mesozoic and the Cenozoic, and the living conditions of the eras.
Kinds of temporary exhibitions
In addition, kinds of temporary exhibitions are held irregularly in Gansu Provincial Museum, such as exhibitions about Buddhist golden statues of Gansu, ancient calligraphies and paintings of Gansu, valuable calligraphies and paintings from Taipei Palace Museum, Essence of Silk Road, wild animals, archaeology of Gansu, and so on.