West Hill

Chinese name: 西山森林公园 (Xishan Senlin Gongyuan).
Location: 20 km west suburb of Kunming City, Xishan District, Kunming City, Yunnan Province.
Opening time: 08:00-17:00
Ticket: CNY30 for admission, CNY40 for Dragon Gate, CNY6 for Huating Temple, CNY6 Taihua Temple, CNY3 for Yulan Garden, CNY25 for cableway to Dragon Gate (one-way), CNY5 for one way sightseeing car (one-way).
How to get there:
- take buses No.6, 17, 18, 21, 51, 94;
- first take bus No.5 and change the mini bus at Liangjiahe and get off at Dragon Gate.
Highest peak: Arhat Peak (2050 meters).
Travel tips:
1.The tour takes about half a day. Dragon Gate is a must-see.
2. Visitors can stay one night in West Mountain to enjoy the night scene of forest and watch sunrise from Dragon Gate Grotto.
3. Going to West Mountain for spring outing on 3 March in Chinese lunar calendar (generally falls in late March or early April in west calendar) is a festival for Kunming people.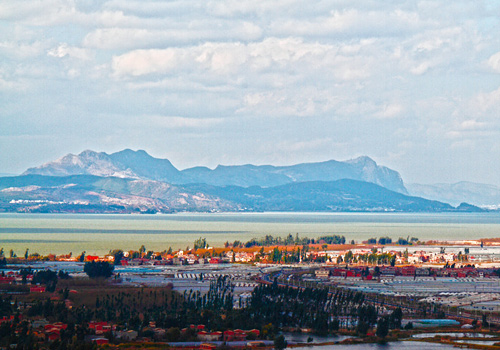 Brief introduction to West Hill, a sleeping beauty alongside Dian Lake
At a distance of 15 kilometers west suburbs of Kunming, on the shore of the Dian Lake, stands a cluster of hills called "West Mountain". West Mountain Forest Park is renowned for its rolling mountains, tranquil forest with towering trees, singing birds and clear streams, and numerous historic sites. However, as a tourist destination, it also boasts its excellent viewpoint for overlooking the Dian Lake and watching sunrise. The touching beauty of West Mountain never fails to attract any traveler who visits Kunming.
The West Mountain, called Biji Mountain in ancient time, is the general name of the Biyao Peak, Huating Peak, Taihua Peak and the Arhat Peak. It stretches at 35 kilometers from north to south. Among those peaks, the Arhat Peak is the highest one with an elevation of 2,050 meters. Looked from afar, the undulating peaks resemble a giant reclining Buddha or a supine beauty, hence the name "Sleeping Buddha Mountain" and "Sleeping Beauty". It has the main sights of Huating Temple, Taihua Temple, Sanqing Pavilion and Dragon Gate Grotto. Going to West Hill in 3 March in Chinese lunar calendar (generally falls in late March or early April in west calendar) is a customary spring outing of Kunming people. The scenic area is well-equipped with road, river transportation and cableway. It is honored as "four-star scenic area" by the National Travel Bureau in October 2004.
Dragon Gate (Longmen) Grotto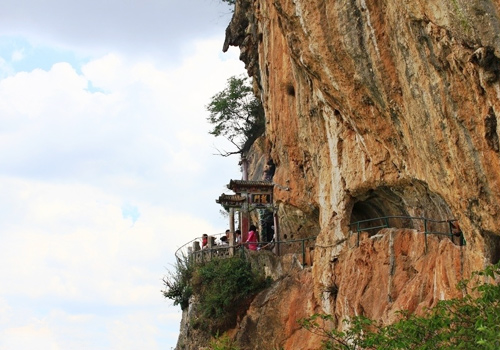 It is the most spectacular and extraordinary part of West Mountain, enjoying a high reputation at home and abroad. Delicate stone carving is the main feature of the Dragon Gate grotto. All stones are carved by hand in elegant layout and refined workmanship along the sheer cliffs of Arhat Peak. Sanqing Pavilion lying on cliffs just looks like a castle in the air. Looked afar, it is high up in the air and seems to be flying. How spectacular! Sanqing Pavilion is the seat of Taoism. The surrounding tablets and couplets add religious atmosphere and also contain living philosopher. Looking afar from the top of the Dragon Gate, you will have a panoramic view of Dian Lake. It's also an ideal place for you to watch sunrise.
Huating Temple
As the biggest existing temple of Kunming area with a history of more than 900 years, Huating Temple is a famous sacred place for Buddhism with large and significant halls and buildings such as the Bell Tower, Hall of Heavenly Kings, Mahavira Hall. The sculpture of Buddha and five hundred statues of Arhat here are quite unique, so are the historic couplets. In addition, there are various famous flowers and precious botanies such as Arhat pine. The temple has been experienced destruction several times. The existing one was repaired by the monk Xuyun in 1923 and thus also called "Yunxi Buddhist Temple". Inside the temple are some ancient buildings, the Mahavira Hall, the Hall of Heavenly Kings, Avalokitesvara Tower and Bell Tower, Rain Flower Pavilion and the Free Life Pond. Three statues of golden Buddhist with a height of 1.6 feet stand in the Main hall in an exquisite design and gracious look. On both sides of the Hall of Heavenly Kings stand the vivid golden statues of four heavenly kings and Maitreya.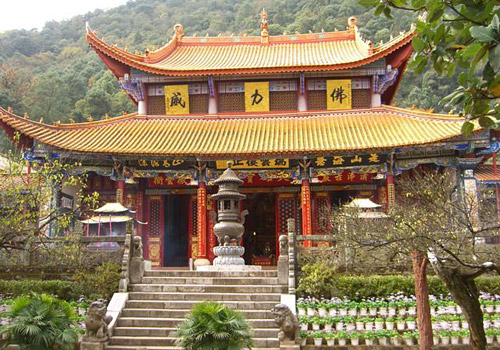 Taihua Temple
Taihua Temple is situated at the halfway up the Taihua Peak. First built in Yuan Dynasty (1271-1368), it is composed of Hall of Heavenly Kings, Mahavira hall, Misty Building, Waterside Pavilion Corridor and the chambers in north and south. Taihua Temple is famous for its flowers and trees. Various flowers blooms there, among which the most famous are camellia and the yulan flower. The temple is also surrounded by bamboo and forest. In taihua Temple, you can watch the sunrise in the morning and the lights of Kunming at night. The Dian Lake shimmers at the shining of city lights, which adds unique charm to West Hills.