Hongcun Ancient Village

With a history of more than 800 years, Hongcun is a beautiful ancient village located to the southwest of Yellow Mountain (Mt. Huangshan), 11 kilometers away from the downtown of Yixian County of Anhui Province. Adorning with peaceful Chinese countryside sights, Hongcun Ancient Village is hailed as "a village in Chinese painting", but what makes it special is the village's interesting ox-like architectural composition.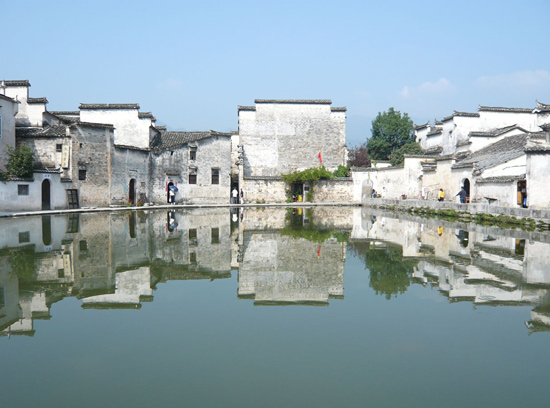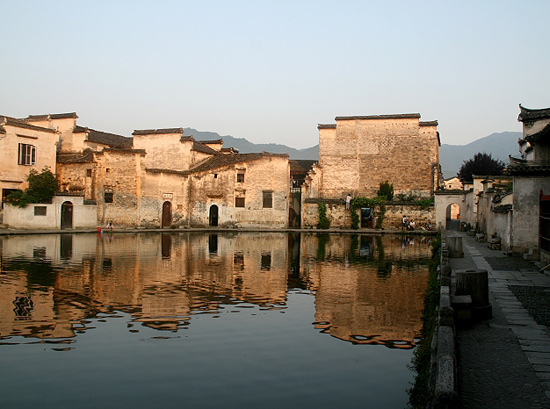 On November 30th of 2000, Hongcun Ancient Village was added to the List of World Culture Heritage and was selected as one of the Twelve Historic and Cultural Villages of China in December of 2003.
What to see in Hongcun Ancient Village?
1. Exquisite Three Carvings – Wood Carving, Stone Carving, Tile Caving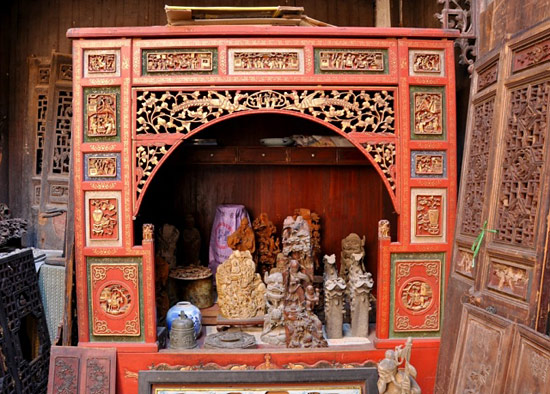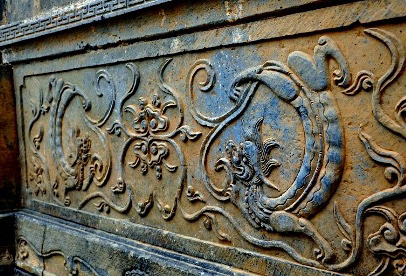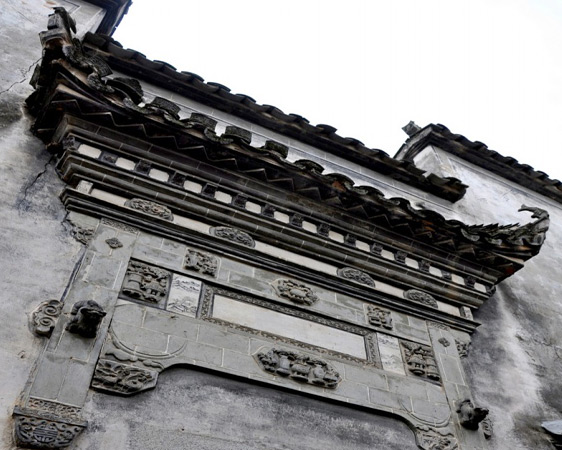 Wood carvings in Hongcun are carved out of good materials that are apt to be carved and have clear textures, e.g. pine, China fir and maidenhair tree; rosewood and nanmu are usually used to carve to be the decoration of top-grade furniture.
Stone carvings in Hongcun have been generally used in architectural decoration since Ming Dynasty. Most of them are used to decorate doors, windows, pillars, dolmens, bridge railings and steles. Among all of stone carvings in Hongcun, the Memorial Archway of Governor Hu Wenguang, the tracery at the West Garden and the stone-carving decoration inside the Chengzhi Hall are the most excellent ones.
Tile carvings are also widely used in Hongcun on roves, doors, memorial archways, together with stone carvings adding traditional Chinese art element to the local buildings.
2. Classical Anhui-style Buildings
Today there are over 140 Anhui-style folk houses that were built during Ming and Qing dynasties in Hongcun Ancient Village. Anhui-style folk houses feature grey-tiled rooves and white-painted walls, the "Chengzhi Hall" in Hongcun with exquisite hand-made "three carvings" (wood carving, stone carving and tile carving) is considered as the most excellent one and is hailed as "Folk Palace".
3. Smart Architectural Composition
In Southern Song Dynasty (the early of 12 Century), the villagers of Hongcun had mastered the bionics and built their village in an ox-like architectural layout: with towering old tress being the horns, the water channels being the intestines, the "Yuezhao" Pool being the stomach, the South Lake being the tripe, and the houses being other parts of the "ox". Based on the bionics, the village has also successfully put it into architecture for fireproofing and field irrigation, which created a marvelous man-made river system. All of this makes Hongcun Ancient Village a cultural wonder of the world. Until this day, the water channels running through Hongcun still work well, providing water for life for every family and also making Hongcun a "mini water town".
In and around Hongcun Ancient Village there are also many else to see and touch: the Jingxiu Hall, the Dongxian Hall, the Sanli Hall, the Xvren Hall, the Lexv Hall, the Shuren Hall, the South Lake, the South Lake Ancient School, spring dawn-watching by the Yuezao Pool, sunset-watching at Leigang, the wood-carving building, etc.
Best time to visit Hongcun Ancient Village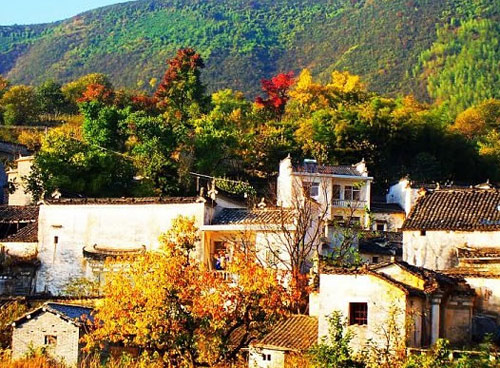 1. Late March – early April: the blossom time of rape flower (rape flower sea).
2. The first 10 days of November: the frame of red autumnal leaves at Tachuan near Hongcun is as beautiful as the autumn scene at Xiangshan Mountain of Beijing.
3. For watching sea of green bamboo, avoiding April and May when it is time for bamboo to frondesce.
How to get to Hongcun Ancient Village?
1. Shanghai – Hongcun
Tourists can take a bus to Huangshan (Tunxi) Bus Station at the Shanghai Coach Station, the journey takes about 5 hours. After arriving at Huangshan (Tunxi) Bus Station, tourist buses from Tunxi to Hongcun are available at 08:00, 09:00, 10:00, 13:00, 14:00, 16:00, and it takes about 1.5 hours to get to Hongcun.
If you fail to catch up with the tourist buses in Tunxi, you can transfer to Yixian County first (about 70 minutes' drive). After arriving at the Yixian Bus Station, get to Hongcun by taking the buses at the right side of the bus station (about 100 meter away). It takes about 20 minutes to get to Hongcun.
2. Yellow Mountain (Mt. Huangshan) – Hongcun
Express buses from Yellow Mountain to Hongcun are available at the South Gate of Yellow Mountain Scenic Area at 07:20, 09:40, 13:20, 15:40.