Repulse Bay

Name in Chinese: 淺水灣
Location: in the south of Victoria Peak, to the east of Deep Water Bay and to the west of Middle Bay and South Bay, South District, Hong Kong.
Opening time: all day long.
Ticket: free.
How to get to Repulse Bay: riding the No.6, 6A, 6X, 260, or the No. 40 minibus, at Exchange Square (交易廣場) in Central District.
Nearby Attractions: Hong Kong Convention and Exhibition Center, Golden Bauhinia Square, Victoria Peak, Causeway Bay and Ocean Park.
Introduction to Repulse Bay-Oriental Hawaii in Hong Kong


Repulse bay is located in the southern part of Hong Kong to the east of Deep Water Bay, and west of Middle and South bay. There are two theories as to how this bay got its name. The first being that in the 1840s the bay was a place for pirates and the presence of them affected the trade between China and other countries, so a British fleet was deployed and repulsed the pirates from the bay, thus giving the bay its name Repulse Bay. The other theory is that the bay was named after the HMS Repulse, which at one point in time was stationed here.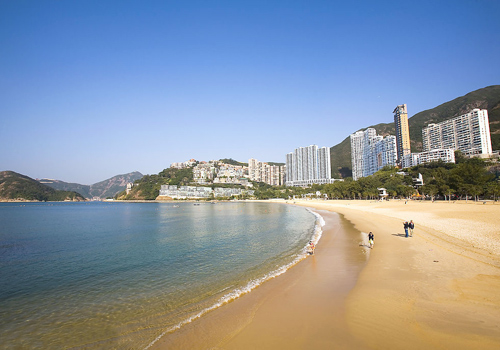 In any case the Repulse Bay is now known as the most beautiful beach as well as high class residential zone in Hong Kong. Its half mooned shores have been a mecca for locals and tourists alike for a long time looking for a place to cool off and enjoy some water fun, such as swimming snorkeling, fishing, BBQ, and so on. In the summer there are lifeguards on duty at their ancient styled guardhouse, with the ceiling decorated with many beautiful painted dragons. There are shark nets out to ensure the safety of all the visitors; also there are some floating platforms. There are plenty of stores to shop at, plenty of restaurants to eat at, and as much beach fun as you can take. There's also the longevity bridge adorned with many deities, along with many other deities put on the beach, most of them are there to help bring safety to the beach, and some there to help out fishermen. In addition to the natural beach fun you can enjoy some man made attractions at the biggest ocean theme park in Southeast Asia. This them park attracts 3.200,000 people a year with its enticing rides, animal shows, and marine museum home to over 200 species of fish.