Dragon Well Tea Plantation

Covering an area of 132 acres, the Dragon Well Tea Plantation in Dragon Well Village of Hangzhou, Zhejiang province, faces the West Lake to the west and Qiantang River to the south. Dragon Well Village is a picturesque wonderland surrounded by mountains with a large area of tea trees. The superior geographical conditions here make exceptional advantages for the growth of tea trees.
With tea pavilions scattering here and there in the tea mountains, the Dragon Well Tea Plantation is really a comfortable place for relaxing and enjoying tea among the lush tea trees. There are also teahouses and tea pavilions, which were built in Chinese traditional style, at the foot of the mountains in the village and surrounded by bamboo groves and trees. The famous Dragon Well, Royal Tea Plantation, Hugong Temple, 9 streams and 18 gullys are also worthy of a visit.
Legend of Dragon Well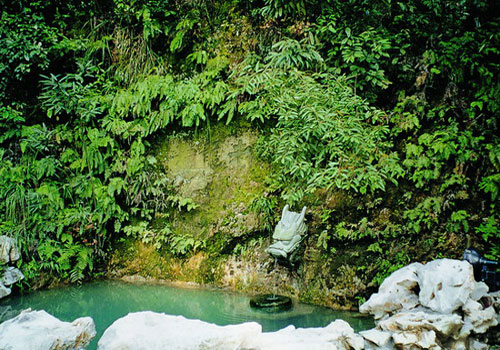 Dragon Well Village is an ancient village admiring dragon. There was a mouth of never-stop spring flowing in the village; the water from the spring was clear with delicate fragrance. Villagers believed that the water was bestowed by a dragon, so they made a stone caved with dragon head and placed by the spring and built a well to storage the water for drinking, thereby, the well got its name as Dragon Well and the village was named as Dragon Well Village. Having a cup of tea made by the water from Dragon Well is indeed a great enjoyment in the world.
Story of the 18 Royal Tea Trees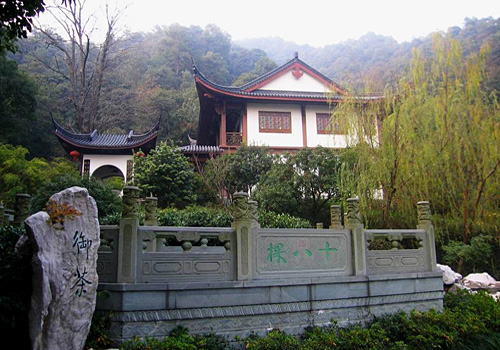 Dragon Well tea, called Long Jing Cha (龙井茶) in Chinese, has been being considered as a "nonsuch" among all of the Chinese teas, and the best Dragon Well tea leaves is produced from Shifeng Mountain. At the foot of Shifeng Mountain of the village locates the Hugong Temple, in which there are the renowned 18 old royal tea trees.
It is said that Emperor Qianlong of Qing Dynasty liked traveling very much. Once, when he came to Hangzhou, he was attracted by the enchanting scenery of the West Lake and came to the plantation at the foot of Shifeng Mountain. He learned to pick tea leaves as the tea-picking girls did, suddenly, his retinue reported that his mother got sick in Beijing, the temporal imperial city. Learning the news, this filial emperor hurried back home with Dragon Well tea. His mother wanted to have a taste of the tea, so he made one cup for her. After a suck, his mother felt better at once, she praised that the tea is just a magic recipe. Upon that, Emperor Qianlong issued a decree that the 18 tea trees in front of the Hugong Temple were titled as "Royal Tea Trees" and fresh tea leaves picked from them should be sent to Beijing for the imperial family every year.