Gyangtse Attraction
Read the following introductions for attractions in Gyangtse. You will know the top attractions there and you can also get to know the city attractions by category.
Top Gyangtse Attractions
Yamdrok Yumtso Lake

Chinese name: 羊卓雍措 (Yang Zhuo Yong Cuo) Location: In Nagarzê County, Lhoka Prefecture, along the highway between Lhasa and Gyantse,around 108 km southwest of Lhasa,...

Kumbum Stupa & Pelkor Chode Monastery

(Also known as Palkhor Monastery) Chinese name: 十万佛塔 白居寺 Location: at the northeast of Gyantse County, 100 kmeast ofShigatse, 230 km south of Lhasa Tibet Autonomous R...
Temples, Monasteries and Mosques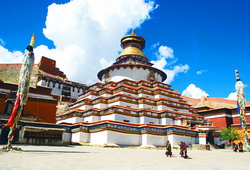 Kumbum Stupa & Pelkor Chode Monastery
No trip to Gyantse would be complete without a visit to Palkhor Monastery. Located in the northeast of Gyantse at 3900 meters above sea level, Pelkor Chode Monastery, or Palkhor Monastery in Tibetan means auspicious monastery. It was first built in early 15th century and took 10 years to complete.
Waters(rivers, lakes, waterfalls)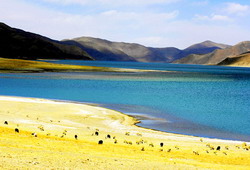 Yamdrok Yumtso Lake
Yomdrok Lake, less than 100 kilometres away from Lhasa, is reputed as one of the three sacred lakes in tibet, as well as the the largest inland lakes at the north foot of Himalayas. Known as the most beautiful water around the world, Yomdrok Lake looks like a fairy land where plateau lakes, snow mountains, pastures, hot springs, flora and fauna, temple are all available.