Meili Snow Mountain

Chinese name: 梅里雪山 (Meili Xueshan).
Location: about 10 km northeast of Deqin County, Diqing Tibetan Autonomous Prefecture, Yunnan Province.
Ticket: CNY308 (including entrance fees for Jinsha River Bight, Wunongding Viewing Deck, Mingzhulaga of Flying Monastery, Mingyong Glacier and Yubeng Village).
Opening time: all day long.
Best time for visit: April-May and September-November are the best seasons to visit Meili Snow Mountain. Especially after October, it is usually sunny and the main peak is more likely to be seen clearly.
How to get there: The common way to go to visit Meili Snow Mountain at present is to rent a vehicle from Deqin.
Best places to visit Meili Snow Mountain:
1. The Baimang Snow Mountain located by the national road No.214 (connecting Shangri-la and Deqin): but do not stay there for a long time because the road is narrow.
2. Wunongding Viewing Deck.
3. The platform for burning joss sticks of Flying Monastery: this place is the best place to watch sunrise and sunset and has become a tourist spot with complete facilities such as restaurants, hotels and bars; it is also considered to be the most convenient place of the area to go to Yubeng Village and Mingyong Glacier.
Travel tips:
1. Since the highest altitude of the way to Meili reaches up to 4292 meters, it is strongly suggested for travelers with disease not to go or go with medicines in case of emergency.
2. The way to Meili is unpaved road and there are landslides sometimes in July and August, which is rain season, and the mountain passes may be blocked by heavy snow between January and March.
3. There is usually a wide difference in temperature in the morning and evening in highland area. If you plan to visit the golden Meili shined by sunrise at the Flying Monastery, please pay attention to keep warm.
4. Since snow slide happens at Yubeng Village occasionally, it is strongly advised to check weather forecast and pay attention to security there.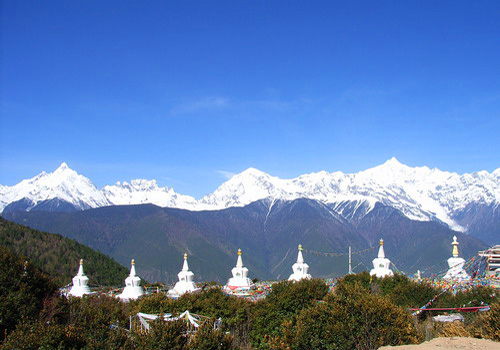 Introduction to Meili Snow Mountain
Known as one of the four sacred mountains of Tibetan Buddhism as well as the number one among the eight sacred mountains in Tibetan areas, Meili (or "Meili" in Chinese pinyin) Snow Mountain is the highest mountain of Yunnan Province, with its highest peak Kawagebo reaching 6740 meters and the other 12 peaks being over 6000 meters above the sea-level. Located in the junction of Jinsha River, Lancang River and Nu River, it stretches for several hundred kilometers and accounts for 34.5% of the total area of Deqin County.
"Mainri", the English name of the Meili Snow Mountain widely known to the world today, was first used in "Yunnan", a book by Davis, a French writer, in 1908. In 1960s and 1970s, however, the real Prince Snow Mountain was taken for Meili Snow Mountain in a land survey, which caused a mistake in the mapping since then. For the local, Meili is the name of a smaller mountain on the northern side of Kawagebo Peak.
Featuring magnificence and mistery, Meili Snow Mountain had been hailed as "the most beautiful mountain in the world" by U.A. scholars early in 1930s. The continuous cirques and glaciers at the foot of Kawagebo Peak are reconised to be rare maritime contemporary glaciers in the world; and the temple there is where Tibetans from Yunnan, Tibet, Sichuan, Qinghai and Gansu worship the God of Mountain every year.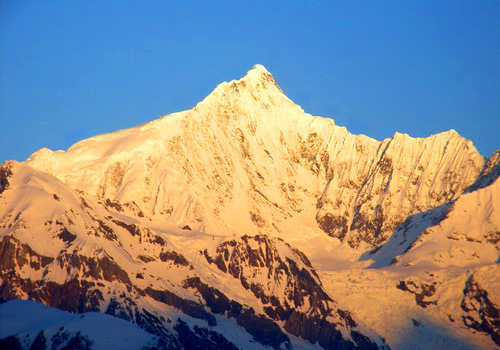 Exploration and Mountaineering in Meili Snow Mountain
The complicated terrain of Meili Snow Mountain brings about changeable weather there. The rain season of the area falls on June-August, during which weather is usually extremely fickle and the mountain is a forbidden zone for climbing. Having been attracting numerous pathfinders since the 19th century, Meili had been tried by many mountaineering expeditions but it still has been conquered by nobody so far. In consideration of security and conservation of nature, climbing Meili Snow Mountain has been prohibited by the central government of China. At many monasteries and hotels at the foot of it, written proposals for no climbing by local Tibetans can also be seen.
Flora and Fauna in Meilin Snow Mountain
Due to unique low-latitude glaciers and snow mountains, complex terrain and monsoon climate, Meili Snow Mountain is home to rich flora and fauna, e.g. leopards, clouded leopards, takins, black bears, lesser pandas, tawny musk deer, zibets, rasses, 113 kinds of birds, spruce forest, highland meadow, azaleas, sims azalea and many plants which are used in traditional Chinese medicine. Boasting its well-preserved ecosphere, Meili Snow Mountain is hailed as one of "the last five lands" in the world by "National Geographic", the world-famous magazine of the U.S..