Dali Attraction
Read the following introductions for attractions in Dali. You will know the top attractions there and you can also get to know the city attractions by category.
Top Dali Attractions
The Ancient City of Dali

Chinese name: 大理古城 (Dali Gu Cheng) Location: on the north side of Xiaguan (the new city area with modern buildings of Dali), the Ancient City of Dali is 13 kilomete...

Erhai Lake

Chinese name: 洱海 (Er Hai) Location: in northwest of the Ancient City of Dali, Yunnan Province. Opening time: all day long. Ticket: - Free for Erhai Lake Park. ...

The Three Pagodas of Chongsheng Temple

Chinese name: 崇圣寺三塔 (Chongsheng Si Santa) Location: at the foot of Yingle Peak of Mt. Cangshan, some 2 km northwest of the Ancient City of Dali, 14 km from Xiaguan,...
Famous Ancient Towns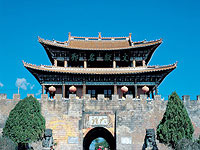 The Ancient City of Dali
Dali Ancient City was built in 1382, Mt.Cangshan is on the back of it and it is facing Erhai Lake. The distribution inside is of strict order and the whole city looks like a chessboard; all the paths are from the east to west or from north to south, houses of tile makes the city simple and unsophisticated.
Historical Relics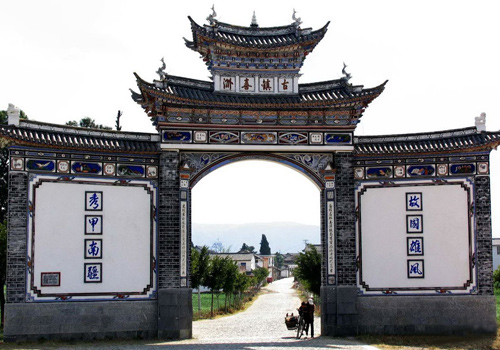 House of Bai People in Xizhou
33km from Xiaguan, the town of Xizhou is lyingby the side of Erhai Lake and Wanhua Brook. Historically, it was a military fortress of Nanzhao Kingdom and a temporary palace of the King. With favorable geographical situation, it used to be a commercial centre and the houses are of the typical Bai design.
Temples, Monasteries and Mosques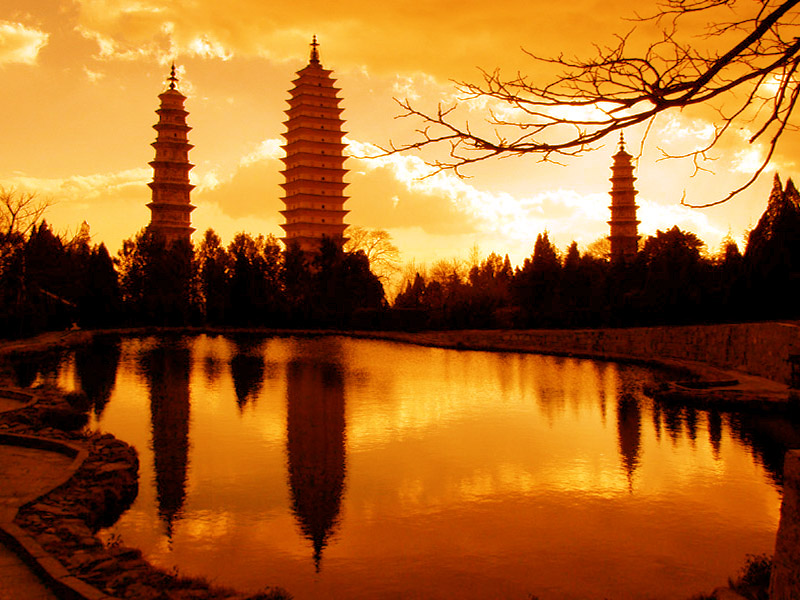 The Three Pagodas of Chongsheng Temple
Seated against Mt.Cangshan and facing Erhai Lake, the Three Pagodas gracefully and forcefully constitutes a situation of tripartite confrontation with a large pagoda in the middle and two small ones on each side. It is a famed place of interest, and a symbol of ancient history and culture of Yunnan Province.
Waters(rivers, lakes, waterfalls)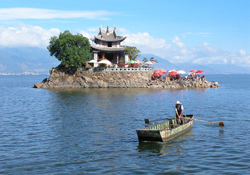 Erhai Lake
A graceful lake in plateau, Erhai Lake is the second largest freshwater lake in Yunnan and the seventh in China. It is considered a Mother Lake of local Bai Minority and cordially called as Gold Moon. Got its name from its ear-shape, it offers great charms as one of the Four Greatest Scenes of Dali.
Natural Attractions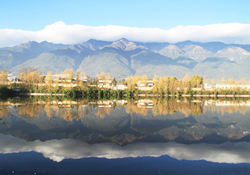 Mt. Cangshan (The Cangshan Mountain)
Consisting of 19 peaks which are all higher than 3500m, 7 of which than 4000m, Mt.Cangshan is splendidly and loftily offering a sharp contrast landscape with the graceful Erhai Lake. With peaks being circled by white snow all year around, the Mt. Cangshan Snow is the first of the Four Greatest Scenes of Dali.