Northern Hot Springs Park

Chinese name: 北温泉公园 (Bei Wenquan Gongyuan)
Location: at the foot of Jinyun Mountain, Wentang Gorge, Jialing River, Beibei District, Chongqing City.
Ticket: CNY10 (extra CNY20 for Hot Springs)
Opening time: all day long
How to get there: take buses No. 25, 252,253, 254, 255, get off at Beibei Station (北碚站).
Best time to visit: all year round
Introduction to Northern Hot Springs Park
Northern Hot Springs Park can well boast of its numerous scenic spots and rich cultural relics. Located in Beibei distrait of Chongqing City, Northern Hot Springs Park of Chongqing City leans against the Jinyun Mountain on the south while on the north it faces the Jialing River. It was founded in 423 during Southern Dynasty (420-589) as Hot Springs Temple and then was rebuilt in 1432 during Ming Dynasty (1368-1644). In 1927, it was established as Hot Springs Park of Jialing River under the auspices of Lu Zuofu (卢作孚,1893-1952,patriotic businessman, educator and social activist) and later changed the name to "Northern Hot Springs Park ". It stretches over an area of 10 hectares and 23 kilometers away from the downtown area. Tourist facilities including hot spring swimming pool, shower rooms and restaurants were added to the park.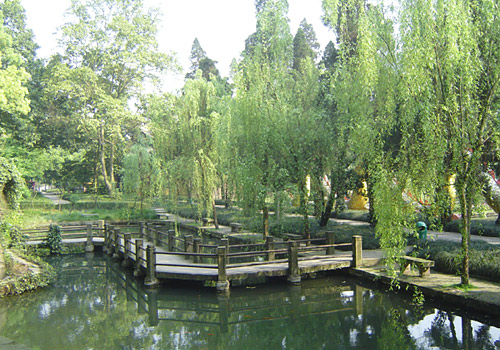 Northern Hot Springs Park typifies the style of landscape gardens in Chongqing City-small, exquisite and pretty with temples, hills, trees, rivers, gorges, rocks and caves. The hot springs in the park ranks first among five ones in Chongqing City, which is well-known for its uncontaminated water and appropriate temperature. Northern Hot Springs Park was classified as "the first Key Scenic Districts of China" in 1982 and was bestowed as "Forty-four Best Scenic Districts of China". Designated as "national 4A level scenic area" in 2002, Northern Hot Springs Park of Chongqing City draws more attentions from Chinese and foreign tourists.
Main Attractions in the park
Hot Springs Temple
Hot Springs Temple was in its golden years at the early ancient time. Then it was damaged twice in Northern Zhou Dynasty (557-581) and Tang Dynasty (618-907) respectively. During Ming Dynasty (1368-1644) and Qing Dynasty (1616-1912), it has remained a decade-long period of prosperity after rebuilding. The temple consists of four halls including Guansheng Hall (关圣殿, also known as "Three Saints Hall" and served as the gate for the temple), Jieyin Hall (接引殿), Dafo Hall (大佛殿) and Guangyin Hall (观音殿, Avalokitesvara Hall). A wide range of statues and inscriptions of different dynasties were carved on the rocks nearby, full of art and history.
Northern Hot Springs
Being the top site of hot springs in Chongqing City, Northern Hot Springs truly lives up to the name with 10 springs. With abundance of water resource (6000-8636 tons per day), the quality of spring water is excellent and unpolluted. Hot Springs here are credited with miraculous curative powers for beauty and health care. At a constant temperature of 35-38 degrees Celsius, it contains various kinds of mineral salts and is an ideal treatment for rheumatic and skin diseases. In addition, a 50 by 20 meters national standard swimming pool and 75 indoor bathrooms are developed it as one of training bases for Chinese Swimming Team.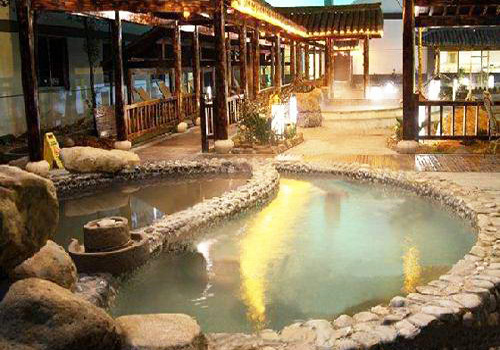 Ruhua Cave
Viewed as one of nature's wonders, Ruhua Cava (乳花洞) is about 157.5 meters deep with a 30 meters drop on height. The complicate labyrinth is crisscrossed by various winding paths and grotesque stalagmites. Unlike normal Karsts caves, it provides abundant resources and great value for special geological formation. A lot has been done in researching its structure and causes by famous Chinese geologist Li Siguang (李四光,1889-1971). Actually, the research indicates the formation of Ruhua Cave is associated with hot springs. The deposits of hot springs are accumulated for more than 50,000 years and the cave is formed gradually. The U-series dating on the stalactite inside the cave shows that the main stage of Ruhua Cave is about 56600±500 years ago.
Rock Carvings Garden
Located in the back of Hot Spring Temple, the carvings of Buddist arhat can be found here and they can trace back to 1120-1122 during the Song Dynasty (960-1279). What is more, an excellent figure of Mercy Buddha by famous painter Wu Daozi (吴道子, 680~759) in Tang Dynasty (618-907) can be observed here as well. A wide range of rock carving collection in different dynasties provides the best destination for archaeological and rock carvings research.
The shade of the old Cypress, Swaying Willow Trees, poetic green and pink lotus pond,soaring waterfall, crystal-clear springs and streams, thickly-wooded hills and exquisite pavilions, the delightful views can be appreciated in all four seasons of the park. Northern Hot Springs Park of Chongqing City holds appeal for famous guests, such as Chiang Kai-shek (蒋介石,1887-1975, one of the most important political leaders of 20th century China), Chou En-lai (周恩来,1898-1976, premier of the People's Republic of China) and Deng Xiaoping (邓小平,1904-1997, Chinese politician, statesman, and diplomat) and creates a comfortable and free atmosphere for total relaxation.