General Joseph W. Stilwell Museum

Chinese name: 史迪威博物馆 (Shidiwei Bowuguan)
Location: located in No. 63 Jialingxin Road (嘉陵新路),Yuzhong District, Chongqing City.
Ticket: CNY5
Opening time: 09:00-17:00 (only open to public from March to November)
How to get there: take light rail transit, get off at Liziba Station (李子坝站) and go ahead for 500 meters.
Best time to visit: March to November
About General Joseph W. Stilwell
General Joseph Warren Stilwell (1883—1946), was born in Palatka, Florida on March 19, 1883 and graduated from the United States Military Academy at West Point. During the World War I, he has served as an intelligence officer in France and was honored with Distinguished Service Medal. Stilwell came to China for the fifth time in 1942 after the Pacific Ocean War. As the commander of the China Burma India Theater, he commanded the Allied invasion of Burma during World War II and shown his excellent military talents. General Joseph Warren Stilwell was recalled by American President Franklin Roosevelt in 1944 and passed away in 1946.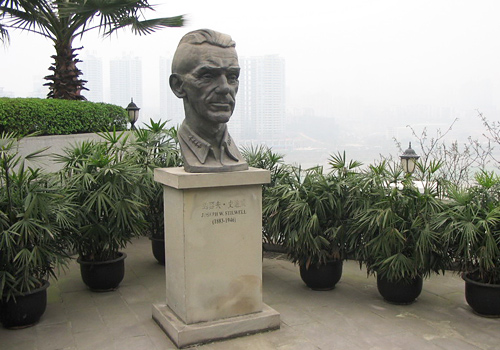 Introduction to General Joseph W. Stilwell Museum
Reckoned as the one of crucial relics of alternate capital, General Joseph W. Stilwell Museum of Chongqing City was established in 1991. Located in No. 63 Jialingxin Road with an area of 7.2 hectares, it was the residence of Soong Tse-ven (宋子文, 1894–1971, prominent businessman and politician) in Chongqing city. During 1942-1944, General Joseph W. Stilwell was ordered to arrive in Chongqing and the house became his home. Working as the Chief of the General Staff in Chinese allied forces and commander-in-chief in allied forces of China Burma India Theater, His activities in Chongqing City are striking friendship testimony and valuable cultural monuments and relics between America and china. In 2003, the museum was renovated and was finally accomplished 9 months later. Most of parts were restored to their original states as General Joseph W. Stilwell was living, such as bedroom, office, adjutant general office, meeting rooms and basement. More than 100 personal effects of General Joseph W. Stilwell are collected and exhibited in the museum including daily supplies, manuscripts and army uniforms.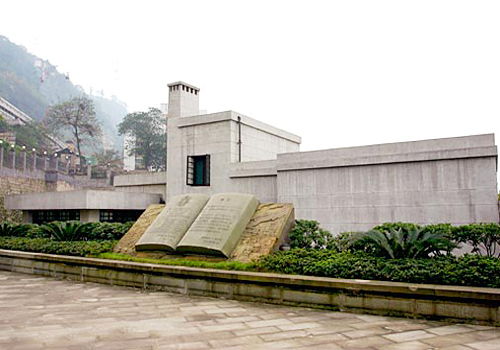 Brief History around the Museum
In memory of outstanding contributions General Joseph W. Stilwell made on against fascists with Chinese people and maintaining and developing the Sino-American friendship, General Joseph W. Stilwell Research Center and General Joseph W. Stilwell Museum were founded in Chongqing City on October, 1991 by local government and Chinese international friends association. The full renovations during May, 2002 to March, 2003 have evolved the museum into a wonderful 24-hour apron, which facilitates and enhances exchanges and cooperation in science, technology, military, history, education and other fields between China and America. It attracts all kinds of China-USA exchange activities each year and many visitors such as, American students, scholars, World War II veteran, politicians and officers come here by its reputation.
Internal Structure of General Joseph W. Stilwell Museum
In order to present a full and vivid official residence picture of General Joseph W. Stilwell, the house was restored to its original form in 2002 and was formally open to the public on March.19th, 2003.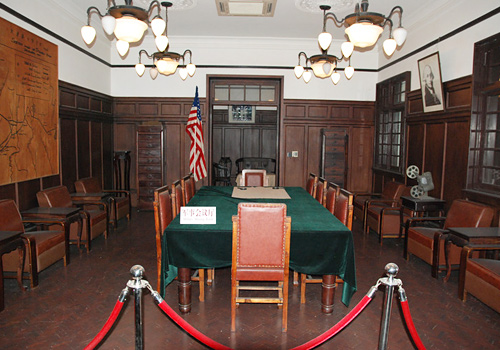 Entering from the gate, visitors will see a guardhouse and some old objects are displayed, such as, a desk, some chairs and an old-fashioned telephone, which have been used by Richard Dick Young (杨孟, aide-de-camp of General Joseph W. Stilwell, 1916-2009). Go straight on the left and then a conference room for military operations meets our eyes. A military map hangs on the wall. Meanwhile, a miniature projector, a phonograph and various military documents are exhibited in this room. Next to the conference room is a small lounge.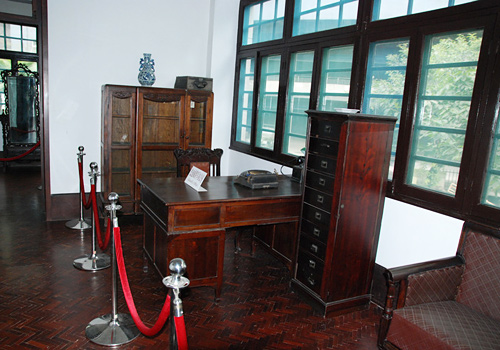 Office and bedroom for General Joseph W. Stilwell are on the right side. The latest radio and telephone during that time can be found here. The dining room is right in front of the gate, and knife and fork are placed on the dining-table. The next rooms are for servants and cooking. The base remains in use but not longer a place for living and keeping ordnance. It is currently served as an exhibition room. More than 200 precious photos are listed in chronological order and record the indissoluble friendship between General Joseph W. Stilwell and Chinese people from six aspects. His brilliant achievements for fighting with Chinese government and people against fascists are beyond all praise and never to be forgotten.
Cultural Relics in the Museum
June 16th. 2007, a 74 years old Chinese American Tang yongzhao (谭永昭, a collector and civil engineer, whose wife's father is a liaison officer of General Joseph W. Stilwell) has donated 4 American military vehicles of the Second World War to the museum. Although simple and unsophisticated, these vehicles are still in good condition and steer as smoothly and easily as the modern vehicles. Much effort has been expended to transport the vehicles from America to Chongqing City. And they arrived safely at last after 6 months shipping. As relics for aiding China in the war, they are priceless treasures and will be well collected in the museum for good.