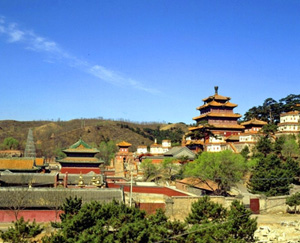 Day Trip to Chengde from Beijing
Tour Code: CTCHD02
Tour Duration: Approximately One Day
Available: Daily
Tour Type: Private Vehicle and Tour Guide
Sightseeing:
Day by Day Itinerary
Beijing / Chengde / Beijing

Sightseeing: Mountain Resort, Putuo Zongcheng Temple.

Early in the morning, your guide will pick you up from your hotel in Beijing at about 7:30am and then drive to to Chengde. At about 11:00am, you will get to Chengde.

After Chinese lunch, first you will visit the the Mountain Resort, which is situated in the northern part of Chengde. Also called the "Temporary Imperial Dwelling Palace", it was built by the Emperors Kangxi and Qianlong of the Qing Dynasty (1644 A.D-1911 A.D) for the sake of stabilizing the frontier region and maintaining the unity of multi - nationalities. The large resort is considered the most remarkable imperial garden still existing in today's China. The mountain resort possesses scenery featuring those of both north and south China. .

Then Move on to visit the Putuo Zongcheng Temple. Built in 1771, the Putuo Zongcheng Temple is a very splendid one. It covers an area of 220,000 square meters and was built similarly to Potala Palace in Lhasa Tibet in architectural style. That is why it is also called the lesser Potala Palace. (It is a temple of Tibetan Buddhism).

After the tour in Chengde, you will transferred back to your hotel in Beijing. You will get back to your hotel in Beijing at about 9:00pm.